Welcome to Perspectives, A Daily Outsider Property Working to Help transform our Conversation About Our World.
Thursday, December 24, 2020
Wednesday, December 23, 2020
We present some late breaking notations courtesy the team at the Information along with some tips and techniques courtesy the team at the MUSE as we wind down the year here at the Daily Outsider...
Buoyed by Video Success, Zoom Explores Email, Calendar Services
By Kevin McLaughlin
Zoom Video Communications has had an astonishing rise in 2020, emerging as the go-to service for work meetings and family get-togethers during the pandemic. Now the company is considering whether it could replicate its success in video in an even more competitive market: corporate email.
The company has begun developing a web email service and might offer a very early version of the product to some customers next year, according to two people with direct knowledge of the matter. The company also is looking into building a calendar application, one of the people said. The efforts haven't been reported previously.
6 Out-of-Office Templates for the Holidays That You Can Copy and Paste
You're ready to disconnect, recharge, and relax over your holiday break. All that's left to do is set up your autoresponder to let people know you won't be attached to your inbox. Whether you're looking for something straightlaced and formal or over-the-top festive, here are six different holiday out-of-office messages you can choose from.
We here at the Daily Outsider had a goal to be a voice--and as we wind down 2020, we want to provide an update courtesy the Syrian White Helmets whom despite all the challenges, have done such heroic work.
My name is Ayman and I'm the head of communications for the White Helmets. My job is to deliver the stories of the White Helmets' life-saving work to you and the broader community of humanitarians who support us. As 2020 finally comes to an end, I wanted to write to you about our work and how our teams are adapting to unprecedented challenges.
The year started with the heaviest attacks on Idlib since the beginning of the conflict. Between January and March, our volunteers saved 1,174 civilians from under the rubble. Sadly we couldn't save everyone. At least 515 civilians were killed by Syrian regime and Russian bombs in that period.
In March a ceasefire agreement was brokered, allowing for a period of relative peace despite ongoing violations by regime and Russian forces. Our teams used that opportunity to provide essential services to help the nearly 4 million civilians in that area recover. We conducted 3,157 rubble removal operations, rehabilitated 914 public facilities such as schools and bakeries, opened 3,621 roads, conducted 6,169 water refills for families living in displacement camps, and disposed of more than 22,000 unexploded ordnances.
Then COVID-19 hit, posing a massive challenge on our teams and communities, especially the more than 1 million internally displaced people living in overcrowded camps. We knew we had to step up -- it's part of the pledge each man and woman makes when they join the White Helmets -- to save lives and restore hope to communities.
With the pandemic spreading in Syria's neighboring countries, cross-border aid deliveries became even more difficult. We transformed our small uniform production facility into a production line of masks and Personal Protective Equipment for health workers, and established an oxygen cylinders factory to supply hospitals and medical centers amidst severe shortages. We continue to provide ambulance services to transport COVID-19 patients to quarantine centers and hospitals.
The White Helmets women-led teams have played an essential role in raising awareness about COVID-19. Since March, volunteers conducted 17,614 educational sessions including visits to families in displacement camps. In addition, the women's centers continued to provide medical and first aid services to families including newborns.
As winter sets in, our biggest fear is for a new round of intense aerial attacks that would cause new waves of displacement. There is nowhere left for people to run and the conditions are already dire in the tents, many of which are drowning in mud and rain floods.
As we wrap up 2020, we mourn and honor the nine volunteers we lost this year. Mohamad Al-Assad and Othman Al-Othman were deliberately targeted by the Syrian regime and Russia while on duty. Along with seven others who died in traffic accidents or of chronic diseases, they're among 288 volunteers we have lost since we started doing this work.
We have all learned a lot this year, and the most important thing I learned is that there's always a chance for humanity to stand together. I know that because of the support and solidarity we receive from people like you around the world. My wish is that our volunteers will not spend 2021 digging civilians from under the rubble left by bombing, but helping them return and rebuild their homes.
Thank you,
Ayman from the White Helmets
Tuesday, December 22, 2020

It has been a very challenging year. As we draw the year to a close, We present a snapshot of deliberations as we gear up for 2021 courtesy the New York Times, OZY The Atlantic, The Financial Times & The Sydney Morning Herald:
The attorney-general also backed official warnings that Russia is behind the enormous US government hack, as a Senator reveals Treasury emails were compromised.

By Michael Balsamo
Biden's 'Obama reunion' cabinet
Joe Biden is creating a cabinet of friends rather than of talents or rivals © Getty Images
I vowed a few years ago never again to quote that WB Yeats line — "the best lack all conviction, while the worst are full of passionate intensity". It was too much of a cliché. But sometimes only a cliché will do. We are witnessing the dying throes of the worst US administration in living memory. Donald Trump and his minions have persuaded 16 Republican states to back Texas in petitioning the US Supreme Court to overturn the democratic outcome in four swing states — and thus throw the election to Trump. Passionate intensity doesn't get much worse. This would be a judicial coup. Thankfully it is highly unlikely to happen. On January 20 the best will take over the reins of US government.
Alas, on the evidence so far, they will lack sufficient conviction. To be fair to Joe Biden, a handful of his picks are excellent. Janet Yellen has spent her whole life preparing to be US Treasury secretary. Jake Sullivan is the most strategic brain in Washington's foreign policy community. Ron Klain is probably the ideal chief of staff — he knows Biden well and has a record of genuine competence. Likewise, Antony Blinken also checks the most important box for any secretary of state — he will automatically be presumed by foreign counterparts to be speaking for the US president. I do not know Avril Haines, Biden's proposed director of national intelligence. But I hear very good things about her. These are high-calibre appointments.
So why am I complaining? Because most of the others are not. Take John Kerry, the former US secretary of state, who will be Biden's envoy on climate change. This is not a wise move. Kerry is likely to make Sullivan's ring-mastering job considerably more difficult. He will have the right to attend all National Security Council meetings as a principal, which means he can stick his fingers into every pie. It will be hard for the 43-year-old Sullivan to block, or take on, his 74-year-old former boss as America's chief diplomat. Dysfunction beckons.
Then there is Susan Rice, Barack Obama's former national security adviser whom Biden has made his domestic policy director. Given that Rice has no domestic experience, this is baffling. It is not as if Biden is inheriting a calm situation at home that will give his staff time to learn the ropes. Nor did he lack other more qualified names for that job. There is also Jeff Zients, another Obama alumnus, who will be in charge of the coronavirus task force. Again, Zients is a very competent figure but he has no experience of dealing with pandemics. Nor does Xavier Becerra, Biden's pick to be secretary of health and human services. Marcia Fudge, his secretary for housing and urban development, has no background in public housing.
Tom Vilsack, 69, Biden's pick as agriculture secretary, did hold that job for eight years under Obama. He is definitely qualified. But is he likely to bring fresh thinking? Denis McDonough, who will be secretary of veterans affairs, was Obama's chief of staff and deputy national security adviser. He has no healthcare experience. The VA is the largest department in Washington after the Pentagon with 377,000 employees.
Finally, there is Lloyd Austin, a retired four-star general whom Obama put in charge of US Central Command, as Biden's defence secretary. This is an inexplicably risky appointment as it is unclear whether Congress will grant Austin the legal waiver to take on this civilian job. Several Democrats have said they will not vote for it. For Swampians who want to know more about objections to Austin's nomination, here is the FT's editorial.
In no way am I suggesting that any of these figures are corrupt, negligent, or incompetent — let alone kakistocratic in Trumpian mould. There are no Richard Grenells or Stephen Millers on Biden's roster. But there are a couple of troubling patterns. First, they are mostly old acquaintances of Biden. He is creating a cabinet of friends rather than of talents or rivals. Second, he is placing a lot of emphasis on diversity. This can be done for good reasons or less good ones. The latter is where you count off the number of women and ethnic minorities you have hired without particularly caring which job they do. Then you keep advertising how diverse you are.
The right way is to select the best individuals for each job and leave the rest of us to figure out their identities. That is what happens when you are building a coherent team geared for action. The irony is that the latter would have produced just as diverse a team but without having to keep saying so. Michèle Flournoy is better qualified than Austin to be secretary of defence and she would not have needed a waiver. Rice would have been infinitely better equipped to be director of the CIA than domestic policy director but that would have required Senate confirmation (which Republicans may have denied, so Biden put her into an inappropriate vacancy).
Biden is making too many errors of judgment already. On November 3 the US electorate gave the ancien regime a reprieve — but by an uncomfortably close margin. Biden must beware of falling into ancien habits. If he treats his administration as a resumption of business-as-usual, things are not likely to go smoothly. Let us hope he does better for attorney-general, CIA, interior, energy, education and the other jobs yet to be filled.
Rana, I know you're a fan of Yellen (as am I) and probably also a fan of the foreign policy team. How do you feel about the rest?
Recommended reading
Rana Foroohar responds
Ed, I've already sounded off on some of these picks, so I won't repeat myself. But a couple of thoughts on individuals. I don't feel great about Vilsack as ag secretary — this seems to me a classic example of an Obama era person who actually presided over a failed policy in rural America (lots of small farms went under, debt for farmers rose and Big Ag got bigger).
Vilsack is from Iowa, so he can't be entirely written off as a coastal elite, but I am watching closely to see if Biden can repair the Obama administration's failure to have a clue about the Midwest and other rural areas. Democrats like to say they campaign on people not land, but guess what guys, as long as there is an electoral college, land still matters.
I am actually pleased with Becerra, because while he might not have experience with a pandemic (who does?) he is suspicious of Big Tech's efforts to dominate the healthcare space. We need to watch that area carefully.
The great wall between Canada and America
A vehicle enters a Canadian post at the US-Canada frontier after the two countries closed their border for all non-essential travel in March © Getty Images
Earlier this year David Frum, the Canadian-born Washington-based author, crossed the border to Canada for his summer vacation. He was quizzed by masked Canadian immigration officers about how he planned to handle the logistics of his 14-day quarantine. Over the next fortnight he received a series of motivational robocalls, live telephone calls and texts from the Canadian health authorities to monitor his compliance. They even offered to deliver his family's groceries.
When he returned to the US a few weeks later, American customs and immigration officers were not wearing masks and asked him to remove his. The officers then cross-examined him about marijuana, cash, weapons — anything but coronavirus. It was as if the pandemic was not happening. They appeared to be unaware of why Canada had closed its borders to American travellers since March (there is little chance of that being lifted soon). Here, in miniature, was a tale of two very different governance systems.
Here is another. On Monday my former colleague Chrystia Freeland, deputy prime minister of Canada, unveiled C$100bn (about $78bn) of new fiscal ammunition to help the country's post-pandemic recovery. The relief would fluctuate according to Canada's economic growth rate; if growth overshot, support would be withdrawn, and vice versa.
When I saw the outlines of Freeland's fiscal statement, I thought there must be something wrong. It sounded far too rational — as if Jay Powell, the US Federal Reserve chairman, had taken charge of the public finances north of the border. Freeland even used the same language as Powell — that the danger of doing too little greatly exceeded the danger of doing too much. In Washington, however, Powell's urgings seem to fall on deaf ears. The chances Capitol Hill will pass an appropriately-sized relief bill in the next two months are slim. Mitch McConnell, the Senate majority leader, is adamant that Washington will not "bail out" Democratic-run states and cities. This is in spite of the fact that America's highest infection and death rates are now in Republican-run mostly rural states, such as South Dakota and Iowa.
Which leads into a third difference. Canada, for the most part, has kept its schools open during its lockdowns while closing bars and restaurants. That is because Ottawa has been funnelling enough revenue to keep most businesses afloat. In the US, for the most part, it has been the opposite. Canada wins on this count too. Businesses can be reimbursed for lost revenues. Children cannot make up for the cognitive damage of so much lost education. That applies less to kids like my daughter, whose parents work from home and who can look over her shoulder. But for millions of American children, Zoom schooling is just a posh term for licensed truancy.
Many don't have good enough WiFi or the private space to focus on classes. For months science has made it clear that children are likelier to contract Covid-19 out of school than in. Moreover, their vulnerability to petty crime, teenage pregnancies and depression increases sharply when schools close. Yet America keeps giving priority to its bars, restaurants, gyms and tattoo parlours over its schools. Why? Because state and local governments do not have the money to pay service-providers to shutter. Moreover, in contrast to the heavily unionised teaching staff at public schools, most American service workers do not belong to a union.
Schools are lobbying to stay closed. Restaurant and bar associations are lobbying to stay open. This results in some absurd regulations, as set out in this excellent Atlantic piece by Amanda Mull. No more than six people could gather in private homes over Thanksgiving in many US cities. Yet restaurants could seat as many as 50 people indoors. Schools must stay empty. The Gods are conspiring to exacerbate America's pandemic crisis and damage its children's post-pandemic future. Actually, make that Mitch McConnell.
A final point. Canada also has some wacko populist politicians. But they have called a ceasefire when it comes to the pandemic. Doug Ford, the highly colourful conservative premier of the province of Ontario, described people who were protesting in Toronto against social distancing restrictions in as "a bunch of yahoos" who were "irresponsible, reckless and selfish". This was from the man they used to call "Canada's Trump". Little wonder that the US is now losing as many people to Covid-19 every week as Canada has lost in total (approaching 13,000).
Rana, I know Canada has a reputation for dullness but it sounds kind of interesting nowadays. Do you think we can learn something from its people?
Recommended reading
Rana Foroohar responds
Ed, We can indeed learn from the Canadians, but we can also learn plenty from certain US states, such as New York. The story you share reminds me very much of my own experience coming back from Chicago to New York City after dropping my daughter at college in December.
Andrew Cuomo, New York governor, had just put Illinois on the state's quarantine and contact tracing list. When I landed in New York, I was greeted by pleasant and efficient Department of Homeland Security staff who took my details and informed me that I needed to stay in my home for 14 days and be tested on day five if possible. I received calls from the state authorities daily, and was offered a free hotel room if I couldn't be socially distant from my family. I felt quite reassured about living in a well-governed state. Chicago felt like a bit of a hot mess comparatively. Although not as bad as South Dakota where my brother lives. He tells me tests are still unavailable for those without full-blown symptoms.
As an aside, I'm reminded by your piece (though certainly not your writing) on The New Republic's most boring headline contest many years ago. The winner was "Worthwhile Canadian initiative."
Sunday, December 20, 2020
Maybe it's the inspiring vaccine news or just getting into holiday mode, but we're feeling a lot more hopeful about 2021. The trauma of 2020 has kindled unparalleled disruptions in art, politics and social activism — not to mention science and health, which have been tested like never before. It's in OZY's DNA to look out for what's new and next: We've been profiling Rising Stars since Day One. In that spirit, today's Sunday Magazine brings you the 25 people we think will be making a real impact in what we hope and expect to be a sunnier 2021. It's only a starting point, so we will need your help to add to this illustrious list: Reply to this email and let us know which people you think we should watch in the new year.
1.

Mandela Barnes
The Milwaukee native (above right) has risen to become the state's first Black man elected to statewide office — despite being mistakenly declared dead and swapped out for a white candidate on local news. At age 33, the lieutenant governor now may have Washington on his mind. Barnes, who is named for South Africa's first Black president and achieved national prominence as a thoughtful and strident voice during the Kenosha protests, is a rumored candidate for perhaps the hottest U.S. Senate election in 2022. If in the coming months he declares for the seat now held by conservative Republican Sen. Ron Johnson, he won't have a cake walk in the Democratic primary, but he can likely count on national grassroots enthusiasm.
2.

Josh Hawley

It was about as odd a couple as you could find: Hawley (above left), 40, the populist conservative rookie GOP senator, next to the 79-year-old Democratic socialist Sen. Bernie Sanders. But last week they appeared together to advocate for another round of direct payments to Americans as part of a COVID-19 relief deal. It worked: The emerging deal now appears to include $600 checks. It's those political skills and unorthodox thinking, which OZY first spotted in our 2018 profile of then-candidate Hawley, that have many people eyeing him as a 2024 White House contender. The Republican race is frozen as long as President Donald Trump appears to be running again, but the former Supreme Court clerk and men's Bible study leader can afford to wait — and make unlikely alliances in the meantime.
3.

Ayanna Pressley

Is she Joe Biden's bridge to the Squad? Pressley, 46, who rose through the cutthroat ranks of Boston politics to become the first Black woman in Congress from Massachusetts, is more of an inside politician than the AOCs of the world. She has separated herself ever so slightly from them — for example endorsing her fellow Massachusetts pol Elizabeth Warren rather than Bernie Sanders during the presidential primary. Now Pressley's 2021 will be devoted to pushing Biden on issues like student debt cancellation, but also marshalling votes in a closely divided House. And with her openness about her alopecia diagnosis by going bald in public, Pressley has become a powerful symbol for millions with the disease.
4.

Stephanie Bice

The first Iranian American elected to Congress won her seat by taking out out the only Democrat representing Oklahoma in D.C. And she's already been elected the freshman class president. At the forefront of a crew of Republican women building their House presence to record levels, Bice (above center), 47, also says she will join "the Freedom Force," meant as a conservative counterweight to the Squad — though she sounds eager for compromise in interviews. A former marketing executive, she served in Oklahoma's state senate, where she led the charge to modernize the state's liquor laws before making the jump to Washington.
5.

Rishi Sunak

The United Kingdom's chancellor of the exchequer has been the fastest rising star in the Tory party with clear eyes on No. 10 Downing Street. On his way, Sunak, 40, ticked most every elite box possible (Oxford, Stanford, Goldman Sachs) and married the daughter of one of India's richest men, N.R. Narayana Murthy. Last summer, as Prime Minister Boris Johnson floundered while responding to the pandemic, Sunak arranged direct wage subsidies and has become the skinny-suited face of the country's fiscal policy. The whispers are growing louder that a challenge to Johnson's leadership could be afoot in 2021.
6.

George Forsyth

Perhaps a country that's been through the turmoil of three presidents in a week needs a goalkeeper to make a save. Ahead of Peru's new presidential election in April, and widespread unrest among the country's economically battered youth, Forsyth, 38, is leading in the polls. The mayor of the La Victoria municipality of Lima is known as a crime-fighter and corruption-buster. The 6-foot-2 politician is also known for his playing career for one of Peru's top soccer clubs, Alianza Lima. As the son of Peru's former U.S. ambassador and a former Miss Chile, Forsyth brings a cocktail of celebrity and a political ideology that is not discernibly left or right to a possible presidential bid. It may be enough to prevail in a topsy-turvy political climate.
1.

Adwa Al Dakheel
She's the face of the new Saudi Arabia. The 28-year-old entrepreneur and social media influencer runs the kingdom's most promising investment hub, Falak. She's also a guitarist, writer, amateur pilot, a high-profile refugee advocate and national champion squash player. Under Crown Prince Mohammed bin Salman, Saudi Arabia still has a troublesome human rights record and is struggling to diversify from oil, but Al Dakheel is a striking role model for change.
3.

Jacob Becraft
Seeing everyone from ER doctors to Mike Pence to William Shakespeare take the first COVID-19 vaccines has been cause for celebration. But it will be a long wait for most — especially in the developing world. Jacob Becraft, 29, is rushing in to help in India and Southeast Asia with a delivery platform that could potentially allow you to "turn vaccines on and off" with a pill that triggers the release process. The Illinois native's company, Strand Therapeutics, could allow people to take one dose instead of two of mRNA vaccines like Moderna's, which was approved Friday by the FDA. Becraft's technology could make it easier to inoculate people in poorer, far-flung places.
4.

Virtue Oboro

Studies show that jaundice in newborn babies puts them at mortal risk, and for Oboro (above center) the fight was personal. Her own son barely survived a bout with the condition — requiring an emergency blood transfusion — because of a lack of available phototherapy cots, where jaundiced babies are treated under a special light. A graphic designer, Oboro used her expertise to design a product called Crib A'Glow, a low-cost, solar-powered, mobile phototherapy solution to treat newborns. Her company, Tiny Hearts Technology, built a prototype that failed but kept trying until it worked. Since that 2016 start, it's treated more than 1,600 babies and has spread from its Nigerian home base to Ghana, Kenya and Benin.
5.

Dajae Williams
With so few Black women in science, technology, engineering and math fields, Williams, 26, struggled at times with her identity, and often found herself "code-switching" in a mostly white workplace as a quality engineer at NASA. Now she's embraced a mission to build pathways for the next generation — through hip-hop. With Listen Up Education, the St. Louis native is using music to engage underprivileged kids in math and science, and is on a mission to become, in her words, "the Black female Bill Nye — where Fresh Prince and Bel-Air meet."
6.

Mattieu Gamache-Asselin
It started with a "you know what I hate" conversation and ended up with a billion dollar company. Gamache-Asselin (above left), a 30-year-old Aboriginal Canadian, is the co-founder of Alto Pharmacy, a digital brand that brings drugs to your door without charging for delivery and disrupts the brick and mortar pharmacies that everyone loves to complain about. The model has taken off during COVID-19 and is sure to extend beyond its current five-state foothold, thanks to a new investment of $250 million from SoftBank and others.
7.

Sal Khan
Before everyone was in Zoom school, he was figuring out how it would work. The New Orleans native (above right) founded Khan Academy after getting the idea from tutoring his cousin. Now he reaches 10 million students per month and is the leading expert on remote learning, with one big idea: Everyone on the planet should be able to get a world-class education for free. He has tips for how teachers should structure their online time, with more practice and peer learning rather than lecturing. As students (hopefully) return to the classrooms in 2021, Khan, 44, will be at the forefront — including collaborating with the Biden administration.
look no further: your go-to jeans
Why can't jeans be as comfortable as your favorite stay-at-home sweatpants? Our friends at Outerknown say they can. Their new S.E.A. JEANS are already best-sellers. These laid-back jeans are sustainably made from organic and recycled cotton, creating the softest possible denim that naturally forms to your body. With three unique styles, you'll want one of each for all your denim moods. Check out Outerknown's S.E.A. JEANS and use code OKOZY for 20 percent off!
1.

Santia Deck
The former track star turned pro flag football and rugby player (above center) had made a name for herself by leaving her defenders standing in cement, going viral with lightning moves, chiseled abs and a dose of social media savvy. It led to her signing with the Los Angeles Flames for the first multimillion dollar contract in women's football history. Now she's the face of the Women's Football League Association, and their season is set to start in May.
2.

Zach Wilson

It's hard to imagine a 6-foot-3, 210-pound quarterback (above right) sneaking up on anybody. But that's exactly what Wilson has done as he's led Brigham Young University to a 10-1 record, capping his collegiate career with a 310-yard, three touchdown performance — while showing off the sneaky athleticism and lightning-quick decision making that could make him the second quarterback chosen in the 2021 NFL Draft behind consensus pick Trevor Lawrence. Wilson may be the Justin Herbert of 2021.
3.

Caris LeVert

The 6-foot-6 shooting guard (above left) wasn't even a lottery pick, much less a bona fide star, out of Michigan in 2016. But with superstars Kevin Durant and Kyrie Irving sidelined with injuries last year for the Brooklyn Nets, LeVert stepped up big as a rangy driving and shooting threat, averaging around 23 points, 8 assists and 5 rebounds per game in the NBA bubble. With a stacked roster, the Nets are talking about using LeVert as a super sixth man like Manu Ginobili on the great Spurs teams of the 2000s — or they could trade him. With the season starting Tuesday, look for him to end up as the critical third star on a team where anything less than an NBA Finals appearance would be a disappointment.
4.

Letícia Bufoni

The Brazilian street skating star has five X-Games medals to her name and has tied the decade-old record for most golds for a woman in the sport. And with skateboarding making its Olympic debut in 2021, the 27-year-old is about to become a household name. Bufoni moved from her hometown of São Paulo in 2007 to train in Southern California. She cites spending time in the water while wake-surfing, her "third-favorite sport" behind skateboarding and soccer, as aiding her recovery regimen when she gets the inevitable injuries that come from going cabeça a cabeça with gravity.

1.

Licypriya Kangujam
She's half Greta Thunberg's age but has all of the teen climate change leader's spunk. And Kangujam (above center), 9, is paving her own way in India, pushing the Modi administration to pass climate change laws and warning that if action isn't taken, the earth will be uninhabitable "by the time I grow up."
2.

Stella Nyanzi
They tried to silence her with a prison term for "cyberbullying" Ugandan President Yoweri Museveni. But a court order commuted her 18-month sentence, providing another example of how the 46-year-old mother and activist (above right) refuses to be cowed. And ahead of Uganda's 2021 elections, the former journalist and anthropologist is working to diminish Museveni, in power since 1986, with whatever it takes — from petty insults to provocative poems to baring her breasts in protest.
3.

Damario Solomon-Simmons
The 44-year-old civil rights attorney (above left) is paving the way for reparations, beginning at the site of the 1921 Tulsa Race Massacre that stopped a burgeoning Black Wall Street in its tracks. His argument? That the city's racial division and tension stems from that century-old wrong, in which neither the city nor insurance companies ever compensated victims for their economic and emotional losses. The Oklahoma native, a vegan and owner of a six-pound poodle, is taking up civil rights cases of families who have lost loved ones to police violence and college football players looking for compensation for enduring racism.
4.

Eszter Nagy
The Secretary General of the Union of European Federalists in Hungary is a former diplomat dismayed by her nation's turn away from its commitment to a healthy partnership with the European Union and the democratic backsliding that has followed. However, as Prime Minister Viktor Orbán continues to assert control, Nagy also doesn't spare criticism for the EU — which, she says, needs leaders willing to make "braver political decisions" with "real consequences." As the tension between Hungary and the EU comes to a boil in 2021, Nagy will be in the middle of it.
1.

Saweetie
This aspiring mogul (above left) may well be the next Rihanna, given her dream of building a billion-dollar multi-industry global brand. The rapper behind "Icy Grl," "My Type" and "Tap In," Saweetie, 27, describes her sound as: "it's bougie, it's bossed up, it's inspirational." And this California native, who first caught notice on Instagram, is now a TikTok sensation who will be dominating your screens in 2021.
2.

Justin Simien
His latest film, Bad Hair, is a horror flick about a bloodsucking weave that has political relevance you may not expect. No, really. For Simien (above right), 37, the creator of Dear White People who considers being Black and queer his superpower, the unexpected has come to be expected. The world is now eagerly awaiting his entrance into the Star Wars canon: Simien is developing a show around the classic character Lando Calrissian for Disney+.
3.

Noname
She is a rapper with a conscience, and she's not going away. Noname's (above center) biggest moment of 2020 was probably her public feud with rapper J. Cole, which she owned with a stunningly powerful 70-second diss track, "Song 33." But far more than a diss track, it showed her depth as an advocate for causes like defund the police. Unafraid to go after the likes of Barack Obama and Beyoncé, Chicago's own Noname, 29, will be a force to be reckoned with in the new year in music, activism and literature. She founded Noname's Book Club to lift up marginalized writers.
4.

Tunji Adeniyi-Jones

The 28-year-old is a New Yorker born in London to Nigerian parents, and his rich, stunning paintings speak to his Yoruba heritage, with stylized figures and an appreciation for the natural world. A Yale and Oxford graduate, Adeniyi-Jones gained buzz in 2020 when he was featured in the collection Young, Gifted and Black, and his gifts are now on display in Los Angeles, with more to come in the new year.
The White House
Over the weekend, The New York Times reported that President Donald Trump discussed further attempts to cling to power, including the possibility of imposing martial law, during a meeting with advisers.
Trump's attempted coup will fail, one Atlantic writer argues, but it won't be without consequence: His antidemocratic maneuvers set a dangerous precedent.
It wouldn't be 2020 if it didn't end with a cliffhanger, right? One way to look at the year almost gone by is as a series of calamities: a covid-19 death-toll that this month surpassed America's battlefield losses during the second world war; a 25% increase in poverty since June. Another is as a fraught and inconclusive power struggle. The year that began with only the third presidential impeachment trial, and played out the most expensive and one of the most intemperate of all elections, will duly end with another big political question-mark: the two run-offs in Georgia on January 5th that will determine which party controls the Senate.

The stakes are high. Unless the Democrats win both races, Joe Biden will be the first Democratic president since 1885 to enter office without his party controlling both houses of Congress. That would leave his hopes of selecting a cabinet and passing laws resting on the goodwill of Mitch McConnell. That would probably not work out terribly well for Mr Biden. The Republican Senate leader's past performance suggests he would obstruct his administration at every turn, blame him for the consequent failure of his government and hope this would set the Republicans up to make advances in the mid-term elections.

As we report from Georgia this week , the rival campaigns are meanwhile attempting to answer important strategic questions for their parties. In a sort of distillation of the lessons learned from November's general election, the Republican candidates, David Perdue and Kelly Loeffler, are trying to turn out Donald Trump's angry working-class white voters, while appearing less off-putting to wealthier suburbanites than the president was. He was the first Republican to lose Georgia since 1992. Their Democratic rivals, Jon Ossoff and Raphael Warnock, are trying to max out their party's new strength in the Trump-allergic suburbs, while also spurring the massive African-American turnout upon which their chances may ultimately rest.

It is a great and engrossing political battle, with much depending on it. And yet—not as much as all that. Two wins in Georgia would give the Democrats 50 Senate seats plus a possible tie-breaking vote from Kamala Harris, the slimmest possible Senate majority. That would certainly help Mr Biden get the cabinet of his choice and a stimulus or infrastructure bill through Congress. It would give Democrats control of Senate committees and allow them to set the legislative agenda. But it would probably be too slender a grasp on power for them to pass much else.

This is the meta-lesson of politics in 2020. America's governmental to-do list is growing alarmingly. The pandemic has exposed deep economic fragilities. Exacerbated by the changing climate, wildfires consumed 10m acres of America this year. But in a world where the parties are fighting epic showdowns that at best seem to deliver indeterminate verdicts and weak mandates, their ability to deal with these problems will be limited. Neither side is capable of achieving the decisive victory both crave. And in the eternal soap opera of American politics, what is supposedly at stake in the struggle—the national problems requiring solutions—slip into the background.

Sorry if this seems rather a depressing note to end the year on. But what a year it has been! And besides, here is a frail upside to the analysis. To all you dear readers with Georgia, one way or the other, painfully on your mind: please allow yourselves a brief holiday respite. Let the polls take care of themselves for a bit. Let us keep abreast of the tawdry campaign drama for you. The results from Georgia will matter a lot, but they won't be everything. And so, happy holidays!

A dire time for restaurants
No matter how you slice it, the restaurant industry is in trouble. By some estimates, nearly 110,000 restaurants have permanently closed.
"People in the industry I've talked to seem to be in despair," Pete Wells, a New York Times restaurant critic, told me.
The pressure is on now that we've officially entered the holiday season, usually the industry's busiest time of year. But big company dinners and intimate family meals will be largely absent in 2020.
"It's just so brutal right now," Pete said. "We can see the light at the end of the tunnel, finally. All of these vaccines are flooding in. And at the same time, things in restaurants are worse than they've been at anytime since April."
The government could still take steps to bail out restaurants, as has happened in many other countries. And the CARES Act did keep many unemployed restaurant workers afloat. But Pete says that within the industry, "no one really expects to see a bill that specifically addresses the industry's needs, at least not until after the inauguration."
If you want to help, or if you're tired of cooking, it's always good to order in from a favorite spot. Pete suggested focusing on one or two neighborhood places that you really want to support. And please, if you can, tip as if you had remarkable in-person service all meal long.
8 Ideas for a Holiday Spent Distantly
(Grey Villet/The LIFE Picture Collection /Getty)
1. Stay in touch with loved ones.
"Even if you are not religious, the research shows that holiday happiness comes from being with people," Arthur C. Brooks, our happiness columnist, writes in his latest. Because in-person gatherings aren't safe right now, find creative ways to use technology to stay in touch.
2. Make old-fashioned telephone calls.
Reach out to friends and family to catch up. Long before the pandemic hit, our staff writer Amanda Mull argued in favor of phone calls, even in a digital age.
3. Play a game.
Ellen Cushing, our special-projects editor, shares her recommendation:
The universe tends toward disorder, and recreational Zooms tend toward everyone talking over one another at once and somehow not communicating a single thing. Or, worse, sitting in stony silence, worried about talking over one another. Having suffered through both experiences, I've come to believe that the only solution to the large Zoom gathering is structured fun in the form of an easy-to-learn, easy-to-play game. I recommend Scattergories: It works for all ages, requires only a pencil and paper, and—this is important—produces the kinds of very heated low-stakes arguments family lore is built on (Alex, if you're reading this, receipts absolutely do not count as "things you find on the beach"). Here's a handy list generator; just appoint someone to share their screen and you're ready to go.
4. Enjoy some of the year's best culture.
It was the year of ambitious TV watching. The year of the quarantine reading project. And the year of the comfort show.
Our Culture team is rounding up the highlights of 2020: Review their picks for the best TV shows, the best movies, and the best albums.
Our film critic David Sims also put together a list of family movies for every mood.
5. Read something great.
Writers and editors from around our newsroom selected nine poems worth reading during this tough winter.
6. Turn to art for stress relief.
Try to write a novel in three sentences. Or start a craft project using whatever's lying around. Our staff put together this list of ways to stay creative in quarantine.
7. Journal about your experience.
Do it for yourself, or for future generations. "Diaries from the coronavirus era will help preserve details that may fade from public memory over time," Morgan Ome reported this summer.
8. Make space for grief.
The world is mourning the loss of so many people this year. "After the death of a loved one, a season of indulgent celebration can feel perverse to the bereaved," Mikala Jamison wrote in 2018. She shared some expert advice for spending a first holiday without a loved one.
Dear Movement Family,
This week the Poor People's Campaign: A National Call for Moral Revival released a set of 14 policy and legislative priorities for the first 100 days of the Biden-Harris administration and the 117th Congress. Our priorities include comprehensive and just COVID relief, health care for all, a federal jobs program, and much more.
The Poor People's Campaign will be bringing poor and low-income people, economists, public health experts, and moral leaders to meet with the Biden-Harris transition team. We're eager to present an agenda that lifts from the bottom so that everybody rises.
Sign on now to add your support to these 14 priorities for the healing of the nation.
As of this writing, eight of the deadliest days (from a specific event or cause) in recorded U.S. history have now occurred this month. Sadly, that number will continue to rise. We need to continue to be vigilant in practicing social distancing, avoiding indoor congregant settings, and wearing masks.
Imagine that this disease was sweeping through and killing U.S. senators like it's killing poor and low-wealth people, and ask yourself if the response would be so piecemeal and under-funded. Of course not. They would be doing everything they could to stop that.
This current proposal in the Senate, if you go to the bottom, is pushing for a liability shield for businesses to protect themselves from lawsuits from poor/low-wealth workers if they get COVID because the business did not protect them. That's criminal.
It's damnable that we are even being placed in this position that we have to make these choices. But if we have to make the choice, we cannot once again leave poor and low-wealth essential workers to be last.
Corporations have gotten everything they asked for and more, while one in eight Americans reported going hungry last week! The Senate should not compromise on the backs of the poor.
To have to compromise in the midst of a deadly pandemic with over 290,000 dead feels like the Three-Fifths Compromise during slavery. It was wrong then, and compromise is wrong now. We don't need compromise, but character. McConnell and any who have helped the wealthy while they let the poor suffer and die will face the judgment of God. I say this with great love and tears for this nation. The blood of all those who suffer and die needlessly is on the hands of the U.S. Senate.


During the first Christmas, there was a crazy, sick, narcissistic, mean leader on the throne. Trump is more like him, a modern-day Herod, who doesn't even care about those dying from his policies and crimes against nature.
Herod is only referenced in the Bible to show us what not to be, why we should never follow his type of leadership and why Herod-type leaders cannot ultimately stop God's truth, love, and justice.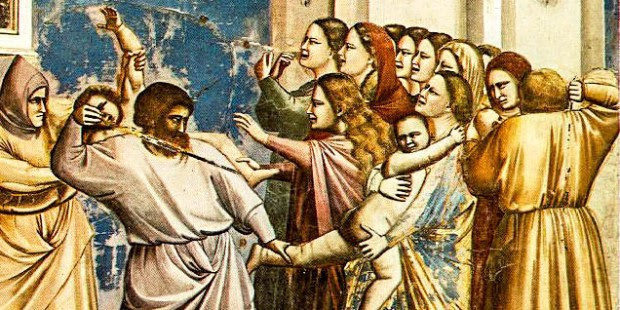 In this Advent season, let's move more and more away from Trump and focus on a new beginning. Trump wants all the attention. Don't give it to him.
It's time to bring his tragic term in office to an inglorious end and let him rant, rave, lie to and cheat those who want to believe him We who have voted and said no and called for reconstruction must recruit even more people to the good cause of healing the nation with policies of justice rooted in love and truth.
Forward together, not one step back,
Rev. Dr. William J. Barber, II
President and Senior Lecturer, Repairers of the Breach
We close out with a look to the upcoming inauguration for the 46th President of the United States: