As we present our final Virtual Walkabout for 2022, 2023 has arrived in Hong Kong. We present a final compilation as we look forward to the continued privilege of serving.
The top 10 reports of 2022
This year, readers turned to USAFacts for nonpartisan data on the nation's shifting demographics, crime rates, and the many differences and commonalities between states. Population data, employment facts, and economic numbers were consistently popular topics. Here are the top USAFacts reports that newsletter subscribers read in 2022.
10. The State of the Union in Numbers
It's easy to see why the State of the Union in Numbers is a top feature every year. The holistic numbers covering the economy, defense spending, government actions taken the year prior, and much more, are a handy tool for context on nearly every facet of American life. Stay tuned — a new State of the Union in Numbers is coming in early 2023.
9. What drives differences in population growth?
This recent article enabled people to compare the data with changes they may or may not have seen in their state. The numbers showed that the South and West were the country's fastest-growing regions since 2000 due to births and domestic migration.

8. America in Facts 2022
America in Facts is a visual deep-dive that combines federal, state, and local government metrics into a report like no other. This year's report chronicled how federal government revenue increased by 15% in 2021 due to higher personal and corporate income tax receipts. Plus, middle-class wealth grew from $5.4 trillion in 1990 to $10.2 trillion in 2021, but their share of total wealth fell from 12% to 7%.

There's much more to see, including how the pandemic changed immigration and American education, in the full report.
7. States with the most college degrees
Just shared in the newsletter earlier this month, this rundown of educational attainment by state captured readers' attention. Metrics show that the percentage of people getting a bachelor's degree or higher has grown since 2011, while the portion of the population without a high school or GED diploma dropped.

6. Which states pay teachers the most and least?
Readers were also interested in national patterns on teacher salaries. Data on 2021 educator wages showed that the national average pay for a K-12 public school teacher was $65,090. At $87,738, New York had the highest average teacher income, then Massachusetts and California.
5. What's your inflation rate?
This unique project used microdata to see how inflation rates impact Americans of various ages. The interactive chart shows how gas prices, which drove much of 2022 inflation, affect young Americans differently than older Americans. It also illustrates how spending reflects the way families age: college tuition spending eventually replaces daycare and preschool expenditures, which is then overtaken by health care spending.

4. Tracking crime rates
People wanted to make sense of the crime numbers they were hearing in the news this election season, so USAFacts parsed FBI data for a closer look. The metrics showed that the 2020 national crime rate was 6.2% lower than in 2019. However, violent crime rose by 4.7%. The violent crime rate fell in most states from 1991 to 2020, but rose in 11.

3. How does GDP differ by state?
US gross domestic product (GDP) is a commonly covered topic at USAFacts, but readers were curious about how their state contributed specifically. The nation's GDP rose by 5.7% in 2021, the highest growth rate in 37 years. States with large populations tend to contribute more — California, Texas, New York, Florida, and Illinois contributed 41% of 2021 GDP — but state productivity and income also factored in.
2. Our Changing Population
This year, USAFacts launched Our Changing Population, a continually updated exploration of the US populace nationally, by state, and by county. Trace demographic shifts of all kinds in your county, places in the news, near your favorite vacation spot, and thousands of other locations with this resource.

1. Who is leaving their occupation?
Is there a great resignation? What about a teacher shortage? In August, readers turned to this interactive visual for answers to these questions and more, making it the most popular report in the USAFacts newsletter for 2022.

From 2017 to 2021, the percentage of bartenders who left their occupations rose from 17% to 33%. Over the same period, 3% of nurses switched occupations, and 4% stopped working. The other 93% remained in nursing.

Did you find your occupation in the data?

Thank you for being a subscriber and part of this mission to bring nonpartisan facts to discussions of national importance. We'll see you for even more data in 2023.

One last fact
The US maternal death rate rose from 20.1 deaths per 100,000 live births in 2019 to 23.8 per 100,000 in 2020. The rate has more than doubled since 2000 when the nation had 9.8 deaths for every 100,000 live births.
No one wanted to play football with Muhammad bin Salman. Sure, the boy was a member of Saudi Arabia's royal family, but so were 15,000 other people. A childhood acquaintance recalls that his classmates preferred the company of his cousins, who were higher up the assumed order of succession. As for the isolated child who would one day become crown prince, a family friend recounts hearing him called "little Saddam".

Fast forward to today, and MBS has become the most important decision-maker in Saudi Arabia, the world's biggest oil exporter. He was shunned by the West in 2018, after the murder by Saudi officials of Jamal Khashoggi, a Washington Post columnist. But thanks to Vladimir Putin and higher oil prices, the Saudi prince is back in demand.

Many hope that, with his position secure, MBS will forswear the vengefulness and intolerance that produced Khashoggi's murder. But some, among them his childhood classmates, fear something darker. They are reminded of the Iraqi dictator Saddam Hussein, a one-time moderniser who became so addicted to amassing power that he turned reckless and dangerous. "At first power bestows grandeur," a former Western intelligence officer said of MBS. "But then comes the loneliness, suspicion and fear that others will try to grab what you grabbed."
Our best long reads of 2022
THE BUZZ: It was another year for the history books.
War, a battle for the Senate and global oil crisis captured much of the world's attention in 2022. But, as usual, California repeatedly got the spotlight — though not always for the best reasons.
Here is our non-comprehensive list of the stories that we think shaped and shook California politics this year:
#11 — A farewell to Madam Speaker
Nancy Pelosi, San Francisco's long time leading daughter relinquished the gavel this year, ending an era in Democratic politics and cementing her place in history as the first and only woman (for now) to serve as Speaker of the House.
#10 — Villanueva's political feud got personal
The now-former-LA County Sheriff Alex Villanueva raised eyebrows when his office abruptly searched the home of one of his most noted political opponents, County Supervisor Sheila Kuehl, who retired this year.
#9 — Homelessness continued to dominate
Feeling the pressure, more Democratic mayors backed aggressive measures to clear streets and sidewalks. Gov. Gavin Newsom withheld billions until cities promised better progress. And in LA, Mayor Karen Bass has vowed to move 17,000 people indoors by the end of the year.
#8 — The big bet that flopped
Gambling giants DraftKings and FanDuel poured nearly $170 million into Proposition 27, which would have legalized online sports betting, just to come up with less than 18 percent of the vote. It was the biggest losing margin for a ballot measure in 18 years.
#7 — A record state budget
Lawmakers enjoyed a nearly $100 billion surplus this year, with the total budget clocking in at a record $300 billion.
#6 — California's big swing on climate change
Lawmakers passed a sweeping, $54 billion package of climate change bills aimed at shoring up the state's energy supplies and slashing carbon emissions. Among them was an extension for the Diablo Canyon nuclear power plant.
#5 — Gavin Newsom's national tour
Newsom spent much of 2022 bathing in the national spotlight after taking jabs at red state leaders — most notably Florida Gov. Ron DeSantis. He bought ads on Fox News, took out full page ads in Texas, and erected billboards across several states. He repeatedly insisted it's not a trial run for 2024, but rather a mission to push back against Republicans' narrative on gun control, abortion and LGBTQ issues.
#4 — The fallout from Roe
California responded almost immediately to the Supreme Court overturning the landmark abortion ruling with more than a dozen bills and a measure to enshrine the right to abortion and contraception in the state constitution.

Democratic Assemblyman Robert Rivas addresses lawmakers at the Capitol in Sacramento, Calif., Monday, May 23, 2022. | Rich Pedroncelli/AP Photo
#3 — A battle for the speaker's gavel
Some thought Assemblymember Robert Rivas was finished after his first attempt to take the speakership from Anthony Rendon failed. But the Salinas Democrat triumphed in the end, securing the confidence of the caucus and the title of Speaker-elect heading into 2023.
#2 — The attack on Paul Pelosi
A conspiracy-fueled assault on one of America's most famous political families drew condemnation from both sides of the aisle, and highlighted an increase in against public officials.
#1 — The LA City Council tapes
This is a story that won't be left in 2022. The leaked audio of a conversation between three city council members and a labor leader, in which they made crude and racist jokes, continues to dominate the discourse around city government, and, most notably, Councilmember Kevin de León, who refuses to resign.
Today, by a vote of 225 to 201, the House passed the 4,155-page omnibus spending bill necessary to fund the government through September 30, 2023. The Senate passed it yesterday by a bipartisan vote of 68–29, and President Joe Biden has said he will sign it as soon as it gets to his desk.

The measure establishes nondefense discretionary spending at about $773 billion, an increase of about $68 billion, or 6%. It increases defense spending to $858 billion, an increase of about 10%. Defense funding is about $45 billion more than Biden had requested, reflecting the depletion of military stores in Ukraine, where the largest European war since World War II is raging, and the recognition of a military buildup with growing tensions between the U.S. and China.

Senators Patrick J. Leahy (D-VT) and Richard C. Shelby (R-AL) and Representative Rosa L. DeLauro (D-CT) hammered out the bill over months of negotiations. Leahy and Shelby are the two most senior members of the Senate Appropriations Committee, and both are retiring at the end of this session. Shelby told the Senate: "We know it's not perfect, but it's got a lot of good stuff in it."

House Republicans refused to participate in the negotiations, tipping their hand to just how disorganized they are right now. House minority leader Kevin McCarthy (R-CA) insisted that the measure should wait until the Republicans take control of the House in 11 days. This reflects the determination of far-right extremists in the party to hold government funding hostage in order to get concessions from the Democrats.

But their positions are so extreme that most Republicans wanted to get the deal done before they could gum it up. Indeed, right now they are refusing to back Republican minority leader McCarthy for speaker, forcing him to more and more extreme positions to woo them. Earlier this week, McCarthy publicly claimed that if he becomes House speaker, he will reject any bill proposed by a senator who voted yes on the omnibus bill. After the measure passed the House, McCarthy spoke forcefully against it, prompting Representative Jim McGovern (D-MA) to say: "After listening to that, it's clear he doesn't have the votes yet."

The measure invests in education, childcare, and healthcare, giving boosts to the National Institute of Health and the Centers for Disease Control and Prevention and investing in mental health programs. It addresses the opioid crisis and invests in food security programs and in housing and heating assistance programs. It invests in the Environmental Protection Agency and the National Park Service and makes a historic investment in the National Science Foundation. It raises the pay for members of the armed forces, and it invests in state and local law enforcement. It will also provide supplemental funding of about $45 billion for Ukraine aid and $41 billion for disaster relief. It reforms the Electoral Count Act to prevent a plan like that hatched by former president Donald Trump and his cronies to overturn an election, and it funds prosecutions stemming from the January 6, 2021, attack on the U.S. Capitol.

"A lot of hard work, a lot of compromise," Senate majority leader Chuck Schumer, (D-NY) said. "But we funded the government with an aggressive investment in American families, American workers, American national defense." Schumer called the bill "one of the most significant appropriations packages we've done in a really long time."

And so, members of Congress are on their way home, in the nation's severe winter storm, for the winter holiday.

It is a fitting day for the congress members to go home, some to come back in January, others to leave their seats in Congress to their successors. On this day in December 1783, General George Washington stood in front of the Confederation Congress, meeting at the senate chamber of the Maryland State House, to resign his wartime commission. Negotiators had signed the Treaty of Paris ending the Revolutionary War on September 3, 1783, and once the British troops had withdrawn from New York City, Washington believed his job was done.

"The great events on which my resignation depended having at length taken place; I have now the honor of offering my sincere Congratulation s to Congress and of presenting myself before them to surrender into their hands the trust committed to me, and to claim the indulgence of retiring from the Service of my Country," he told the members of Congress.

"Happy in the confirmation of our Independence and Sovereignty, and pleased with the opportunity afforded the United States of becoming a respectable Nation, I resign with satisfaction the Appointment I accepted with diffidence."

"Having now finished the work assigned me, I retire from the great theatre of Action; and bidding an Affectionate farewell to this August body under whose orders I have so long acted, I here offer my Commission, and take my leave of all the employments of public life."

In 1817, given the choice of subjects to paint for the rotunda in the U.S. Capitol, being rebuilt after the British had burned it during the War of 1812, fine artist John Trumbull picked the moment of Washington's resignation. As they discussed the project, he told President James Madison: "I have thought that one of the highest moral lessons ever given to the world, was that presented by the conduct of the commander-in-chief, in resigning his power and commission as he did, when the army, perhaps, would have been unanimously with him, and few of the people disposed to resist his retaining the power which he had used with such happy success, and such irreproachable moderation."

Madison agreed, and the painting of a man voluntarily giving up power hangs today in the U.S. Capitol, in the Rotunda. It hung there over the January 6 rioters as they tried to overturn the results of the 2020 presidential election and put in place their candidate, who insisted he should remain in power despite the will of the American people.

Yesterday's release of the report of the House Select Committee to Investigate the January 6th Attack on the U.S. Capitol reviewed the material the committee has already explained, but it did have a number of revelations.

One is that former president Trump was not simply the general instigator of the Big Lie that he had won the election, and the person egging on his violent supporters, but also that he was the prime instigator of the attempt to file false slates of electors. This puts him at the heart of the attempt to defraud the U.S. government and to interfere with an official proceeding. On page 346, the report says: "The evidence indicates that by December 7th or 8th, President Trump had decided to pursue the fake elector plan and was driving it." In that effort, he had the help of Republican National Committee chair Ronna McDaniel, even after White House lawyers had called the plan illegal and had backed away from it.

Committee chair Bennie Thompson (D-MS)'s introduction to the report put Trump's effort in the larger context of a history that reaches all the way back to the American Revolution. "Our country has come too far to allow a defeated President to turn himself into a successful tyrant by upending our democratic institutions, fomenting violence, and…opening the door to those in our country whose hatred and bigotry threaten equality and justice for all Americans."

"We can never surrender to democracy's enemies. We can never allow America to be defined by forces of division and hatred. We can never go backward in the progress we have made through the sacrifice and dedication of true patriots. We can never and will never relent in our pursuit of a more perfect union with liberty and justice for all Americans."
—
Notes:
https://www.nytimes.com/2022/12/18/us/politics/defense-contractors-ukraine-russia.html
https://www.washingtonpost.com/us-policy/2022/12/22/omnibus-bill-senate/
https://www.appropriations.senate.gov/imo/media/doc/HIGHLIGHTS%20DOCUMENT%20FY%2023.pdf
https://www.govexec.com/management/2022/12/house-approves-omnibus-spending-bill-funding-agencies-through-september/381282/
https://talkingpointsmemo.com/news/mccarthy-makes-impossible-promises-as-he-scrambles-to-shore-up-conservative-votes
https://www.nytimes.com/interactive/2022/12/23/us/january-6-committee-final-report.html#page-367
John Trumbull, Autobiography, Reminiscences and Letters of J. Trumbull, from 1756 to 1841, p. 263, at https://archive.org/details/autobiographyre01trumgoog/page/262/mode/2up
https://founders.archives.gov/documents/Jefferson/01-06-02-0319-0004
https://int.nyt.com/data/documenttools/january-6-committee-final-report/2095325cbebd8378/full.pdf
https://history.house.gov/Historical-Highlights/1700s/General-George-Washington-resigning-his-commission-in-Annapolis,-Maryland/
It's time for our annual countdown of the best visualizations of the year!

Today, we highlight 22 of our favorite data visualizations, infographics, and charts that were handpicked for you by our team at Visual Capitalist.

We hope your holidays are off the charts!

As we dive into the new year, we wanted to look back and reflect on some of our incredible wins from 2022.
Here's just some of what you helped accomplish this year to stop fossil fuel infrastructure, cut off the flow of funds to fossil fuels, and invest in climate justice:
We passed a historic climate bill in Congress
In August, Congress passed the Inflation Reduction Act (IRA) — a climate and energy bill worth $369 billion dollars that opens huge doors for the climate movement.
We won massive investments in accelerating the transition to renewable energy, speeding up the U.S. economy's fossil free transition, and significantly reducing emissions. This bill will:
Create up to 9 million jobs in clean energy, clean manufacturing, and green transportation

Reduce greenhouse gasses by 40% by 2030

Dedicate $60 billion for environmental justice in communities hardest hit by climate change and fossil fuels

Allocate $369 billion to reduce America's greenhouse gas emissions and invest in renewable energy sources

Lengthen the tax credits for green energy projects from two to ten years to ensure steady growth in the wind and solar industry

Provide incentives for consumers to buy electric vehicles
We know the bill is far from perfect, and we've got lots of work ahead of us. However, this step forward is a clear indicator that our movement-building is working. 2023 will be all about how we implement the IRA in a just and equitable way that creates millions of new jobs in renewables and shows a path forward with real climate solutions.
We defeated Manchin's dirty deal for the third time
Earlier this year, Senator Joe Manchin proposed a bill that would require the Interior Department to sell at least 2 million acres of our public lands and 60 million acres of offshore waters for oil and gas leasing each year for a decade.
It would also make it easier to build fossil fuel projects – allowing big-polluting oil and gas companies to more easily force through dirty, dangerous fossil fuel projects in any neighborhood and community where they want to build them, limiting the voice of the public in the process.
Following the lead of frontline and grassroots groups, we made calls and signed petitions and successfully stopped this bill that would have undermined our bedrock environmental laws, fast-tracked fossil fuels, sacrificed frontline communities, and endangered public health.
We held the Federal Reserve accountable for allowing fossil fuel finance
Each year, officials from the Federal Reserve (along with influential bankers, asset managers, and government officials) gather for the Jackson Hole Economic Policy Symposium in Wyoming. The event sets important policy goals and has a huge ripple effect across the entire global financial system.
From August 25 to 28, we showed up at the meeting with our partners at 350 Colorado to peacefully demand action. Our goal was to tell the leaders at the Symposium that finance policy and the Fed have to do more to protect the climate, recognize the critical risk fossil fuel investments pose to our economy, and get on board with the imperative to keep warming under 1.5° Celsius.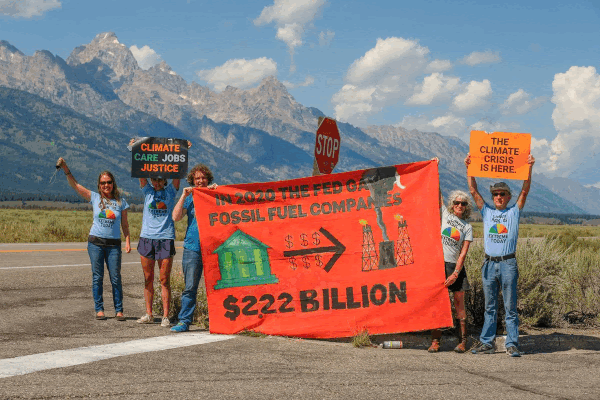 The Federal Reserve is supposed to protect the stability of the U.S. economy and the financial well-being of all Americans, and there's no bigger threat to our economy than the worsening impacts of the climate crisis.
Thanks in part to our efforts, in September, the Federal Reserve announced its plans to perform an analysis of climate change financial risks next year, and are working on ways for banks to "identify, measure, monitor, and manage the financial risks of climate change."1
We celebrated some major wins at COP27
Some of these victories include:
– President Biden pledging $100 million to the Adaptation Fund
– The final COP27 agreement including the creation of a fund for losses and damages from the climate crisis, and the U.S. committed to support it
That has never happened before and is the direct result of the pressure from the most impacted nations and our global climate movement. At the start of COP, the U.S. was reluctant to commit to loss and damage funding – but because of our movement and the leadership of advocates in the Global South, they committed to the historic Loss and Damage Fund.2
Youth climate activists march at COP27 in Sharm El-Sheikh.
In 2023, we must hold Biden accountable and demand that the U.S. fulfill its climate finance pledges immediately.
We got 5 new banks and a major PR firm to pull out of EACOP
French oil giant, TotalEnergies, is attempting to build the world's longest crude oil pipeline right through the heart of Uganda and Tanzania – the East African Crude Oil Pipeline (EACOP).
In May 2022, the #StopEACOP movement celebrated another batch of victories when five banks including Deutsche Bank, Citi, JPMorgan Chase, Wells Fargo, and Morgan Stanley (and some major insurance companies) all said they wouldn't fund EACOP.
This takes the number of banks who have rejected EACOP project loans to 20 and the number of insurers who've rejected to eight. The list of banks who've rejected the project includes seven of Total's ten largest lenders. In addition, Total lost a major business relationship with the huge U.S. PR firm, Edelman, over EACOP.
After one of the most powerful U.S. insurance brokers, Marsh McLennan, announced that they are trying to help get this pipeline over the finish line by finding insurance for the project, 350 U.S. launched a campaign calling on the CEO to drop their involvement. In 2023 we will continue to put pressure on Marsh to drop EACOP.
There is so much more work to be done, but all of our progress thus far proves that together, we can stop this project for good.
The prototype "particle beam cannon" recently completed by Chinese Academy of Sciences' Institute of Modern Physics may sound like science fiction, but it is a novel new technology that promises to recycle dangerous waste produced by a nuclear reactor. A product of China's huge investment in advanced nuclear-energy systems, the breakthrough could move the country toward energy independence and further cement its global leadership in climate-friendly technology.
Read more »
STAY CONNECTED WITH DEFENSE ONE:
From a distance, the all-white business jet parked neatly in a hangar underneath a giant American flag looks a lot like the other sleek, luxurious private planes arriving and departing from this Virginia airport. But inside, this plane is far more working class.
Read more »
STAY CONNECTED WITH DEFENSE ONE:
U.S. Special Operations Command has chosen L3Harris Technologies to supply up to 75 attack planes based on a cropduster aircraft in a deal that could be worth $3 billion.
Read more »
STAY CONNECTED WITH DEFENSE ONE:
The metaverse is coming. Like all technological innovation, it brings new opportunities and new risks.
Read more »
STAY CONNECTED WITH DEFENSE ONE:
Should a war with China break out, the Air Force wants its intelligence community to be able to operate with full connectivity, no connectivity, and everything in between. For a service aggressively moving toward cloud services, this is no mean feat.
Read more »
Cyber is in virtually everything the Air and Space forces do, from high-flying weapons to barracks thermostats. But if you asked how well the department's cyber efforts were going a year ago, no one person had the answer—including the services' then-brand-new principal cyber adviser.
Read more »
The first data strategy implementation plan issued by the Pentagon's lead IT office seeks nothing less than to break down the myriad and storied walls that keep information from flowing freely and securely between DOD programs, military branches, and battlefield units.
Read more »
STAY CONNECTED WITH DEFENSE ONE:
The U.S. Army is testing a data analytics platform that will make intel officers smarter. And if all goes well, it could be available to intel officers across the service.
Read more »
STAY CONNECTED WITH DEFENSE ONE:
It's no secret that the Pentagon can't get enough software factories. And while the military services have them, each with different approaches and models, the dozens of defense agencies and activities, often called the Fourth Estate, don't have one they can call their own. But that could change in the New Year.
Read more »
STAY CONNECTED WITH DEFENSE ONE:
The Defense Department's cloud plans are extending beyond the continental United States in 2023, according to a top IT official.
Read more »