It has been quite a month in our World as the dust settles in in the aftermath of the US Mid-Term Elections as Donald Trump declared he is running again, The "chatter class" on Twitter was excited about Donald Trump's reinstatement through a "poll") (although he's obligated to Truth Social). This is as Iran's Revolution continues to rage, the Ukraine War continues and other challenges abound including Inflation, the introduction of an austerity budget in the UK, and the challenges of COP27. This is also the month that the World went past 8 Billion People and the World Cup began in Qatar.
Our team pulled together a snapshot of the week that was from resources including the New York Times, The Financial Times of London, Defense One, Bloomberg, Politico, the University of Virginia's Crystal Ball, and other leading thinkers.
We wish all a Happy and joyous Thanksgiving and look forward to our ongoing curation projects throughout our properties in December as we gear up for 2023.

-
I'm Aggy Hall, and I lead 350.org's global campaigns team. Here at the UN climate conference in Sharm el-Sheikh in Egypt, I coordinate the team's work and make sure we stick to our campaigning priorities — COPs can be hectic, so it's important to stay focused!
I organize and lead our daily early morning briefing and daily evening debrief. So my day starts early and ends well after dinner — but I don't mind, because I get really energized by being among my amazing team. It's so rare for all of us from across the world to meet in person.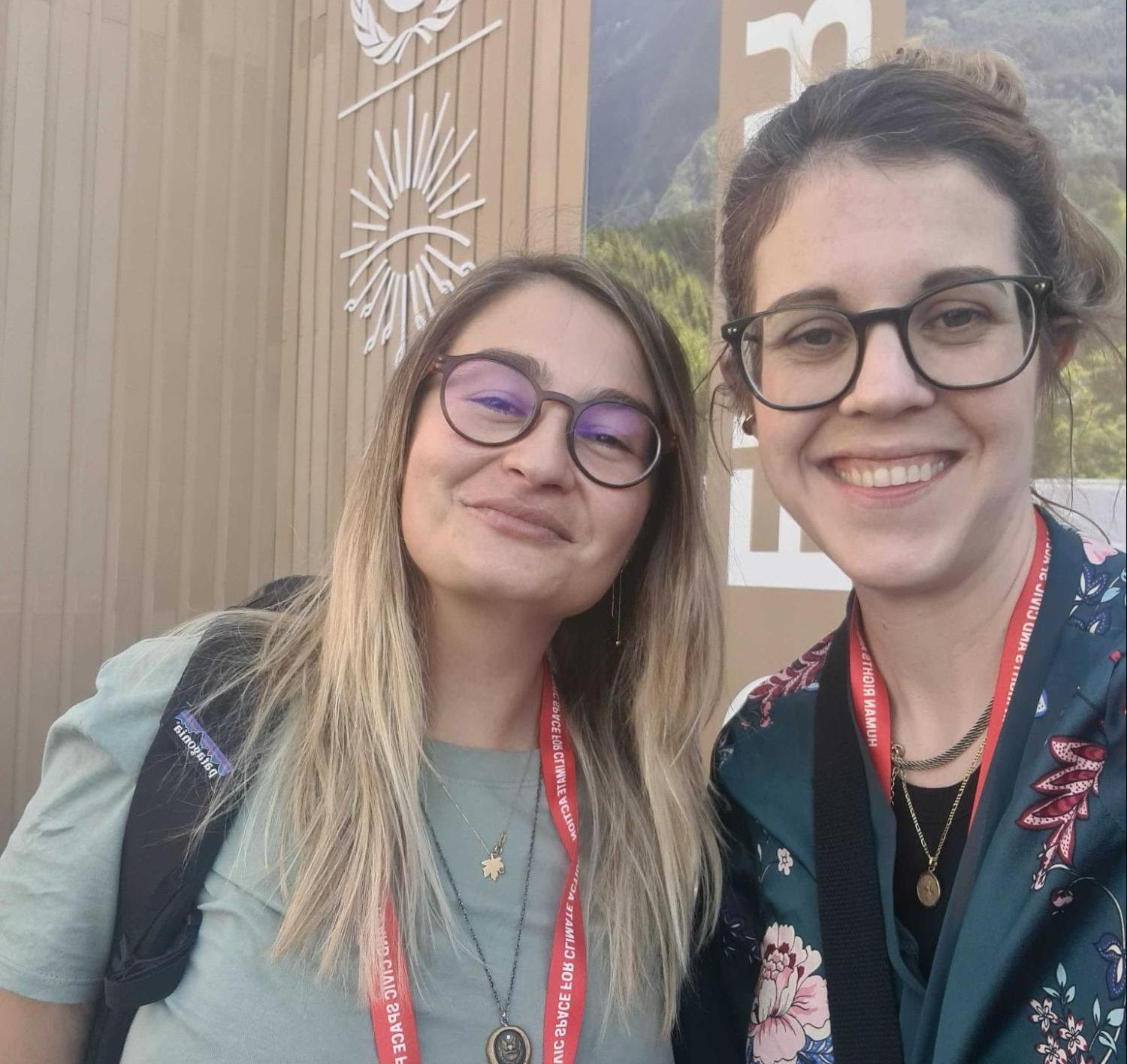 Here I am on the right, alongside Cansın (on the left) who is part of my team and heading up our COP27 delegation!
Usually, my day at COP starts when I enter the conference center and grab my daily ECO, a newspaper printed each day of COP by the Climate Action Network. I love ECO — it's like reading Lady Whistledown write about climate negotiations!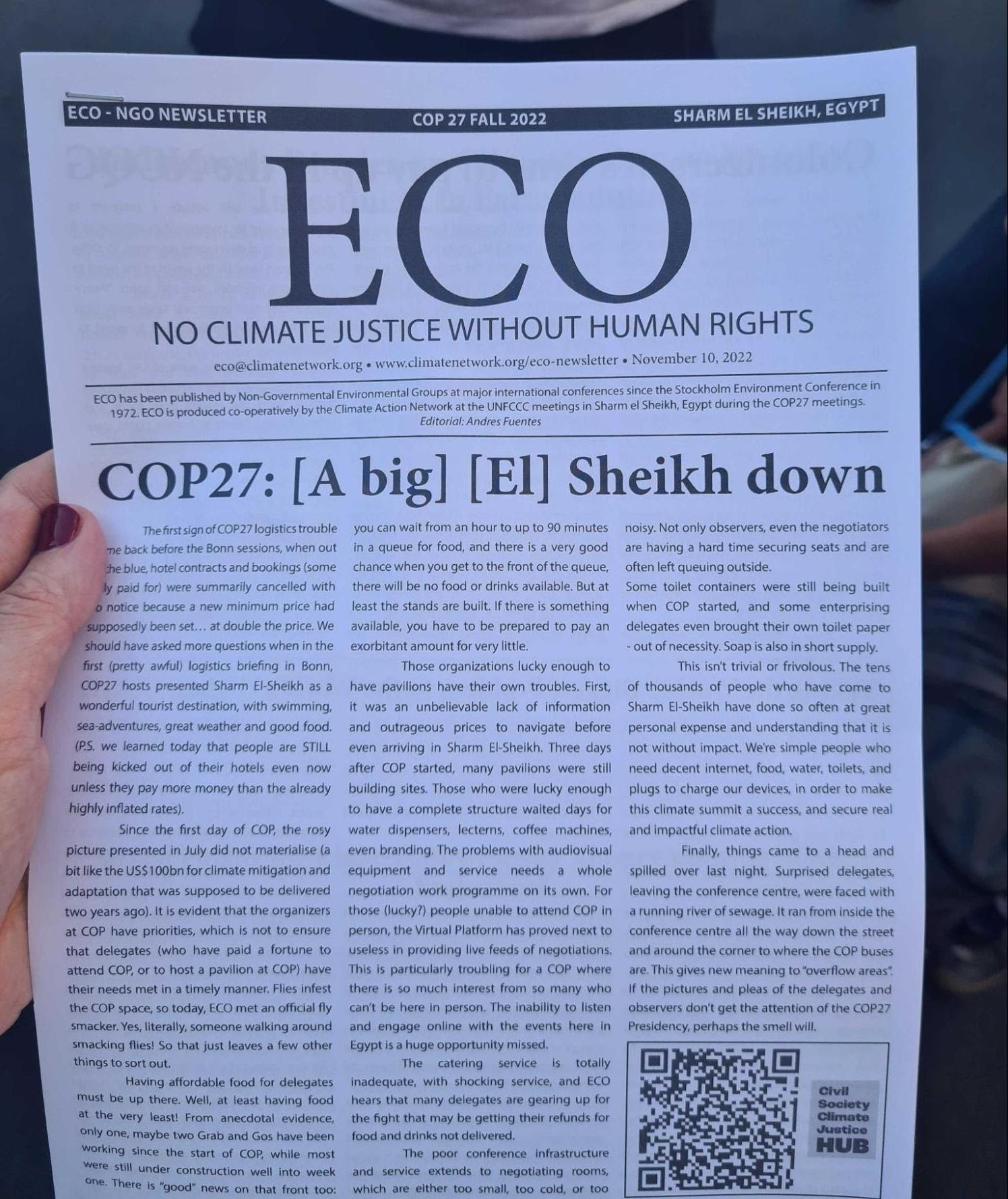 Here's a copy from last week!
So far I have taken part in actions alongside our colleagues from 350.org South Africa who are organizing to demand transparency in how public money is used to fund fossil energy projects. I also joined their panel event, during which my colleagues spoke about the need for local communities to be consulted and involved in planning their energy future. The right to decide one's future is a human right — too often trampled by coal, oil, and gas development projects.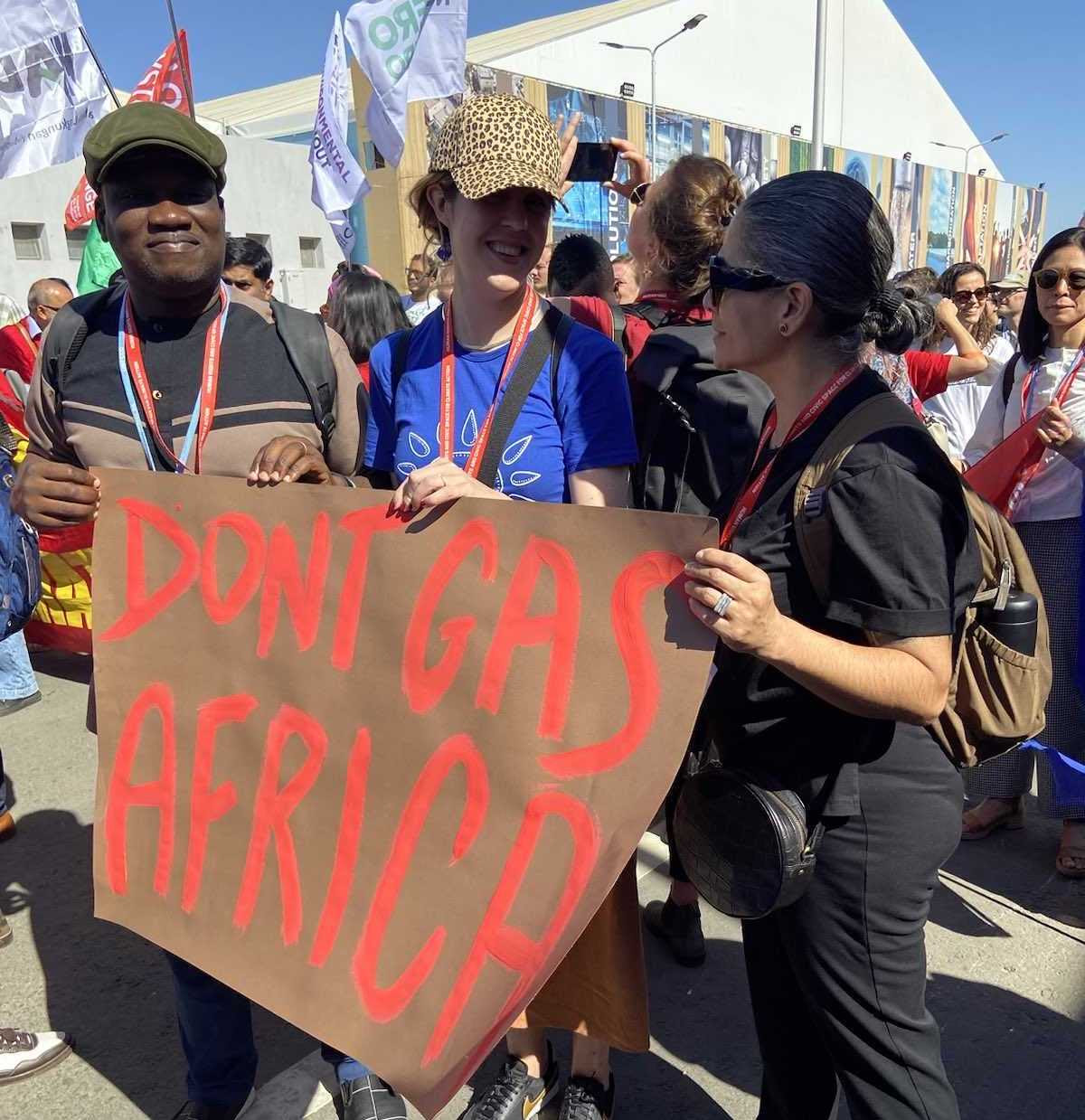 Here I am in the middle between two of my colleagues at an action outside of COP27
My hope for this COP — the hope that keeps me going, that keeps me focused and determined — is that rich global north countries will finally step up their game and offer real support, and real money, to save what can still be saved from the worst impacts of the climate crisis — including people's rights, livelihoods, and traditions — and to invest in renewables.
I feel grateful that today, and each day of this UN climate conference, that I can be part of the civil society that keeps raising our voices in defense of human rights. I hear that call for justice in my Pacific Islander colleagues' demand for Loss & Damage finance, and in my African colleagues' fight against neocolonial oil and gas extraction projects. In the demand to free political prisoners of conscience, and in our continued fight to keep global heating under 1.5ºC.
Thanks for following along!
Aggy Appiah-Hall
Global Campaigns Director
350.org
By John Ainger, Salma El Wardany and Jennifer A. Dlouhy
Countries negotiating at the climate summit in Egypt are on track to reject calls for phasing down the use of all fossil fuels, snuffing efforts by India and key developed nations to target oil and gas as well as coal in an overarching deal at COP27.
The Egyptian presidency published the first draft of its so-called "cover decision" and largely kept last year's pledge made at Glasgow to "accelerate measures towards the phase down of unabated coal power" and phase out fossil fuel subsidies. It also stuck with a commitment to keep global warming to 1.5 degrees Celsius. It highlighted that countries are currently falling well short on meeting the climate finance needs of developing countries.
The draft, which is still subject to revisions during the week, will likely come as a disappointment for countries who were pushing for a phase down of all fossil fuels, not just coal. India led the push, but received backing from the US, European Union and the UK, though the latter countries wanted to make sure that phasing down coal in particular was still highlighted.
There was also likely to be widespread opposition to such a move. Saudi Arabia's energy minister, Prince Abdulaziz bin Salman, said in an interview last week that the kingdom would be very unlikely to support an agreement that included the phase down of oil. Read more on the reaction to the draft document here.
Chancellor pushes back many measures until after expected general election in 2024
NOVEMBER 17, 2022 by George Parker and Chris Giles
Nov. 18-19, 2022
By Marc Cooper
I don't know about you, but I have sorta had it with that fastidious former federal judge now turned Biden Attorney General. Merrick Garland seems definitively more interested in appearing fair and neutral to Republicans who frankly wish him harm than he wants to bring the high level criminals and coup plotters directly attached to the Trump Crime Family to justice.
How many times now have we heard him give the same speech about how nobody is above the law, that politics should be kept out of prosecutorial decisions and that he intends to see all guilty prosecuted to the full extent of the law no matter where it leads?
Just after Trump locked his supporters in a ballroom so he could declare his 2024 candidacy a full two years before the election, Garland once again assured reporters that nobody gets special treatment from the DOJ and he clearly implied that Trump being a candidate would have no bearing on a possible indictment.
Yet, here we are merely three days after that statement with Garland making an additiional surprise pronunciation Friday afternoon, that he was turning over all Trump related investigations to a Special Counsel who would have charging capacity.
Here's how Garland justified his move:
"The Department of Justice has long recognized that in certain extraordinary cases it is in the public interest to appoint a special prosecutor to independently manage an investigation and prosecution," Garland said.

"Based on recent developments, including the former president's announcement that he is a candidate for president in the next election and the sitting president's stated intention to be a candidate as well, I have concluded that it is in the public interest to appoint a special counsel," Garland said.
Huh? This seems a direct contradiction of every indication till now given by Garland that it did not matter what delaying tactics Trump might use, he would be given NO special consideration whatsoever.
Well, there was that issue of the Special Master on the Mar-a-Lago documents case. That's pretty special. And Garland himself says he's going with the Special Counsel based it seems wholly on "the former president's announcement that he is a candidate for president." Yeah. Special treatment because Trump is running. Exactly what Trump intended with his ridiculous announcement last Tuesday. Whatsa matter with Garland?
Now, this Special Counsel, Jack Smith, seems like a very serious guy and I would not be sleeping well if he somehow was on my case. And I do not think that Garland is necessarily trying to boot the case and let Trump off as it would seem rather excessive to go through the whole procedure of starting Smith up if Garland intended to not indict,
However, we do note for the record that for whatever reason that might not seems apparent today, Garland will have the Special Counsel as a buffer and an excuse if no indictment Is brought.
Neal Katyal, the former acting Solicitor General of the U.S, authored the special counsel act and is quite upset over its use in this case. Appearing on several cable news shows Friday he said the Special Counsel should be used only when someone related or connected to a sitting president is under investigation – the special counsel would prevent a conflict of interest.
Indeed, by the standard set today by Garland, any investigation of Hunter Biden would then require a Special Counsel.
As soon as Garland made the appointment of the Special Counsel public Friday afternoon, he was immediately attacked by a bevy of elected Republicans who accused him of "weaponizing the Justice Department." They did not seem to care a lick that Garland was being so fastidious. Marjorie Taylor Greene tweeted he should be impeached. ++
November 18, 2022
Lockheed Martin has struck a deal with Microsoft that will allow the defense giant to use the tech giant's classified cloud. Lockheed is the first "non-government entity" allowed to "independently operate" within the Microsoft Azure Government Secret cloud.
The companies billed the partnership as a "landmark expansion of their strategic relationship to help power the next generation of technology for the Department of Defense." Lockheed hopes access to the Microsoft cloud will allow it to move quicker on programs.
"Whenever you stand up a new classified program, it takes weeks to months to just get the IT in place to do it. And this will speed that whole process up immensely," Steve Walker, Lockheed's chief technology officer told Reuters.
The two companies also agreed to collaborate on artificial intelligence, machine learning, modeling and simulation, and 5G edge computing.
Lockheed has been working more closely commercial tech firms since Jim Taiclet became the company's CEO in June 2020. Taiclet, who came to Lockheed from the telecom industry, has forged partnerships with NVIDIA, Verizon, Qualcomm, and General Motors.
Last month, Taiclet said he had stood up an internal cell to create partnerships with mid-size defense, commercial, and space firms.
iD.gov: The 2022 Government Identity Security Virtual Summit on December 1
Presented by SailPoint
During the sixth annual "iD.gov: Government Identity Security Summit," public sector leaders from federal, defense, state, and local backgrounds will discuss how to ensure a secure enterprise, as well as build the foundation of zero trust and audit readiness. They will also explore how to improve your current user experience, extensibility and new ways to optimize your identity workload.
Lockheed's hardly alone; most of the large prime defense contractors have been seeking closer relationships with commercial firms in an effort to gain access to their technology, which could in turn help move defense programs faster.
Speaking of Lockheed, the company kinda, sorta, has a new logo, which looks pretty much the same as the old logo. The font has slightly changed and the tails on its star logo are slightly shorter. Take a look here.
Welcome
You've reached the Defense Business Brief by Marcus Weisgerber. Programming note: We're moving to Mondays after Thanksgiving! Look for the Defense Business Brief to appear in your inbox on Nov. 28. Send along your tips and feedback to mweisgerber@defenseone.com or @MarcusReports. Check out the Defense Business Brief archive here, and tell your friends to subscribe!
The U.S. Army awarded two deals collectively worth more than $500 million to replace Guided Multiple Launch Rocket Systems given to Ukraine. GMLRS (pronounced Gimmlers) are the rockets fired from HIMARS trucks, which Ukraine has famously used to repel occupying Russian forces.
The State Department will allow Switzerland to purchase Patriot missile interceptors. Recall: last year when Zurich chose the F-35 stealth fighter, it also said it would buy five Patriot batteries. The deal announced on Tuesday is for up to 72 PAC-3 missiles and other equipment. It could be worth up to $700 million, according to the Pentagon's Defense Security Cooperation Agency, which oversees foreign arms sales.
Senators are growing impatient that the Navy has not told them how many amphibious ships it needs in the fleet. In a Nov. 14 letter to Navy Secretary Carlos Del Toro, Sens. Roger Wicker, R-Miss., and Tim Kaine, D-Va., want to know why the Navy has not provided details of a study that is supposed to determine the number of ships. In May. "We strongly urge you to provide the unredacted, unedited results of the study without further delay. If the study is still incomplete, please provide a reason as to why it is incomplete, whether you need any additional resources to complete the study, and when you expect it to be completed, as well as the results upon completion." Read the letter here.
After nearly two and a half years in space, the U.S. Space Force X-37B space plane returned to Kennedy Space Center. The Boeing-made aircraft spent 908 days orbiting the globe, breaking its own record of 780 days. So what was it doing up there? " Hosted experiments included a solar energy experiment designed by the Naval Research Lab, as well as a satellite designed and built by cadets at the U.S. Air Force Academy in partnership with the Air Force Research Laboratory," according to a Nov. 12 Boeing statement.
The U.S. Air Force Research Laboratory awarded Stratolaunch a contract that funds the flight testing of the company's Talon-A hypersonic test vehicle. Talon-A will be launched from the Stratolaunch's massive, six-engine Roc aircraft. "Talon-A is a rocket-powered, autonomous testbed with the ability to fly a variety of hypersonic flight profiles while carrying customized payload experiments on board. The first Talon-A vehicle is an expendable configuration. The next generation of Talon-A vehicles will be capable of reusable hypersonic flight."
The U.K. Defense Ministry selected Team Resolute, a three-company consortium, to build Royal Navy support ships. The $1.9 million contract "intends to create 1,200 U.K. shipyard jobs, hundreds of graduate and apprentice opportunities, and an expected 800 further jobs across the U.K. supply chain," the MoD said.
Making Moves
Two-plus months after the White House said it would nominate Nickolas Guertin to be the Navy's top weapons buyer, this week, the Biden administration sent that nomination to the Senate. The position, which oversees billions in spending, has been without a Senate-confirmed leader for almost two years.
The price of crude oil this morning was $78.47 a barrel, down from $92.61 a barrel on November 4, falling by at least 18% over the past two weeks. This should help to relieve high costs of gas for consumers, although when the price falls to around $70 a barrel, the administration will begin to refill the strategic petroleum reserve, the release of which has helped to bring down gas prices. Diesel prices, though, are going up because of shortages caused by Russia's invasion of Ukraine and a shortage of refinery capabilities after a 2019 fire shut down a refinery in Pennsylvania.
Shipping prices are also coming down, getting back to a normal range after crazy heights after the pandemic that fed inflation. The dislocations of the coronavirus pandemic sent shipping costs as much as 547% over the usual range by last January, driving up the prices of consumer goods. The return of more normal costs for transportation should help bring those prices down.
As Americans head out of town for the holidays, President Biden reminded them today that his administration is taking on the hidden "junk fees" on airline tickets and hotel rooms.
In other economic news, the Inflation Reduction Act (IRA) has already spurred dramatic investment in American manufacturing of battery equipment. Previously, China was dominating that industry, but now America is developing its own battery sector to help the nation move toward electrical vehicles and other climate-friendly technologies.
Biden pushed for the IRA to combat climate change, provide jobs, and compete with China. By passing the IRA and the Bipartisan Infrastructure Law, the Biden administration "has basically seized the bull by the horns," Sanjiv Malhotra, the chief executive of a company building a battery plant in rural West Virginia told Harry Dempsey and Myles McCormick of the Financial Times. Malhotra's new plant will hire out-of-work coal miners.
Meanwhile, the two parties continue to try to organize themselves into new patterns after the midterms. The far-right, pro-gun "Second Amendment Caucus" today hosted Kyle Rittenhouse, the 19-year-old who shot three men, killing two of them, in summer 2020 during a protest in Kenosha, Wisconsin, and who was later acquitted of homicide.
Representative Lauren Boebert (R-CO), whose Democratic opponent, Adam Frisch, conceded today rather than force a hand recount of their close election, told Emily Brooks of The Hill: "It was an honor to have Kyle join the Second Amendment Caucus. He is a powerful example of why we must never give an inch on our Second Amendment rights, and his perseverance and love for our country was an inspiration to the caucus." Rittenhouse tweeted a photograph of himself at the Capitol with the caption: "T-minus 5 years until I call this place my office?"
Representative Kevin McCarthy (R-CA) is facing opposition from the far-right MAGA Republicans in his quest to be speaker of the House, and welcoming Rittenhouse signals to the base that they will have a strong voice in the new Congress.
New candidates for Democratic leadership in the House are stepping up now that Speaker Nancy Pelosi has said she is stepping down. Representative Hakeem Jeffries (D-NY) today launched a bid to become the Democratic leader. Emphasizing continuity from Pelosi, with whom he is close, Jeffries called for working with Republicans "where possible…to deliver results for the American people," but noted that "the opposing party appears to have no plan to accomplish anything meaningful. If the Republican Conference continues to major in demagoguery and minor in disinformation, their bankruptcy of ideas must be aggressively exposed on an ongoing basis."
Jeffries called for Democrats to "unify around an agenda designed to make life better for everyday Americans from all walks of life," and to center Democratic "communication strategy around the messaging principle that values unite, issues divide. House Democrats are actually the party that defends freedom, promotes economic opportunity and values families by uplifting them. We must make sure that the perception of the Democratic brand matches up with the reality that we do in fact authentically share values that unite the Heartland, Urban America, Rural America, Suburban America and Small Town America."
Massachusetts Representative Katherine Clark is running for the number two position in the party leadership—the place Steny Hoyer (D-MD) has held since 2003—and California Representative Peter Aguilar is running for the number 3 position. Both Clark and Aguilar are close to Jeffries, and the three are seen as a team.
The coming Republican control of the House means shifting of the investigation into former president Trump. Trump was subpoenaed on November 14 to testify before the House Select Committee to Investigate the January 6th Attack on the U.S. Capitol but didn't acknowledge the subpoena. The committee said it would "evaluate next steps."
Yesterday, committee chair Bennie Thompson (D-MS) said he established a subcommittee about a month ago to look at "all outstanding issues" and to consider criminal and civil referrals to the Department of Justice. The members of the subcommittee are all lawyers: Jamie Raskin (D-MD), Liz Cheney (R-WY), Adam Schiff (D-CA), and Zoe Lofgren (D-CA).
Today, days after Trump announced he would seek reelection in 2024, Attorney General Merrick Garland said he had appointed a special counsel to assume control over the investigations of the former president. One is the investigation into Trump's theft of United States documents, including some that were classified at the highest levels, when he left office. The other is Trump's role in the events leading up to the January 6, 2021, attack on the Capitol in an attempt to steal the 2020 presidential election for Trump.
The Department of Justice has been investigating both of these issues since they came to light, but with Trump now in the political ring for 2024—in part because he hoped an announcement would stop his prosecution—and with Biden likely to announce later, Garland said he thought it was important to demonstrate that the investigations were independent. It is also of note that a special counsel can be removed only for misconduct, insulating the investigations from the new Republican majority in the House. The White House was not given advance notice of Garland's action.
Garland appointed to the position Jack Smith, a graduate of Harvard Law School who served as a prosecutor for government corruption cases and since 2018 has been a war crimes prosecutor in The Hague. A former colleague said of him: "I have no idea what his political beliefs are because he's completely apolitical. He's committed to doing what is right."
The appointment frustrated those who saw no reason to treat Trump differently than any other U.S. citizen and thought it would significantly slow the investigation; others saw it as a sign the Justice Department would indict the former president. Tonight, referring to the issue of the stolen documents, Trump's attorney general William Barr told CNN, "I personally think they probably have the basis for legitimately indicting [Trump].... They have the case."
—
Notes
https://www.benzinga.com/general/entertainment/22/11/29787325/biden-the-master-oil-trader-crude-drops-below-80-and-us-government-may-earn-windfall-on-eme
https://www.cnbc.com/2022/11/18/oil-climbs-as-dollar-slips-but-demand-outlook-clouds-market.html
https://www.cbsnews.com/news/diesel-fuel-new-premium-over-gasoline/
https://www.dtnpf.com/agriculture/web/ag/news/article/2022/11/16/shipping-prices-back-normal-just
https://optimoroute.com/why-is-shipping-so-expensive/
https://www.ft.com/content/05e7a6ba-bdde-4c3b-b7d1-657523204021
https://thehill.com/homenews/house/3741099-kyle-rittenhouse-meets-with-house-gop-members/
https://www.cnn.com/2022/11/17/politics/hakeem-jeffries-next-democratic-leader/index.html
https://www.cnn.com/2022/11/18/politics/read-hakeem-jeffries-minority-leader-announcement/index.html
https://www.washingtonpost.com/nation/2022/11/18/katherine-clark-democratic-leadership/
https://www.axios.com/2022/11/17/congress-house-democrats-minority-leaders-plan
https://www.axios.com/2022/11/17/the-jan-6-committee-has-a-clean-up-crew
https://www.nytimes.com/live/2022/11/18/us/trump-garland-special-counsel
White House press briefing, November 18, 2022, 4:03 pm EST.
https://slate.com/news-and-politics/2022/11/special-counsel-appointed-garland-trump.html
https://www.cnn.com/2022/11/18/politics/justice-department-trump-special-counsel/index.html
https://www.washingtonpost.com/opinions/2022/11/18/special-counsel-garland-trump/
What Happened in the States
Democrats picked up governorships, state legislative chambers; Republican state court victories could have redistricting implications



State-level election recap
By now, everyone knows that the Democrats held the Senate, and may even be able to expand their holdings by a seat, depending on the outcome of the Georgia runoff. And while the precise breakdown in the House awaits continued ballot counting, the Republicans won only a narrow majority.
Both outcomes flew in the face of historical patterns, which hold that the party controlling the White House loses a sizable number of seats in both chambers. Before Election Day, that seemed especially likely for President Joe Biden, whose approval ratings were significantly under water.
But the surprises did not end with the Senate and House results. Republicans also fared poorly in key gubernatorial races, state legislative control, secretary of state and attorney general races, and ballot measures. The only bright spot for Republicans -- and it was not an undiluted one -- was in state supreme court races.
Let's look at each of these contests to see what kinds of conclusions we can draw.
Governorships
In general, this was mostly a status quo election for gubernatorial contests, although Democrats made up some ground, netting 2 governorships overall. The Democrats now hold 24 governorships, while the Republicans hold 26.
The Democrats flipped the open Massachusetts and Maryland governorships, a result that had been expected ever since GOP primary voters in each state nominated candidates who were too far to the right to have any chance of winning in such solidly blue states.
Other than that, only 2 other governorships are set to flip, each in opposite directions: Nevada, where Republican Joe Lombardo defeated incumbent Democratic Gov. Steve Sisolak; and Arizona, where Democrat Katie Hobbs defeated Republican Kari Lake in a seat held by outgoing GOP Gov. Doug Ducey. (Officially, Alaska's gubernatorial race isn't called, but the incumbent Republican, Mike Dunleavy, is expected to win.)
In general, though, incumbent governors fared well, certainly when running in friendly territory, and even in more challenging states. Wisconsin's Tony Evers and Kansas's Laura Kelly won new terms even though they were running as Democrats in purple and red states, respectively. In Oregon, the Democrat, Tina Kotek, won a 3-candidate free-for-all, keeping Democratic control of the governorship in a vulnerable blue state.
The pro-incumbent tide may stem in part from a tendency we noted in June -- that at a time when Americans are sour on the current president, the previous president, Congress, and the general direction of the nation, they seem pretty copacetic about their governors, regardless of whether they live in a blue or a red state. The relatively flush finances for most states right now, thanks in part to generous federal aid under President Biden, may be helping by staving off unpopular budget cuts.
Whatever the reason, when governors are right-side-up in approval ratings, voters have a harder time throwing them out of office. And the 2022 midterms seem to have demonstrated that.
Legislatures
On the state legislative level, the pro-Democratic surprise of 2022 followed the pro-Republican surprise of 2020.
Two years ago, Democrats were playing aggressive offense on state legislative chambers, hoping to ride Biden's coattails to chamber flips in Arizona, Iowa, Michigan, Minnesota, North Carolina, Pennsylvania, and Texas. Yet in the end, not a single GOP chamber flipped control -- and the Democrats actually ended up losing a couple of chambers, both in New Hampshire.
In 2022, the roles were reversed. The overall playing field was smaller, and the vulnerable chambers were more evenly divided between the 2 parties. With the historical patterns hampering the president's party in place, it did not seem like a promising election for the Democrats to flip GOP state legislative chambers.
But lo and behold, the Democrats ended up flipping both chambers of the Michigan legislature as well as the Minnesota Senate. With gubernatorial victories in both states, the Democrats were able to turn both Michigan and Minnesota into trifecta states, in which one party controls the governorship as well as both houses of the legislature.
In addition, the Democrats are tantalizingly close to seizing majorities in both the Pennsylvania House and the New Hampshire House, although neither have been called. New Hampshire is in the midst of recounts, including in one key race where the result is now a tie, while Democrats appear to have won a majority by a single seat in Pennsylvania, but there are a lot of moving pieces, as noted by the Philadelphia Inquirer.
And as was the case in 2020, the party that had been expected to do poorly in the election didn't lose control of any of their vulnerable chambers.
Secretary of state races
Secretary of state races have been attracting an unusual degree of public attention this election cycle, owing to concerns that some Republican nominees, if elected, would work to overturn election results unfavorable to their party.
From the beginning of this cycle, we have been focusing on one straightforward question: Would Republican voters and Republican-leaning independents ratify some of the more conspiracy-minded nominees the GOP anointed in primaries earlier this year? Or would they pick and choose, voting for mainstream Republicans for most offices but crossing over to support Democrats instead of election deniers?
Until Election Day, we honestly had no idea which path those voters would take.
Now that the ballots have mostly been counted, we have a pretty good idea what happened: Enough Republicans and Republican-leaning independents rejected blind party loyalty and crossed over to vote for Democrats, apparently making a difference in most of these races. A few controversial secretary of state candidates did win uncompetitive contests in solidly red states, but none won in a battleground state.
For instance, in Arizona, GOP secretary of state candidate Mark Finchem ran more than 2 points behind GOP gubernatorial candidate Kari Lake, who herself is an election denier. In Nevada, Jim Marchant ran about 2 points behind Lombardo, a mainstream Republican. In New Mexico, Audrey Trujillo ran nearly 3 points behind GOP gubernatorial nominee Mark Ronchetti, another mainstream Republican. And in Michigan, Kristina Karamo ran about 2 points behind GOP gubernatorial nominee Tudor Dixon, who also came from the Trump-aligned wing of the party.
By contrast, mainstream Republicans running for secretary of state had no problem winning, including Georgia's Brad Raffensperger and Iowa's Paul Pate.
One race that isn't officially called yet is in Wisconsin, where long-serving Secretary of State Doug La Follette (D) leads Amy Loudenbeck (R) by just a few tenths of a point. (Wisconsin's secretary of state, unlike many of those elsewhere, does not oversee elections.)
Attorney general races
This year's attorney general races saw two upsets. Arguably the most surprising was the narrow victory by Kris Kobach, who has occupied the GOP's rightward edge on immigration and voting policy for years. Four years ago, Kobach was so controversial that he managed to lose the governorship in the ordinarily red state of Kansas. But this year, Kobach won the AG race -- on the same night that Kelly, the Democrat he lost the governorship to in 2018, secured a second term from voters. (Who's in that tiny slice of the electorate who voted for both Kelly and Kobach? Beats us, although there were conservative third-party alternatives in the gubernatorial race while the AG contest just had major-party nominees.)
The other surprise, somewhat milder, came in Iowa, where long-serving Democratic AG Tom Miller lost to Republican Brenna Bird, 51%-49%. Miller's loss tracks with Iowa's rightward shift in recent election cycles, a drift that Miller had been able to handle up until now. We had seen Miller as a modest favorite in our final look at the AG races, based on his 49%-33% lead in the authoritative Des Moines Register poll in mid-October. However, the Register's subsequent poll in early November found Miller leading by only 47%-45%; sadly, it was released several days after we published our final attorney general handicapping, so it didn't factor into our rankings. (The only remaining Democratic statewide elected official in Iowa, state Auditor Rob Sand, was leading his uncalled race narrowly.)
Meanwhile, voters in Texas chose to keep Republican Ken Paxton as their attorney general, despite a series of ongoing legal troubles. He fared just a little bit more than a point worse than Republican Gov. Greg Abbott, and both won comfortably. In another solidly red state, Idaho, Republican Raúl Labrador easily defeated Democrat Tom Arkoosh, who had received the backing of some establishment Republicans in the state who felt that Labrador was too far to the right even for his red state.
In Minnesota, vulnerable Democratic Attorney General Keith Ellison narrowly fended off Republican Jim Schultz. Schultz, a mainstream Republican, ran 5 points ahead of GOP gubernatorial nominee Scott Jensen, a vaccine skeptic. In Wisconsin, Josh Kaul ran just a little bit behind Evers at the top of the Democratic ticket; both earned narrow victories.
In Michigan, incumbent Democratic AG Dana Nessel defeated Republican election denier Matthew DePerno by a comfortable 9-point margin.
As for the close, late-counting states of Nevada and Arizona, Democrats won one race against a controversial GOP attorney general nominee, and they barely lead in the other. In Nevada, Democrat Aaron Ford defeated Republican Sigal Chattah by 8 points, a virtual landslide by the state's standards this year (and many years). In Arizona, Democrat Kris Mayes had a very slim lead on Republican Abraham Hamadeh in a race that appears headed to a recount. If Mayes wins, this would be a Democratic flip of an open seat.
Ultimately, Arizona and Nevada could continue to see a mix of Republicans and Democrats holding various statewide offices, bucking a trend we've noted previously of unified partisan control of statewide elected offices. Wisconsin will have a mixed slate as well, given the election of Republican John Leiber as state treasurer.
Ballot measures
It was a pretty good night for liberals on ballot measures. Voters approved a Medicaid expansion in South Dakota, a collective bargaining guarantee in Illinois, and minimum wage hikes in Nebraska, Nevada, and Washington D.C. Measures that would expand rights for immigrants passed in Massachusetts and Arizona.
Voters also legalized marijuana in Maryland and Missouri, and they approved legalization of some psychedelic drugs in Colorado. But in 3 red states -- Arkansas, North Dakota, and South Dakota -- voters rejected efforts to legalize recreational marijuana.
Perhaps the most important victories for liberals were those on 5 abortion-related measures. Voters in California, Michigan, and Vermont approved pro-abortion rights measures, while those in Kentucky and Montana rejected anti-abortion measures.
Combined with exit polls showing a surprisingly high salience for abortion among Democratic voters, these abortion rights victories on ballot measures are noteworthy. However, it's worth playing devil's advocate, as well.
In several red states, voters reelected a governor who oversaw a tightening of abortion laws following the Supreme Court's decision to overturn Roe vs. Wade.
And these gubernatorial reelections were not narrow, either; each came by a wide margin. In Ohio, Gov. Mike DeWine improved upon Trump's share of the 2020 vote by 10 points. In Florida, Gov. Ron DeSantis improved by 8 points. Reelected governors in Alabama, Georgia, South Carolina, and Tennessee improved on Trump's 2020 benchmark by between 3 and 5 points. One reelected red state governor who fared worse than Trump was Oklahoma's Kevin Stitt, but his reelection challenges stemmed more from disagreements with Native American tribes and other factors than abortion politics.
It's possible to reconcile these parallel trends. In purple states like Michigan and Pennsylvania, the electorate clearly favored abortion rights. In red states where the abortion question was asked explicitly on the ballot, voters did indicate a preference for abortion rights. But in red states, incumbent Republican governors had enough going for them with the voters that abortion restrictions seemed to give voters little pause, if any.
One notable trend on ballot measures involved voters seeking to block changes to the ballot measure process. As seen in the results above on Medicaid, marijuana, and the minimum wage, ballot measures are often the only way for liberals to enact policies in states dominated by Republicans. In response, some GOP-heavy states have sought to make it harder to qualify or approve ballot measures.
In one solidly red state, Arkansas, voters soundly rejected a measure that would have raised the threshold for passing ballot measures to three-fifths, rather than a simple majority.
In another increasingly red state, Florida, a measure to abolish the Florida Constitution Revision Commission failed to meet the required 60% needed for enactment. This panel, which is next set to meet in 2037, proposes new state constitutional amendments that voters consider for possible passage as ballot measures.
In Arizona, the results were more mixed. Voters easily rejected a measure that would have allowed the legislature to amend or repeal ballot measures after approval if they contained provisions ruled invalid by state or federal courts. However, voters backed a separate measure that would require measures to stick to a single topic. Voters also narrowly approved a measure that would raise the threshold for passing ballot measures that raise taxes from a simple majority to three-fifths.
State supreme courts
Supreme court races were a relative bright spot for Republicans on Election Night.
In North Carolina, Republicans swept both contested seats on the court, flipping it to 5-2 GOP control, a near reversal of the 6-1 edge the Democrats held just before the 2020 election. This is a crucial shift, not only for resolving myriad policy questions in a state with a Democratic governor and a Republican legislature, but also because of redistricting.
The midterm election produced a 7-7 Democratic split in the U.S. House for North Carolina, not far from the 50%-49% Trump-Biden breakdown in the state in 2020. But with help from a Republican-friendly court, the GOP might be able to squeeze Democrats out of several congressional seats they just won -- which would be a big deal in what promises to be a closely divided House chamber.
The other big Republican supreme court victories came in Ohio, where Republicans prevailed in all 3 seats that were being contested this year. The GOP came into the election with a 4-3 edge on the court, but their fourth vote, Chief Justice Maureen O'Connor, often sided with Democrats on redistricting. The makeup of the court remains 4-3 Republican, but O'Connor will not be on the court anymore.
As a practical matter, O'Connor's views didn't carry the day, because the state's GOP-dominated officials essentially ignored the court's rulings. Now that she is gone, the expectation is that Ohio Republicans will have a freer hand on redistricting. In the midterms, the Democrats were able to win 5 of the state's 15 seats, but 2 of those victories were within 5 points and the third was assisted by a controversial GOP candidate. A GOP-leaning court could sign off on an eventual remap that allows the Republicans to get a bigger edge in the state's U.S. House delegation.
That said, Democrats fared better in supreme court races outside of North Carolina and Ohio.
In Illinois, the Democrats swept the 2 seats that were up for grabs, following the first redistricting of the state's supreme court districts in more than 50 years. With a stronger top-of-the-ticket lineup, the Republicans would have had a shot at flipping the court. But the GOP's up-ballot nominees were weak, which dragged down the otherwise credible supreme court candidates. With their twin victories, the Democrats now have a 5-2 majority that could last a decade.
In Montana, where the justices are officially nonpartisan, one conservative incumbent won reelection as expected, but the Democrats prevailed in a wide-open race in which the challenger had strong backing from the state GOP. Incumbent Ingrid Gustafson, who was appointed by then-Democratic Gov. Steve Bullock, defeated James Brown, a Republican public service commissioner, by 8 points. While observers say that abortion policy did not drive the supreme court contest, Gustafson has indicated support for a 1999 decision upholding abortion access.
In Michigan, where justices are nominated by the parties but are put on the general election ballot without any listed party affiliation, the election was a status quo affair. One Republican incumbent and one Democratic incumbent were reelected, preserving the Democrats' 4-3 majority.
Kentucky held 4 supreme court races, the most notable of which was the defeat of state Rep. Joe Fischer, an opponent of abortion who ran as a staunch conservative in what was officially a nonpartisan contest. Fischer failed to unseat incumbent Justice Michelle Keller.
And in Arkansas, another state where the justices are nonpartisan, incumbent Robin Wynne won a comfortable victory over Chris Carnahan, a former executive director of the state GOP. Carnahan lost despite receiving the backing of the state's dominant GOP. Wynne had served in the state House as a Democrat in the mid-to-late 1980s, at a time when Democrats dominated the state.


Table 1: Crystal Ball Senate rating change
The 2024 Senate election season starts now
Democrats clinching at least a 50-50 Senate majority over the weekend seemed to take the steam out of the looming Georgia Senate runoff. But that race remains vitally important -- not just as the last race of 2022, but as the first race of 2024.
First of all, there are governing consequences for Democrats if they can get a true majority.
In a 50-50 Senate, the parties have equal representation on committees, based on a power-sharing agreement that the 2 parties reached early in the current Congress. An extra seat for Democrats would render such an agreement unnecessary and would give Democrats the advantage on committees. It also would make it easier for Democrats to confirm judicial nominees if they had an actual majority, because there are logistical challenges the party must surmount in a 50-50 Senate that would not exist in a 51-49 Senate. A big part of modern Senate majorities is simply keeping the judicial confirmation conveyor belt running at full speed: An extra Democratic senator would improve efficiency in that regard.
A 51-seat Senate majority would also allow Senate Democrats to occasionally bypass their few members who are not always team players, most notably Sens. Joe Manchin (D-WV) and Kyrsten Sinema (D-AZ). However, this is probably less important in the new Congress as opposed to the current one because the likely Republican takeover of the House means that the GOP will have a seat at the governing table -- meaning that the kind of legislation Democrats would want to try to get through the Senate is not likely to pass the House anyway. There is also the filibuster, but eliminating it next year would not make any sense because Republicans control the House -- even if Democrats had the votes to do so in a 51-49 Senate, which they likely would not.
One other thing: A 50-50 Democratic Senate majority means that they are but one death or resignation away from losing the majority. A 51-49 edge gives the party a buffer on that as well.
But the more important buffer, for Democrats, is electoral.
In saving at least the tiniest of Senate majorities, Democrats completed the first step of a tricky 2-cycle challenge. It very well may not be enough to save them from eventually losing the Senate next cycle, but it does give them another 2 years of control and at least a fighting chance in 2024. But that fighting chance may be predicated on what happens on Dec. 6, when Sen. Raphael Warnock (D-GA) and former NFL star Herschel Walker (R) face off for a second time. This is a race we leaned to the Republicans prior to Election Day, but we are now characterizing it as a Toss-up.
Before last week's election, we noted how challenging the 2024 Senate map is for Democrats. Let's take another look at it.
Map 1: 2024 Senate races
The next election is a presidential year. In the last 2 presidential cycles, only a single senator -- Susan Collins (R-ME) -- overcame her state's presidential partisanship to win. In every other race, the same party that won the state for president also won the Senate race.
Unless Democrats win the presidential race in a blowout -- something that seems unlikely in our closely-divided nation -- the Republican presidential nominee seems very likely to carry at least 3 states that have Democratic senators up for reelection in 2024: Montana, Ohio, and West Virginia. That puts Sens. Jon Tester (D-MT), Sherrod Brown (D-OH), and Manchin at a disadvantage. We're not sure if we would start any of them as clear underdogs in ratings, but at best they would all start in Toss-up races.
Beyond that, Sens. Sinema, Debbie Stabenow (D-MI), Jacky Rosen (D-NV), Bob Casey (D-PA), and Tammy Baldwin (D-WI) are all up as well. Their states all voted for Joe Biden in 2020, but by less than his overall national margin (about 4.5 points). A successful Republican presidential nominee would end up carrying at least some of these states, perhaps giving Republicans an opportunity to flip seats from this group as well. Sinema's race, in particular, could be in flux, as she appears likely to face a credible primary challenge given her tendency to buck her party. Democrats did have varying degrees of success in all of these states last week -- but, remember, midterm results typically don't have much predictive value for presidential cycles.
The Republican nominee, meanwhile, should carry all of the states that Republican senators are defending next cycle, including the 2 most competitive states among them, Florida and Texas.
Overall, Democrats are defending 23 seats in 2024 (including Maine and Vermont, held by independents who caucus with Democrats), while Republicans are defending just 11. That includes the likely November 2024 special election in Nebraska after Sen. Ben Sasse (R-NE) resigns to become president of the University of Florida. We've included that race in Map 1.
You can now see the vital importance of whether Democrats are just at 50 seats, or whether they are at 51. Even given the Republicans' re-emerging problem of nominating weak candidates in winnable races -- a problem that bedeviled the party in 2010, 2012, and, it must be said, 2022 -- you'd think, at a bare minimum, Republicans should be able to flip at least a single seat next cycle. That would be all it would take to win the Senate if they flip Georgia next month. But if Warnock holds, the Republicans will need 2 flips to win the Senate. Just based on the map itself, that seems likelier than not, but it's harder to just pencil it in as happening. Democrats did better than expected last week, and despite a very tough map, maybe they'll do so again.
Had Republicans won the Senate this year, there would have been essentially no path to Democrats taking the majority back in 2024, given what we've just laid out. In fact, had Republicans maximized their gains this year and gotten to 53 or even 54 Senate seats, it's possible that they could have even approached a 60-seat, filibuster-proof majority had they then performed well in 2024. This is something that some of the sharper minds on the Democratic side, such as data analyst David Shor, were warning about after the 2020 election.
But Republicans blew that opportunity in 2022.
However, they still have a chance to give themselves an even clearer path to the majority in 2024. That opportunity comes in a few weeks.
---
Looking Back at the 2022 Projections
How we assessed 2022 the way we did
The day before the 2022 election, HuffPost's Jonathan Cohn tweeted the following: "Feel like I could selectively pull anecdotes and data to make a convincing case for a big election surprise in the D direction -- and then do the very same thing for a big election surprise in the R direction."
One of us replied to the tweet, saying the following: "It's true. I think in the end, a good R election is easier to explain/anticipate (fundamentals) than a good D one."
In a nutshell, this is the best explanation we can offer as to why we thought Republicans would do better in this election than they did. With a lot of conflicting indicators, we went in the direction that history suggested was most prudent: namely, that President Biden's approval rating and the usual midterm drag on the presidential party would push some -- not all -- of the key races toward Republicans. This overall assessment, which ultimately was a misread, ended up coloring our thinking as we made our final picks.
At various points of the cycle, we pondered whether the election would be more of a referendum than a choice. In the end, we edged more toward "referendum." The reality was more "choice," as voters rejected many weak and extreme Republican candidates across the country.
It does appear that, broadly speaking, the 2022 electorate was more Republican-leaning than 2020. Republicans are on track to win the House, albeit by a margin that could very well end up being smaller than the tiny 222-213 edge that Democrats won a couple of years ago. But Republicans just did not do as well as we thought was likely: In the end, they're only going to end up gaining less than half of the 24 net seat gain we projected. In the 50-50 Senate, we gave a small edge to the Republicans; it went the other way, although we only missed Pennsylvania (and, arguably, Georgia, although because that race went to a runoff, everybody gets something of a do-over). In the gubernatorial races, we had 5 Toss-ups for months leading up to the election. In the end, we thought Republicans would get 4 of the 5; they ended up getting only 1.
All of these assessments really sprang from the same premise, which was that the political environment would be just a little bit better for Republicans than it ended up being -- and that the political environment would manifest itself more evenly across the country than it did.
Part of what we do at the Crystal Ball is pick all of the Toss-ups at the end of the election. We do this because, ultimately, analysts who are focused on trying to game out election outcomes should make picks, we think. And because it gives readers a chance to judge how we did, without obfuscation. Some years are better than others -- this one falls into "others." We also aim to provide a lot more information about politics than just handicapping -- including in-depth analysis of results, historical perspective, voter trends, redistricting, and much else -- which we think, and hope, makes us worth reading beyond just analyzing the horserace.
In the days leading up to an election, we always canvass a number of sources on both sides. We conduct these conversations off the record -- we are not looking for quotable information, we're merely looking for data that can help inform the picks we make. The message we received over and over again, in the Toss-up House, Senate, and gubernatorial races, was that many races were extremely tight in final polling conducted on both sides. There were, to put it in the words of one Democratic source, a lot of "jump balls." The worry for Democrats, as expressed by this source and others, was that the jump balls would end up disproportionately falling to the Republicans. This ended up being reflected in our thinking, even though we don't think we forecast some sort of unequivocal "red wave" -- we described our final projection as representing a "good but not necessarily great night for Republicans."
Similarly, from what we were able to gather, while House Republicans had many promising targets, they had not actually put many of them away, which we noted in the leadup to the election. The results bore this out. Republicans picked off some incumbents in Trump-won seats in states like Arizona and Iowa, but, on the whole, Democrats in marginal Joe Biden-won districts fared well.
Collectively, we would describe the pre-election polling, both in public and in private, as inconclusive. That said, some major public pollsters who had some struggles in either 2016 or 2020 or both performed exceedingly well in 2022. We tip our caps to them. But what we struggled with, in advance, was believing these polls given their overstatement of Democrats in the past. That's not intended to be some slight on these pollsters, and it's a criticism one could just as easily level against us: We have sometimes overstated Democrats in the past in our own assessments, too, most notably in the 2016 presidential and 2020 House races. Our only point is that there were reasons to not necessarily take the good polls for Democrats at face value, just like there were reasons to be suspicious of the GOP-friendly pollsters who produced rosy numbers for Republicans in many races down the stretch. The end result, polling-wise, was something of a muddle, at least as we evaluated it. The final House generic ballot polls did indicate, generally, a small Republican edge -- it appears that will end up being accurate.
Aside from polling, there were a few other indicators that we probably should have weighted more heavily when putting together our forecasts. After the Supreme Court's Dobbs decision, Democrats overperformed in a string of special elections: starting in late June, Republicans won double-digit Trump districts in Minnesota and Nebraska by smaller margins; then, in August, Democrats flipped the Alaska At-Large seat and fared well in a pair of Upstate New York districts. Because special elections often happen in isolation, and usually see lower turnout, it is hard to project their results forward. But as one of us quipped, in the larger scheme of things, "special elections weren't so special" this year. Immediately upon his election, we made now-Rep. Pat Ryan (D, NY-18) a favorite for reelection, and the Crystal Ball was the first major handicapper to move Alaska into the Leans Democratic category for now-Rep. Mary Peltola (D) -- the former was reelected and the latter is in a strong position. But the special elections ended up being an important clue, particularly in regards to Democratic mobilization in the wake of Dobbs. Although it is interesting that, following the good results for Democrats in the specials there, New York ended up being a real trouble spot for Democrats anyway.
Last week's results also seem like a vindication of the predictive value of Washington state's late-summer primary. Usually held in August, it historically has had some value as a bellwether. In the Senate primary, Democratic candidates combined for 57% of the two-party vote -- with much of the vote counted, that is exactly where Sen. Patty Murray (D-WA) is sitting now. In the primary, Democrats narrowly outvoted Republicans in the light blue 8th District, where Rep. Kim Schrier (D) won a third term last week. It seemed possible to us that the national environment may have deteriorated for Democrats in the months between August and November, but Washington state's results proved prescient. The Washington state results were one of the few good indicators of 2020's eventual House results, too.
In Pennsylvania's Senate race, where we had Democrats favored all fall until shifting to Republicans at the last minute, we heard about very close internal polling on both sides. While we were not privy to this prior to the election, HuffPost's Daniel Marans reported earlier this week that Sen.-elect John Fetterman (D), in his own internal polling, eventually fell behind Mehmet Oz (R). Ultimately, we didn't think Gov.-elect Josh Shapiro (D) would produce the requisite coattails for Fetterman -- based on our best info, we thought Shapiro would win by something like 10 points or a little less, which we thought gave Oz a better chance to ultimately get over the finish line. As it was, Shapiro is currently ahead by about 14.5 points, and Fetterman is up by about 4.5.
Our other Senate picks fared better. We had Wisconsin and North Carolina at Leans Republican all cycle -- Sen. Ron Johnson (R-WI) won by about a point, while Sen.-elect Ted Budd (R-NC) held an open seat by 4 points. We also had Ohio rated as Leans Republican, where Sen.-elect J. D. Vance (R) underperformed Trump's margins but still won 53%-47%. Despite some late drama, we stuck with Democrats in Arizona and New Hampshire, wisely (we never had New Hampshire as a Toss-up, and we moved Arizona to Leans Democratic in late August and kept it there). As it turned out, Sen. Mark Kelly's (D-AZ) current 5-point margin would be the widest for a Democratic Senate candidate in Arizona since 1988, and Sen. Maggie Hassan (D-NH) outperformed Biden's showing in the Granite State. We ended up getting Nevada right, too. We also never had states like Colorado, Florida, and Washington -- all races that appeared as though they might be tightening at various points of the year -- rated in a category more competitive than "Likely." Our projections, including those we made in some of the closest and most pivotal races, got a fair amount right about the Senate.
There's one other point we want to make, which we ultimately think speaks well of the American voter.
Throughout the cycle, it was an open question as to whether several weak and extreme Republican candidates would ultimately be punished by voters. Many parroted Donald Trump's lies about the 2020 election, including several secretary of state candidates in key states. Some of these same candidates, or others, took positions on the highly salient topic of abortion that were far out of the public mainstream; others made flippant comments in the wake of, for instance, the violent attack on Paul Pelosi, husband of House Speaker Nancy Pelosi (D). A number of those candidates ended up losing.
As we wrote last week in the immediate aftermath of the election, "The GOP's lack of discipline in candidate selection cost them a number of races." The only way a party's electorate and leaders will make better decisions is if they know that future mistakes will cost them future power. In a political world where "lol, nothing matters" seemed to be a safe assumption in recent years, it appears that a lot of things did matter -- things that should matter. Key voting blocs in different states cast different verdicts and made what we think were fairly sophisticated judgments, as opposed to just issuing the kind of black and white verdict on the party in power that we sometimes get in midterms.
In the end, the electorate did do what it often does in a midterm -- put a check on the White House. Narrowly, Republicans do look like they will elbow their way into formal power in Washington by flipping the House. But in denying Republicans the sweeping victory that many of them anticipated, voters rendered a mixed verdict. It's one we will try to better understand and better explain as vote counts are finalized and as the 2024 presidential cycle begins -- which effectively kicked off last night with former President Trump's long-expected bid to return to office.
BY DAVID SIDERS AND CHARLIE MAHTESIAN
Presented by LiveWire Electric Motorcycles
With help from Calder McHugh

Incumbent Florida Republican Gov. Ron DeSantis, his wife Casey and their children on stage after speaking to supporters at an election night party after winning his race for reelection in Tampa, Fla., Tuesday, Nov. 8, 2022. | AP Photo/Rebecca Blackwell
LEADER OF THE PACK — If the point of Donald Trump's campaign announcement was to brush aside his midterm election losses and freeze the 2024 primary field, it was clear within a matter of hours that it wasn't going to work.
The Ron DeSantis bandwagon is already rolling.
Next week, in an advertising campaign shared first with Nightly, a pro-DeSantis super PAC will begin airing TV ads in Iowa, the first-in-the-nation caucus state.
The ads, which began airing digitally today , follow a week in which the Florida governor's star has risen — and Trump, following a bruising midterm, has lost his luster with many Republicans.
Recent polling underscores DeSantis' popularity with Republicans outside Florida. Earlier this week, the conservative Club for Growth released a polling memo showing DeSantis running ahead of Trump in multiple states — the polling data less significant than what releasing it said about the heavyweight group's leanings heading into 2024.
In a survey of likely Republican primary voters in GOP-oriented Texas, DeSantis was beating Trump by 11 percentage points . Even polling that shows Trump ahead of DeSantis has been moving in the Florida governor's direction: In a POLITICO/Morning Consult poll this week , Trump was beating DeSantis by 14 percentage points among Republicans and Republican-leaning independents. But the margin was 22 percentage points before the midterms.
In recent days, 86 elected officials in Utah released a letter encouraging DeSantis to run for president , while GOP Sen. Cynthia Lummis of Wyoming, one of the Trumpiest states in the country, called DeSantis — not Trump — the "leader of the Republican Party. "
One Republican strategist close to Trump, when asked today if the former president was still the frontrunner for the nomination, said, "I don't know."
Following DeSantis' lopsided reelection victory — and losses by Trump's favored candidates across the map — other Republicans aren't sure, either.
"I don't think he's the prohibitive favorite anymore," said Bob Heckman, a Republican strategist who has worked on nine presidential campaigns. "I think there are a lot of people in the party and the movement who want to move on from Trump."
Still, he said, "He'll be a formidable candidate."
Formidable may be good enough for Trump in 2024, especially if there are multiple candidates to splinter the primary vote. DeSantis, unlike Trump, has not been tested nationally, and the annals of American politics are full of once-ascendant presidential prospects, like Jeb Bush of Florida or Scott Walker of Wisconsin, who faltered in competitive primaries. It was in 2016 that a wide field of traditionalist Republicans divided the vote in early nominating states, letting Trump cut through them, initially, with less-than-majority support.
And all indications are that Trump will not be contending one-on-one with DeSantis.
Just today, Mike Pompeo, the former secretary of state who may run against Trump, was on Twitter calling for " more seriousness, less noise, and leaders who are looking forward, not staring in the rearview mirror claiming victimhood ." Former Vice President Mike Pence, who may also run, repeated his line that Republicans will have " better choices " in 2024, a sentiment echoed by Arkansas Gov. Asa Hutchinson , also a potential candidate.
Trump's announcement did set some early terms of engagement for the base. His call for the death penalty for drug dealers will open any Republican candidate skeptical of that idea up to criticism from Trump that they are soft. He reminded Republicans that he was president when they were happier with the direction of the country than they are now.
But what Trump's announcement did not do — despite the teleprompter and the stately ballroom, despite his focus on Joe Biden (and not on his GOP rivals) — was convince anyone watching that the 2024 primary is a foregone conclusion.
"The speech hurt him," said Mike Madrid, a Republican strategist who was a co-founder of the anti-Trump Lincoln Project. "I'm not saying it's mortal, but I'm saying this was the opportunity to come out and … be like, 'Look man, you put me on the ballot and everything changes. People want Trump.'"
Instead, Madrid said, "He just looked Nixonian, like at the end … He just invited a bunch of challengers."
Chief among them is DeSantis. Republicans close to the governor say he has not yet decided whether to run for president, but he appears to be positioning himself. Following recent criticism from Trump — including the labeling of DeSantis as "Ron DeSanctimonious" — DeSantis told reporters, " I would just tell people to go check out the scoreboard from last Tuesday night. "
A week later, as cable news networks cut away at various points from Trump's speech , John Thomas, the Republican strategist who is running the pro-DeSantis super PAC Ron to the Rescue, said it seemed Trump "wanted a coronation."
He paused and said, "He's not going to get it."
Welcome to POLITICO Nightly. Reach out with news, tips and ideas at nightly@politico.com . Or contact tonight's authors at dsiders@politico.com and cmahtesian@politico.com or on Twitter at @davidsiders and @PoliticoCharlie .

A message from LiveWire Electric Motorcycles:
Support American Electric Motorcycles. Learn more.
While final vote counts are still being tallied in some states, scores of newly elected members of Congress are descending on Washington, attending new member initiations, touring the Capitol and getting a crash course in the functions of their new jobs after months of campaigning. At Nightly, we'll also be conducting a crash course before they are sworn in on Jan. 3 — on rising stars to watch and other congressional issues and trends to follow.
IT'S OVER — Republicans have won back control of the House , giving the GOP a toehold to check Biden and congressional Democrats despite a disappointing midterm election.
Republicans are on track for the smallest of majorities despite pre-election predictions of a red wave. Instead, it took more than a week of vote-counting after Election Day for it to be clear the party had won the majority. And that majority could be difficult to manage for a Republican speaker next year.

New York Republican gubernatorial candidate Lee Zeldin's supporters gather for a rally on Long Island. Zeldin came up short in his bid to unseat Democratic Gov. Kathy Hochul, but his message resonated enough to flip multiple House seats in the state. | David Dee Delgado/Getty Images
EMPIRE STATE OF MIND — One feature of the House freshman class of 2022 is its huge contingent of New Yorkers: Almost one-third of New York's congressional delegation — eight members in all — are newly elected. Seven are Republicans, the result of a red wave that crashed hard in Upstate New York and Long Island, writes Nightly's Calder McHugh .
In total, New York will now send 11 Republican members to Congress, making the blue state the fourth-largest delegation in the GOP conference (after Florida, Texas and California). With so many freshman members, New York's Republican lawmakers may not wield a lot of individual power, but collectively they can be a force within the party.
For years, national Republicans saw New York — and in particular its very liberal major city — as a flashing red target for all that's wrong with the country: They complained about everything from growing crime to a show called the Drag Queen Story Hour . Sixty-seven House Republicans famously voted in 2013 to stiff hard-hit New York and New Jersey by opposing a disaster relief package in the aftermath of Hurricane Sandy.
Now there's evidence that GOP overperformance in New York is the only thing that saved Republicans from two more years of a Democratic majority.
New York's freshman Republicans are all over the ideological map — ranging from Mike Lawler, who has already dumped Trump , to state Republican Party Chair Nick Langworthy to George Santos, who made his way down to D.C. for Jan. 6. They're also from across the state — from Long Island to the Hudson Valley to Upstate. They'll join Elise Stefanik, the congresswoman from New York's North Country district, who won another term as conference chair Tuesday, the House GOP's No. 3 leadership spot.
PROTECTING YOUR FLANK — Mitch McConnell handily dispatched Rick Scott in a contest today for Senate Republican leader , beating back his first challenger and cementing a ninth term running the Senate GOP, writes Burgess Everett .
The Kentuckian prevailed over Scott (R-Fla.), 37-10, in a battle for Senate minority leader in the next Congress. One Republican voted present on the secret ballot held in the Old Senate Chamber, an ornate room where senators met before the Civil War, which one Republican estimated was about 50 degrees during the proceedings.
Scott's challenge embodied a frustrated wing of the Republican Party that wants a new direction in the Senate, where McConnell has kept an iron grip on the GOP for nearly 16 years. Senators voiced complaints this week that individual members don't have enough sway over the agenda or party strategy under McConnell's rule, though the minority leader made little commitments to change how his conference operates.
But it was clear after a marathon three-and-a-half-hour meeting that McConnell critics make up a decided minority of the Senate Republican conference.

GO INSIDE THE MILKEN INSTITUTE FUTURE OF HEALTH SUMMIT: POLITICO is featuring a special edition of our "Future Pulse" newsletter at the 2022 Milken Institute Future of Health Summit from Dec. 6 to 8. The newsletter takes readers inside one of the most influential gatherings of health industry leaders and innovators solving the biggest global health issues to ensure a healthier, more resilient future for all. SUBSCRIBE TODAY TO RECEIVE EXCLUSIVE COVERAGE .
— Bass defeats billionaire to win LA mayor's race: Democratic Rep. Karen Bass has become the first woman elected mayor of Los Angeles, defeating billionaire developer Rick Caruso, who waged the most expensive campaign in the city's history. The six-term congresswoman will lead a city simmering with anger over the rising cost of living , homelessness and recent displays of corruption and racism at City Hall. She is the second Black person to win the mayor's seat in Los Angeles, which has a painfully divisive history demonstrated most recently by leaked audio of three City Council members using racist and disparaging language as they discussed manipulating voting districts.
— Ivanka Trump on dad's announcement night: I'm done with politics: Ivanka Trump, daughter of Donald Trump and a political adviser in his administration, doesn't plan to be involved in politics "going forward," she wrote Tuesday evening on Instagram. "While I will always love and support my father, going forward I will do so outside the political arena," Ivanka Trump said. Her statement came the same evening that the former president announced his plans to run for president again.
— White House's hopes for a lame-duck debt ceiling deal are fading fast: The White House has largely given up hope of Congress raising the nation's debt limit during the lame-duck session that runs through late December, increasing the risk of a highly partisan, market-rattling fiscal confrontation next year. Senior administration officials see little chance of attracting any Republican votes for a bipartisan debt limit hike during the short session. And they don't believe they have the 50 Democratic Senate votes needed to slam through a hike using the budget reconciliation process that would allow them to avoid a Republican filibuster.
— Senators float audit of Rick Scott's NRSC: The GOP's post-election finger-pointing intensified Tuesday, with two senators calling for an audit of the National Republican Senatorial Committee . During a tense, three-hour-long meeting of the Senate GOP conference, Sens. Marsha Blackburn (R-Tenn.) and Thom Tillis (R-N.C.) said there should be an independent review of how the party's campaign arm spent its resources before falling short of its goal of winning the majority.

A message from LiveWire Electric Motorcycles:
NO FIGHTING IN THE WAR ROOM — The Army's top general today cautioned against rushing to conclusions during wartime , a day after Europe reeled from reports that missiles had struck Poland, killing two civilians, write Paul McLeary and Matt Berg .
Several European defense ministers and top Ukrainian officials, including Ukrainian President Volodymyr Zelenskyy, immediately blamed Russia for the strike in the hours after the first reports. In a video message late Tuesday night, Zelenskyy declared that "Russian missiles hit Poland," calling it an "attack on collective security." Russia's Foreign Ministry denied the charge.
The Pentagon and U.S. intelligence agencies declined to comment Tuesday night, citing the ongoing Polish investigation. By this morning, the Polish government announced that the missile was likely an errant Ukrainian air defense missile sent to intercept one of the roughly 100 Russian cruise missiles aimed at Ukrainian civilian infrastructure the previous night.
"The first report you always want to take a hard look at, and you want to make sure you get the information," Gen. James McConville said at POLITICO's Defense Summit. "You want to … talk to people, get the questions answered, and then you've got an idea of what happened."
Asked for details about how the Pentagon reacted in the early minutes of the crisis, McConville said that the "investigation is going on and we'll find out the finer details, but the big thing is to remain calm during the situation."

$425 million
The amount of money that DonorsTrust, one of the biggest conservative dark money organizations in the nation, received from two separate anonymous gifts last year . The two gifts, each totaling slightly more than $425 million, made up a huge chunk of the $1 billion that DonorsTrust brought in in 2021. Under law, the individual or individuals behind those $425 million donations were not required to be disclosed to the public.
LITTLE CARS, BIG BUSINESS — Toyota? General Motors? Ford? How about Hot Wheels? The small cars are far outpacing their big competitors in terms of units sold. OK, so the price point is a little bit different. But these cars are still huge business, and there's an entire strategy involved with keeping them fresh and attractive to kids who are very different from when Hot Wheels began in California in 1968. Rory FH Smith reports for the Financial Times.

Trump supporters take selfies in the Grand Ballroom at Mar-a-Lago ahead of Trump's announcement that he is going to run for president. | Mark Peterson/Redux Pictures for Politico
LOW ENERGY — Donald Trump, the defeated, twice-impeached former president facing mounting legal and political peril, on Tuesday night at his private club in Florida announced that he's running yet again. The campy-but-iconic escalator ride in Trump Tower this was not, writes Michael Kruse .
The more-than-hour-long speech was a low-tone version of what Trump's been saying for years: His failures are not failures — they're successes. His losses are not losses — they are wins. "I am a victim," he said. "I am a victim." Everything is good when he's in charge, and everything is awful when he is not. "America's comeback starts right now," he said in maybe his most energetic line of the night, but he couldn't avoid the reckoning of the midterms — that voters across the country aren't necessarily looking to him to lead it. At one point he unwittingly admitted his apocalyptic depiction of "a failing nation" beset by "hardship, anxiety and despair" is not the United States that most people seem to see. "The citizens of our country have not yet realized the full extent and gravity of the pain our nation is going through," he said. "But they will."
Take a look at more exclusive images from the evening here .