The Holidays are upon us. As our team finishes its' final rounds of releases for our weekly "Virtual Route 66" rounds before being "Dark" through the end of November, we present the following curated thoughts courtesy of Heather Cox Richardson on the temporary funding of the US Government, The Bulwark on Elon Musk; On Gaza/Israel courtesy JINSA and the Coop Scoop along with a snapshot on our World courtesy the Economist of London. As we went to press, Argentina Elected a New President that some have dubbed Latin America's Trump.
Happy Holidays from all of us at the Daily Outsider, as we look forward to the continued privilege to serve.
:
JINSA's Israel at War webpage is a dedicated resource for analysis, commentary, webinars, and media coverage about the 10/7 attacks and the ensuing Israel-Hamas conflict. An update with the latest information and analysis about the war is below.
As the IDF has continued its operations at Gaza's Shifa Hospital, international pressure has mounted for Israel to release further support for its claims, which the United States has

corroborated

, that Hamas has used it as its headquarters and that it sits above a complex tunnel network.

The IDF has released videos and images of weaponry and tunnels at the hospital, though these have not quelled

growing

international concerns about military operations at a hospital, despite Hamas's clear illegal use of the facility and IDF troops

finding

the bodies of a kidnapped Israeli soldier and a kidnapped Israeli civilian nearby.

As JINSA's Jacob Olidort and Yoni Tobin detailed in a November 16

NatSec Brief

, Israel has surged medical supplies and equipment to the hospital and even sent medical staff and Arabic-speaking troops along with its combat units, demonstrating the IDF's immense challenge of balancing its tactical aims with its humanitarian efforts in Gaza.
Last 24 Hours
Attacks Against Israel
Roughly

9,500

rockets, mortars, drones, and other projectiles have been fired from Gaza during the war.

Sirens

sounded

in Even Menachem, Kfar Aza, Kissufim, Nirim, Sa'ad, Shtula, Even Menachem, and communities in the Eshkol Regional Council, as well as other locations in southern Israel.

Terrorists in Lebanon continued to launch rockets, mortars, and anti-tank missiles at Israeli military positions and civilian locations in northern Israel over the last 24 hours.

On November 17, terrorists in Lebanon

launched

rockets at Israeli military positions near the Israeli communities of Malkia and Menara.

On November 17, terrorists in Lebanon

fired

mortar shells toward the northern Israeli cities Adamit and Arab al-Aramshe, causing no damage or injuries.

On November 17, terrorists

fired

a number of mortar shells from Lebanon at a military post in the Upper Galilee. No casualties or damage were reported.

According to the IDF, on November 16, terrorists from Lebanon "

attempted

to carry out a number of launches toward the area of ​​Misgav Am in northern Israel, as well as IDF posts in the areas of Metula and Yiftah."

On November 16, Lebanese terrorists

launched

anti-tank missiles towards the towns of Dovev, Biranit, and Rosh HaNikra where IDF posts are located.

The IDF

said

on November 16 that Military Police soldier Cpl. Avraham Fetena was killed in a shooting attack at the "tunnel road" West Bank checkpoint near Jerusalem earlier that day.

Five others were injured, and the three Palestinian assailants were killed.
During an

interview

with

CBS News

on November 16, Israeli Prime Minister Benjamin Netanyahu said that "we are closer than before we began the ground action" to achieving a deal to secure the release of some hostages in exchange for a multiple-day pause in fighting.

He explained that "the ground action has put pressure on Hamas to achieve a ceasefire. We'll have a temporary ceasefire if we can get our hostages. I don't think it serves that purpose for me to elaborate further on that." He stressed that "there are certain things we are holding confidential until we have something to tell."

He reiterated the centrality of securing the release of every hostage to Israel's operations as well as ensuring "that [a] terrorist threat never rises again from Gaza, and that Gaza has a different future."

Netanyahu insisted that Israel has "concrete evidence" that terrorists in Gaza used Shifa Hospital for military purposes, but group leaders and "terrorist minions" fled as the IDF closed in.

He explained that "we are doing this very gingerly because we're trying to do the moral thing, the right thing, to deprive Hamas of having this safe zone in a hospital, but at the same time to neutralize its use as a command center for terror. And so far we've achieved that."

He lamented that "we'll try to finish that job with minimal civilian casualties, that's what we're trying to do, minimal civilian casualties, but unfortunately we're not successful."

He further clarified that Israel does not want to occupy the Gaza Strip but wants "overall military responsibility to prevent the re-emergence of terror."

Addressing a question about Israelis in the West Bank who commit violent acts against Palestinians, Netanyahu said that "we hold anyone taking the law into their own hands or committing vigilante violence — that is out, we cannot accept that."

Netanyahu also

spoke

of the whereabouts of the Israeli hostages, saying "we had strong indications that they were held in the Shifa Hospital, which is one of the reasons we entered the hospital." However, Netanyahu and the IDF strongly believe that the hostages are no longer within the confines of the hospital, stating, "If they were [there], they were taken out."

He also

said

in the interview that the IDF located "military equipment, coded equipment … bombs, weapons, and we also found terror tunnels in the hospital compound."

The IDF continued its operations to neutralize Hamas personnel, weapons, and infrastructure in Gaza in the last 24 hours.

IDF Chief of Staff Lt. Gen. Herzi Halevi

said

on November 16 while visiting the Gaza Strip that the IDF is "close" to eradicating Hamas's "military system" in the north of Gaza.

He said, "we will complete it, we have some finishing to do, but we are getting close to it nicely," and the IDF will operate "in more and more areas, and… kill [Hamas] commanders and operatives and destroy the infrastructure."

The IDF said on November 17 that it

took control

of a Palestinian Islamic Jihad northern command stronghold containing offices of senior terrorists and a weapons manufacturing site.

The IDF located rockets, drones, and other weapons at the facility.

On November 17, the IDF

engaged

Hamas terrorists operating from inside a school, killing an unspecified number of terrorists. The IDF also stated that it located a large number of weapons inside the school.

On November 17, Palestinian media outlets reported that senior Hamas operative Ahmad Bahar, former vice president of the Palestinian Legislative Council, was

killed

in an Israeli strike. Israel has not commented on the report.

On November 16, IDF Spokesman Rear Adm. Daniel Hagari

said

that the IDF launched two major airstrikes targeting two Hamas underground infrastructure sites.

Commander of Hamas's northern Gaza brigade Ahmed Ghandour and head of Hamas's rocket firing array Ayman Siam were hiding in one site, and senior members of Hamas's politburo Rawhi Mushtaha, Essam al-Dalis, and Sameh al-Siraj were hiding in the other underground location.

Hagari added that "Hamas is trying to hide the results of the strike," and "it can be said with certainty that the underground where they were was very heavily damaged."

The IDF

said

on November 16 that it discovered a Hamas tunnel entrance in the Shifa Hospital complex, a pickup truck carrying Hamas weapons, and weapons in Gaza City's Al-Quds Hospital.

The IDF published images of the weapons discovered in Al-Quds Hospital and another of a Hamas tunnel inside Rantisi Hospital.

The IDF also

found

Hamas intelligence material, weapons, and information relating to hostages.

The IDF

said

on November 16 that troops from its 188th Armored Brigade and Flotilla 13 seized control of the Gaza harbor, which had been controlled by Hamas and was used as a Hamas training facility for their naval commandos.

The IDF killed 10 terrorists in the operation and also destroyed 10 terror tunnel shafts and four buildings used for terrorism.

Israeli Defense Minister Yoav Gallant's office

said

in a statement on November 16 that he held a meeting with senior Defense Ministry officials to discuss allowing those living four to seven kilometers away from Gaza to return to their homes early next year. This would occur "following the rehabilitation of the towns and creation of the required security conditions."

He said further, "everyone who cannot return to his home will continue to receive full backing and support from the government," including northern Israeli residents.

On November 16, the IDF

released

a video of its Commando Brigade engaged in combat in Gaza and said the troops raided the al-Shati camp in Gaza City with tanks, combat engineers, and air support.

The IDF said that the forces directed 54 airstrikes, navy strikes, and artillery shelling that killed Hamas operatives and infrastructure. The military also said that the commandos located a weapons depot, which it later destroyed, during a raid in a booby-trapped northern Gaza hotel.

The IDF launched strikes against terrorist cells in Lebanon that had launched attacks at Israel over the last 24 hours.

On November 17, the IDF

shelled

terrorist cells in Lebanon that had targeted Israeli military positions near the Israeli communities of

Malkia and Menara.

On November 16, the IDF

stated

that Israeli soldiers "struck a terrorist cell in Lebanon that attempted to launch anti-tank missiles toward Israeli territory." The IDF also responded to threats along the border with heavy artillery fire.

The IDF stated on November 16 that it

struck

multiple Hezbollah targets in Lebanese territory.

Syrian state media reported

strikes

against Damascus that were likely conducted by Israel.

Israeli forces fought and killed Palestinian gunmen in the West Bank over the last 24 hours.

During an overnight IDF raid in the West Bank, Israeli forces

killed

five gunmen in a drone strike in Jenin on November 17.

Reservists in Israel's 8106th Battalion

opened fire

on a gunman shooting at troops from a vehicle in Hebron, killing the gunman and the driver.

The Times of Israel

reported

on November 17, citing a senior Israeli official, that Israel has not actually ruled out the possibility of the Palestinian Authority ruling the Gaza Strip if it makes "significant reforms."

The report states that Israel has tasked a group of officials with working on "day after" plans for Gaza. The group reportedly is collaborating with White House and State Department officials who are also working on the issue.

Prime Minister Benjamin Netanyahu

stated

on November 12 that Israel would not accept the Palestinian Authority administering Gaza due to its payment to the families of terrorists and Palestinian Authority leader Mahmoud Abbas's refusal to condemn the October 7 attack.
***UPDATE 5:30 PM: TheIsraeli military announced early Wednesday that its troops entered the interior of the Gaza Al-Shiva hospital that has been under constant siege for a week. Doctors inside the hospital news agencies that heavily armed troops "stormed" the interior of the facility. With power and water cut off for days and with Israeli troops firing on anybody trying to enter or leave the buildings, hospital officials declared Al-Shiva earlier in the day to be a "hospital cemetery." Some 180 decomposing bodies creating a health hazard were buried in a mass gave inside the hospital walls as Israeli gunfire made it impossible to go outside. At last count there were still some 600 patients inside who needed to be evacuated. Some 8000 civilians were reported to be sheltering on the grounds of the complex. CNN Reports: The Israeli military is carrying out a "precise and targeted operation" in Gaza's Al-Shifa Hospital, according to a statement by the Israel Defense Forces, where thousands of displaced people are sheltering and doctors are fighting to keep premature babies alive.
The operation is taking place in a "specified area" of Gaza's largest hospital against Hamas, who Israel accuses of "continued military use of the Shifa hospital," the IDF statement said. A doctor inside Al-Shifa told CNN they were given 30 minutes' warning before the Israeli operation on the complex began.
My Two Cents on this: Al-Shiva hospital has been indelibly etched into the global public consciousness as the primary symbol of Israeli hubris and arrogance much as Abu Ghraib became for the US invasion of Iraq.
My newsletter sent earlier today —>
November 14
By Marc Cooper
While his military forces escalate his scorched earth policy laying waste to Gaza, turning once was described as an "open air prison" into a ghastly, depopulated, dirt parking lot pocked with bomb craters and bombed out hospitals, Israeli Prime Minister Benjamin Netanyahu this week has opted for a policy of permanent conflict and war. We'll unpack that in a moment.
But first let's also note that he is actively immolating Israel's good standing in the world community, he is alienating both his domestic and foreign allies, and he is set Israel on a collision course with the Biden Administration by waging this war in the most aggressive manner possible and stacking up enormous numbers of civilian casualties. It's starting to get embarrassing for the superpower that provides Israel with arms and bombs.
If you are a supporter or sympathizer of Israel, you better start figuring out how to get rid of Bibi as soon as this horrific blood bath comes to an end. If it ever does. And you might call for a cease fire as well. As Netanyahu has announced, with some deviously ambiguous language, Israel now intends to exert "indefinite security control over Gaza" if and when the fighting stops. I use the word "if" quite intentionally because what Bibi is actually saying is that Israel will effectively re-occupy Gaza after the fighting stops and if that is the case, who says the violence will ever end? The occupied West Bank on the other side of Israel, not under Hamas control, has seen stepped up violence from extremist Israeli settlers backed up by the IDF and, of course, the Palestinians there are attempting to fight back. And for the last 56 years, as soon as Israel first occupied the West Bank and Gaza, there has been a permanent cycle of violence. More than a half century of occupation has done nothing except generate more conflict.
What on earth makes anyone think that Israel once again putting Gaza under its direct control is somehow going to calm the waters? I would suggest a coming reaping of the whirlwinds instead.
Since Netanyahu's sulphuric statement, his flacks have been furiously trying to spin his words, claiming it's not really going to be a re-occupation but rather Israel will permit a Palestinian civil administration but military control remains in the hands of the Israeli forces who, without a doubt, plan to insert some IDF bases in Gaza. Spin as it you please, the Israelis are clearly telling the world that they have absolutely no intention of seeking any sort of political settlement that –once Hamas is incapacitated—will lead to self-government in Gaza or, even more out of the question, some sort of united Palestinian state that includes the West Bank and Gaza.
I have little doubt, actually, I have no doubt, that Netanyahu understands all this at least at some basic level. Indeed, Bibi wants a prolonged war…and I mean prolonged. And it's a simple formula at play here that has nothing to do with resolving the underlying conflict. The longer the war lasts, the safter his political standing as Prime Minister. Once the war ends, he faces the raging ire of much of the Israeli population who hold him responsible for the monumental intelligence and strategic failures that led to October 7, who are stridently opposed to his overtly racist and extreme right wing cabinet, and for what will most likely be his failure to rescue most of the hostages.
Just as for Donald Trump, his possible re-election has nothing to do with any serious political vision. It's either get re-elected or go to jail. For Benjamin Netanyahu, it's either keep Israel mobilized and engaged in a bloody war or face political defenestration and his own stint in jail as Bibi is also facing a full deck of criminal corruption charges. And Israel's welfare, and certainly that of the sub-human Palestinians, be damned.
I am getting really tired of having to go through the ritual denunciation of Hamas as monstrous terrorists, which they are, as prelude to any criticism of Israel. So I do. Firmly. OK. Barring any interruptions from the ADL I will now continue.
You can, in part, thank not only Bibi, much of the US Congress and the somewhat slippery Anti-Defamation League for popularizing the accusation that anybody who dares speak up against any aspect of Israel's current policies is an anti-Semite. This is to be expected from a shameless demagogue like Netanyahu. It should not be expected from the ADL which lays claim to being the leading "Jewish civil rights organization"—which it is. Unfortunately, throughout the decades, and now more than ever, the ADL also leads the world in conflating any critique of Israel with Jew-hating. The ADL is as much a lobby for the state of Israel as it is anything else. And defending Jewish civil rights and defending unbridled Israeli aggression, occupation and war crimes are hardly the same thing. More than half of Israelis have a more critical view of Israel than do the bullies at the ADL.
What is going on currently in Gaza is devastating not only to the bedeviled 2.5 million Arabs who live there, but also to the image of Israel as a democratic member of the global community. The collective punishment campaign underway is not only stacking civilians (and children) like so much firewood, it is turning what was already an impoverished hellhole into something indescribably worse. And supporters of Israel, please note, the world is watching very closely and it does not like what it sees. And there will be a high cost eventually.
Coming from an apolitical, non-observant Jewish family, and having skipped my own Bar Mitzvah, I still claim to have some insight into the thinking of my fellow Jews. Some actually relish the thought of Israel being politically isolated and it makes Israel in their minds that much more of a heroic martyr standing up to universal global scorn. The more Jews are hated, they figure, the stronger and more righteous Jews –and Israelis—must be. That's an OK position to have sitting on your couch on the Westside of Los Angeles. It ain't the same if you are an Israeli and you'd like to one day stop ducking rockets and you'd prefer your sons and daughters not get mobilized every three years or so to "mow the lawn" and take some casualties while doing so. Israel can certainly stand alone, say its most ardent supporters, we don't need your opinions or your help or your support.
Poppycock. Pure suicidal bullshit. If you are a supporter of Israel and if you want it to prosper and if you want its younger generations to one day live in peace you better get a couple of basic facts into your head:
n There is no military solution to the Israeli-Palestinian conflict. Six decades of military occupation prove that in spades. There will be an absence of war only when the Palestinians cease to be treated as prisoners and when a regional and international agreement can be had to grant statehood to them.
n Israel very much needs allies to survive and there is absolutely nothing heroic or romantic in defying world opinion by continuing to flatten Gaza. As defenders of Israel will often note, it's a country of 9 million Jews in a sea of more than 100 million Arabs. Even internally, the Israeli Arab population is growing much faster than the Jewish population, and maintaining Israel as a Jewish theocratic state does not have a future in the long run. The sooner that Israel and its supporters digest this fact, the easier it will be to reach a viable settlement.
n Israeli arrogance reached new heights in the past year when Bibi thought –somehow—he could make peace with the gulf dictatorships in Saudi Arabia and the UAE while simply ignoring any forward movement on a Palestinian settlement. Hard to believe, but the Israeli leadership apparently believed they could just ignore the pressure cooker under Hamas control in Gaza and just shine the whole Palestinian question on. For Netanyahu, his actions over the last year, strongly suggested that in his warped mind, the issue just no longer existed. The Israeli army and its armed settler outposts would keep the lid on the West Bank, the Hamas one-party dictatorship would distract the bottled up Gazans, and life in Israel would go forward with lucrative trade deals with the part-time butcher and Crown Prince of Saudi Arabia. Think again, boychick.
n I have no idea to what degree Hamas used hospitals as hide outs and command posts. Nor do I know much about the underground tunnels that allegedly run underneath them. I do know this much: Official Israeli announcements about the war have no more credibility than those of Hamas. Just the other day the IDF web site listed hospitals as legitimate targets and then that statement magically disappeared. What materialized instead were columns of Israeli tanks, artillery and infantry encircling every major hospital in northern Gaza and shelling their grounds. Water and electricity were cut off days ago. Three dozen preemies at Al-Shiva who lost their incubators are now on the verge of death and need immediate evacuation but no one is being allowed to leave the Al-Shifa hospital that Gaza officials now say is in a "circle of death." Evacuation from another hospital, Al-Quds, has been stopped by military action.
n It would not surprise me in the least if hospitals really are a strategic base for Hamas. Hamas values Palestinian lives as little as Israel does as Hamas knew very well that its October 7 murder spree would certainly provoke the sort of reprisals and mass death now being inflicted by Israel. I claim no expertise in urban warfare especially in sub terranean combat but given the economic, military and technological development of Israel there has to be many batter and more humane ways to tackle the hospital issue rather than laying siege, shelling them and killing the patients inside. Not to speak of just how destroying what experts say is a full half of Gaza's residential structures is going to bring Hamas to its knees or move at all toward a final settlement.
n This round of conflict was touched off by the inhumane and barbaric attack of the religious zealots who make up Hamas. They need to be shut down. That does not mean they can or will be. The war did not start on October 7. But rather in 1948 when 700,000 Palestinians were forced off their homes and land when the creation of Israel gobbled up much of what was Palestine. Until that basic rift is addressed, there will be no peace. Also. dear friends of Israel, please keep in mind that Israel played a key role in the initial creation and funding of Hamas, hoping it would undermine the secular and much more rational PLO.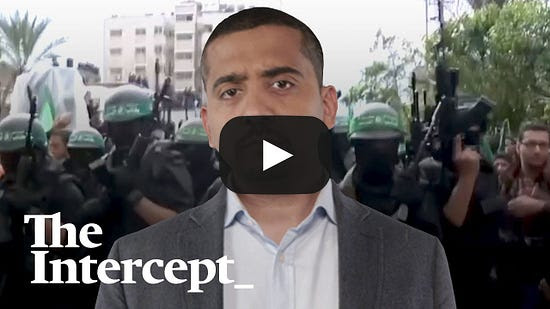 Make no mistake. Israel may or may not be destroying Hamas but it's doing a great job of destroying the entire Gaza strip. Writing in the Washington Post, the commissioner-general of the U.N. Relief and Works Agency for Palesltinian Refugees paints a dark picture of life in Gaza:
"Because of the ongoing siege, there is no food, water, medicine or fuel. The markets are almost empty. The trickle of aid that arrives by truck through Rafah is much less than is needed. Municipal services are crumbling. Sewage water is filling the streets. People are queuing for hours at bakeries. Soon, winter will arrive, and many could face starvation. With Gaza City surrounded, Israel Defense Forces are instructing those civilians who still remain to move to the southern parts of the Gaza Strip. But they are not safe there, either. More than 700,000 people now live in some 150 UNRWA buildings across the Gaza Strip. As I write, nearly 50 of these buildings have sustained damage, and some have been directly hit. Ninety-nine UNRWA colleagues have been killed."

"For many Palestinians, this exodus is reminiscent of the original displacement of more than 700,000 people from their towns and villages in 1948, also known as the Nakba ("catastrophe" in Arabic). They read stories of a leaked Israeli government white paper suggesting they be expelled into Sinai. Their fears are compounded when they hear Israeli politicians and others referring to people in Gaza as "human animals" and "terrorists," or calling for "erasing Gaza and its people" — dehumanizing language I did not think I would hear in the 21st century."
THE ABOVE VIDEO IS FROM INSIDE AL-SHIFA. CLICK ON WATCH ON YOUTUBE TO VIEW
The whole world is now watching the hellish humanitarian crisis that has engulfed the largest of the Gaza hospitals…Al-Shifa. There has been no water, electricity or fuel now for several days. Medical officials claim the hospital has ceased to function, that patients are quickly dying, and with no way to break the siege, the rooms and halls are full of decomposing bodies. Officials say there are still some 650 patients inside Al-Shifa . They say three down intensive care patients died in the last few days as power was lost. Israel giddily announced two days ago that it generously delivered 300 liters of fuel to Al-Shiva but claims Hamas blocked it getting. Maybe. Maybe not. But Al-Shiva requires 10,000 liters daily to operate so the eye dropper quantity Israel claims it delivered might be as much a mockery as anything else.
World leaders are calling upon Israel to lift the siege of the hospital while other calls for a cease fire, that Bibi has, of course, rejected. French President Macron made an explicit call on Bibi to "stop killing babies." Some 300,000 Brits marched in favor of a cease fire earlier this week.
On the international front, the real shit show is now developing between Washington and Tel Aviv. Since its creation, Israel for better and for worse, has been a client state of the U.S. Israel has long been the largest recipient of U.S. foreign aid to the tune of a whopping $4b a year. And now Biden is asking for an additional $14b in "emergency" war funding for Israel. In cold geopolitical terms, you would think this would make Israel the junior partner in this relationship. But not anymore. Netanyahu frankly doesn't seem to give AF what the US says or thinks as he believes, probably correctly, that it would be politically difficult domestically for the US to spurn Israel.
It's more of a verbal skirmish than a full-blown war of words, but U.S. Secretary of State Blinken made it clear that U.S. opposes re-occupation of Gaza and demands that the secular Palestinian Authority, that has negotiated with Israel in the past, and is the (weak) civilian government on the West Bank should be allowed a role in the future governance of Gaza. Blinken also said the US would oppose any attempt to depopulate the north of Gaza nor would it support any "forcible displacement of Palestinians from Gaza. Not now, not after the war." Bibi's response was thanks for such thoughtful suggestions, now go fuck yourself. Blinken did forget, however, to call for a cease fire.
It's U.S. tax dollars that are funding the bulk of the military campaign in Gaza, accruing a great responsibility for Washington to do something constructive to end the war. But Biden –and most of the US congress—are avid supporters of Israel. Like Blinken, President Biden is very clearly uncomfortable with the bloody mess Israel is making and wishes it could all be done a bit neater. Not bothering to take what seemed like a batch of oatmeal out of his mouth, Biden yesterday worked up the courage to mumble "My hope and expectation is that there will be less intrusive action relative to hospitals and we remain in contact with the Israelis," Biden told reporters at the White House. "Also there is an effort to get this pause to deal with the release of prisoners and that's being negotiated, as well, with the Qataris ... being engaged," he added. "So I remain somewhat hopeful but hospitals must be protected."
It's striking just how cheap most words are. Yes. Mr. Biden, hospitals should be protected. What you gonna do about it?
And The Pause. The much-called for humanitarian pause. A very cheap and insufficient alternative to a cease fire and international diplomacy. The US keeps calling for the pause. Now Hamas has answered and said it would release 70 hostages in exchange for a 5 day pause. No word from Israel yet. But in a war like this, a brief humanitarian pause would mean not much more than providing the people of Hiroshima with some Ray-Bans a few days before The Big One was dropped on their heads. Now, we've descended into a rather pointless debate whether the still-to-be agreed upon pause should be one of hours or days.
As soon as Hamas launched its attack I knew, as did so many others, that a cataclysm would soon follow. And here it is. But also from the first day I harbored a secret hope, a possible silver lining. There are many historic examples of how when long term conflicts reach their peak and after they hit Maximum War, there can actually appear some positive solutions…precisely because all-out war was already exhausted. Look no further than WWII. No war in history was ended so dramatically as when the U.S. char broiled a couple hundred thousand Japanese in Hiroshima and Nagasaki. And this came just a few months after the fire-bombing of Tokyo a few months earlier that killed 80,000 civilians. Add in another 2 million or so German civilians barbecued in the allied fire bombings of Dresden and a dozen other German cities.
And yet, in spite of this mountain of death, destruction and hatred, both Japan and German were firm US allies within a few years. If killing on that humungous scale can be peacefully reconciled, why not with a much smaller universe of Israelis and Palestinians?
So, as this war initially developed I figured Israel would go all in this time, would in fact go over the top as it has, and I also figured it would fail to eradicate Hamas, which I think will still be the case. Or at a minimum, this invasion will only increase not tamp down Palestinian resistance. In my gross naivete, I figured that when the smoke cleared and it was evident that the war did not work, we would finally get to some sort of rational settlement. Maybe the Israelis would agree to some sort of international force controlling Gaza in the immediate wake of the war and that free and fair elections would be held to elect a Palestinian administration in Gaza.
I no longer cling to that hope. Though, I do know that millions of Israelis harbor at least similar thoughts. But it is Netanyahu calling the shots. And for him it's either war or jail.
One final thought; the coming 2024 elections might force Biden to take a tougher stand on Bibi (but that does not mean Bibi will comply. Biden's full support of the war is costing him deeply, Some younger Democratic congressional aides staged a walk out against their bosses and called for a cease fire. "For a lot of people, this is a real red line," said Jeremy Slevin, a senior adviser to Representative Ilhan Omar, a Minnesota Democrat who is among the few members of Congress in her party to have called for a cease-fire. "It's so horrific what's happening, and it's so elemental to be able to oppose the bombing of a refugee camp, for example. And it feels like the conversation up here on Capitol Hill, it's totally divorced from reality — from the reality on the ground in Israel and Gaza, but also from the reality of the views of their own constituents and staffers."
Biden, I am sure, has also noticed that his stand on Israel has deflated his balloon of support among younger voters. From a favorability rating in the high 50's among those under 25, Biden is now approaching the 20% mark. With RFK Jr now running as a third party candidate along with Jill Stein, Cornel West and quite possibly Joe Manchin, Biden is gonna need every vote he can get to block a re-election of an unhinged Donald Trump.
Netanyahu refuses to put Israel's long term interests above his own petty and personal ones. Biden has the chance to put both his interests and those of the U.S. and, by the way, those of Israel and the Palestinians as a priority, so long as he does not continue to put Netanyahu's interests above them all. If he continues down this current path, expect the worst. ++
This, I think it is safe to say, did not age well.
As recently as last October, the GOP House Judiciary Committee (or at least Jim Jordan) thought that this was the new Trinity of the Right; a pantheon of stable geniuses and world-bestriding trolls who would bring the right into the shining future.
Let's see how it's going.
Subscribed
After dining with Donald Trump at Mar-a-Lago with neo-Nazi Nick Fuentes, Ye descended into a black hole of madness, bigotry, and well-deserved obloquy. Trump faces 91 felony charges as he promises a presidency devoted to revenge and retribution. And then there is Elon.
For the moment, let's set aside his world-historic trashing of the site that used to be called Twitter, his fluffing of Putin, and the general infestation of his brain by termites.
On Wednesday, the world's richest man, the avatar of the revanchist right, took to social media once again. And the result was pure, undiluted Jew Hate.
Euphemisms fail. Here is this morning's Drudge Report:
I regret to tell you that this is not an exaggeration. On Wednesday a Xitter user posted:
'Jewish communties (sic) have been pushing the exact kind of dialectical hatred against whites that they claim to want people to stop using against them.

'I'm deeply disinterested in giving the tiniest s*** now about western Jewish populations coming to the disturbing realization that those hordes of minorities that support flooding their country don't exactly like them too much.

'You want truth said to your face, there it is.'
Musk's response, sent to his alleged 63 million "followers":
This does not require 20,000 words of tortured exegesis. It's not a critique of Israeli government policy; it shares no deep thoughts about a two-state solution; it is raw, undiluted antisemitism.
We can continue to debate the relative toxicity of the Jew-hatred on the right vs. the antisemitism on the left. But Musk's message was unmistakable and his groyper Nazi fans absolutely loved it.
As the Daily Mail notes, Musk's latest X follows a depressingly familiar pattern:
Musk has a long history of toying with dog-whistle rhetoric about Jewish people, in particular George Soros, who enraged him in May by selling his Tesla stock.

He has also angered people with his response to the Israel-Hamas war.

In the days after the October 7 Hamas terror attack, Musk was forced to delete a tweet, which recommended an anti-Semitic account and a promoter of debunked videos as reliable sources of information about the attack on Israel.
But even Musk seems to have realized that he may have crossed some invisible red line even in his own world. The uber-Edge Lord tried to backtrack, insisting that, of course, "the mass murder of Jews "is unacceptable to any reasonable person." Which was awfully reasonable of him.
But since we are talking about Musk, within minutes he was lashing out again at the Anti-Defamation League and "any other groups who push de-facto anti-white racism or anti-Asian racism or racism of any kind."
Despite mutual mistrust, both sides have an interest in trying to calm tensions
NOVEMBER 16, 2023 by The editorial board
Ben v Candace
This leads us inevitably to today's Honorary Chairman of the Leopards Eating People's Faces Party, Ben Shapiro and his star hire, Candace Owens.
**
Via Rolling Stone: 'By All Means Quit': The Daily Wire's Biggest Stars Are Fighting
THE DAILY WIRE has descended into unrestrained chaos as an ongoing spat between its founder, Ben Shapiro, and one of the right-wing outlet's biggest names, Candace Owens. The pair's disagreements over the ongoing war between Israel and Hamas have now spilled into a public fight on social media…

Despite the Daily Wire's past posturing as a platform wholly committed to free speech, video emerged on Tuesday of Shapiro calling Owens' commentary on the Israeli-Palestinian conflict "absolutely disgraceful," during a private event.

In response, Owens tweeted a verse from the biblical gospel of Matthew. "No one can serve two masters. Either you will hate the one and love the other, or you will be devoted to the one and despise the other. You cannot serve both God and money." The post suggested that Owens would not cease her vocal criticism of the conflict to placate her employer.

Shapiro was incensed. "Candace, if you feel that taking money from The Daily Wire somehow comes between you and God, by all means quit," he responded.
Naturally, she took her beef to the Troll King Himself, Tucker Carlson.
Right-wing commentator Candace Owens responded Wednesday to The Daily Wire editor-in-chief Ben Shapiro's sharp criticism of her comments regarding the Israel-Hamas war, telling Tucker Carlson in an interview that though she would not be making "ad-hominem attacks," her fellow right-wing commentator should be "embarrassed" over his handling of the situation.
Going out on a limb here: This seems unlikely to end well.
---
Mike Johnson: A Polite Zealot
On Wednesday's podcast: We may have averted a government shutdown for the moment, but the new speaker of the House believes dinosaurs were on Noah's Ark. Pete Wehner joins me for a deep dive on Mike Johnson. Plus, the Closing of the American Mind on the right.
You can listen to the whole thing here. Or watch us on YouTube.
Bonus: How's that Mike Johnson Honeymoon going? It's already over. Via Semafor: "Under Johnson, House Republicans still look ungovernable."
---
Quick Hits
1. Book Review: 'Network of Lies,' by Brian Stelter - The New York Times
Some prep for tonight's live event in DC:
Stelter has watched a lot of Fox News, nearly as much as anybody alive. In doing so he has been — to borrow a term from "Succession," the Murdoch family-inspired HBO series — a national pain sponge. He has been glued to the set, eyes peeled, notebook in hand, so others don't have to be.

He really lets the brown water flow over you. His Fox News is a nightly Russell Stover assortment of ginned-up grievances and predictions of cataclysm and collapse. The network delivers insinuation instead of reason, in this account, irritable gestures instead of journalism, a great deal of voice and little of mind. Fox News is biased against expertise and culture. Its hosts patrol and destroy, as white blood cells do in the body, any hint of sequential reasoning. They deliver the kind of shallow and primitive totalitarian propaganda that George Orwell, in "1984," called prolefeed. In "Network of Lies" it is a dead-end grotto of the human spirit. Flood the zone with wit, as Steve Bannon did not say.

---
2. The GOP's Abortion Evasions
In the Republican presidential race, the two men who stoutly advocated a federal ban on abortions—Mike Pence and Tim Scott—are gone. The candidates who remain on the debate stage or who don't need it—Chris Christie, Ron DeSantis, Nikki Haley, Vivek Ramaswamy, and Donald Trump—are hedging or downplaying the issue. They still call themselves pro-life. But they're finding ways to pretend that they're not a threat to abortion rights.

Here's a look at their evasive maneuvers.
---
3. Punching Politicians and Trump's Belligerence
Dennis Aftergut in this morning's Bulwark:
Before Tuesday's unhinged Republican behavior recedes from memory, it's worth emphasizing one aspect of it that has been underappreciated in the press coverage: that it didn't happen in a void, but rather fits into larger patterns in the world of Donald Trump.

Time and again, Trump has issued permission slips to those who practice violence. His fascination with the use of force, including by violent militias like the Oath Keepers and Proud Boys, is well documented. Tuesday's events can only really be understood in that larger context of Trump and violence.
---
Cheap Shots
We're doomed.
This evening, by a vote of 336 to 95, the House of Representatives passed a bill to fund the government. Pushed by Speaker Mike Johnson (R-LA), the measure funds the government at current spending levels. Funding for different parts of the government will run out on two separate dates: January 19 and February 2. The measure does not include any funding for military aid to Israel or Ukraine.
Democrats provided most of the votes for the measure, which passed under a special rule that required two thirds of the House to agree to it. The Democrats provided 209 yes votes; the Republicans, 127. Two Democrats and 93 Republicans opposed it.
The Democratic House leadership, Minority Leader Hakeem Jeffries (D-NY), Democratic Whip Katherine Clark (D-MA), and Democratic Caucus Chair Pete Aguilar (D-CA) and Vice Chair Ted Lieu (D-CA), released a statement saying:
"From the very beginning of the Congress, House Democrats have made clear that we will always put people over politics and try to find common ground with our Republican colleagues wherever possible, while pushing back against Republican extremism whenever necessary.
"That is the framework through which we will evaluate all issues before us this Congress. We have consistently made clear that a government shutdown would hurt the economy, our national security and everyday Americans during a very fragile time and must be avoided. To that end, House Democrats have repeatedly articulated that any continuing resolution must be set at the fiscal year 2023 spending level, be devoid of harmful cuts and free of extreme right-wing policy riders. The continuing resolution before the House today meets [those] criteria and we will support it."
Just two Democrats opposed the measure. Ninety-three Republicans did.
Passing a continuing resolution at the same spending levels as fiscal year 2023 with the help of Democrats while much of his own party opposes it puts Johnson in the exact same place Kevin McCarthy (R-CA) was in when eight extremists voted to oust him from the speakership: relying on Democratic votes to fund the government.
Far-right extremists were angry at Johnson and took an official stand against it. Now they are talking about retaliating against the speaker by holding up any further legislation in procedural votes so it cannot move forward, grinding the House to another halt. Johnson might have been trying to address that anger when he today endorsed former president Donald Trump for president in 2024, a move his predecessor McCarthy refused to make.
But McCarthy supporters looked at Johnson getting a pass for the same deal that cost McCarthy his leadership and cried foul. Republican tempers ran hot on Capitol Hill today as Representative Tim Burchett (R-TN) accused former speaker McCarthy of elbowing him in the kidney as McCarthy passed him in the House basement while Burchett was talking to NPR reporter Claudia Grisales. Clearly taken aback, Grisales tweeted: "Have NEVER seen this on Capitol Hill: While talking to [Burchett] after the GOP conference meeting, former [Speaker McCarthy] walked by with his detail and McCarthy shoved Burchett. Burchett lunged towards me. I thought it was a joke, it was not. And a chase ensued…." Burchett was one of the eight Republican representatives who voted to oust McCarthy from the speakership.
In a House hearing of the Oversight Committee on the U.S. General Services Administration, chair James Comer (R-KY) angrily told Representative Jared Moskowitz (D-FL), who was wearing a blue suit, that he looked like a Smurf (a small, blue cartoon character). Comer angrily defended himself from Moskowitz's observation that Comer had lent the same amount of money to his own brother that President Biden lent to his brother James.
Comer has insisted without any proof that Biden's loan was illicit; Moskowitz has repeatedly asked Comer to testify about his own loan. "That is bullsh*t," Comer said of Moskowitz's observation that the American people would like to know more about his own loan. Moskowitz answered: "Your word means nothing, Mr. Chairman.... I think the American people have lots of questions, Mr. Chairman, and perhaps you should sit maybe for a deposition."
That was House Republicans today.
In the Senate, at a hearing of the Health, Education, Labor and Pensions Committee, Republican Markwayne Mullin of Oklahoma tried to start a physical fight with one of the witnesses, president of the International Brotherhood of Teamsters union Sean O'Brien. O'Brien had criticized Mullin on Twitter, and Mullin wanted to fight it out. O'Brien indicated he was more than ready. Mullin got up from his chair as if to begin, when Senator Bernie Sanders (I-VT), chair of the committee, yelled at him to sit back down. "You are a United States senator!" he shouted.
Meanwhile, the Biden administration today celebrated the drop of the inflation rate to zero for the month of October, meaning that prices did not rise at all between September and October. That flat month means the yearly inflation rate dropped to 3.2% for the past year. Much of that lower inflation rate reflects lower gasoline prices, which dropped 5% in October.
Under the Democratic administration, the U.S. Securities and Exchange Commission (SEC), which oversees the maintenance of fair business practices, has been much more aggressive about policing misconduct, and today it announced it filed 784 enforcement actions and claimed $4.95 billion in penalties in the fiscal year that ended in September. This financial recovery was the second highest in the history of the SEC, second only to last year's amount of $6.4 billion.
The White House yesterday announced a new initiative on women's health research designed to combat the fact that women's health has been ill studied, leaving half the nation's people suffering from poorly understood debilitating conditions such as endometriosis and fibroids, as well as being diagnosed or treated incorrectly for disorders such as cardiovascular disease, Alzheimer's disease, and autoimmune disorders.
Today the White House issued the fifth national climate assessment, which showed a decline in U.S. greenhouse gas emissions despite the growth of the population and of the economy. The White House statement attributes this decline to efforts to mitigate emissions and the increasingly available low-emissions options. In the last decade, it noted, wind energy costs dropped 70% and solar energy costs dropped 90%. In 2020, 80% of new energy generation capacity came from clean energy. Climate change and related extreme weather events are rapidly intensifying, the administration warned, and will cost the U.S. at least $150 billion a year.
Reflecting that fact, Biden today announced more than $6 billion in investments to strengthen the electric grid, reduce flooding, support conservation, and advance environmental justice, as underserved communities bear the brunt of weather events. The money is coming primarily from the Bipartisan Infrastructure Law, the Environmental Protection Agency (EPA), the Federal Emergency Management Agency (FEMA), and the Inflation Reduction Act.
—
Notes:
https://apnews.com/article/mike-johnson-donald-trump-2024-c0d8304f44bd7158415ac80673eb8c7f
https://www.nytimes.com/2023/11/14/us/politics/government-shutdown-vote-mike-johnson.html
https://www.politico.com/news/2023/11/14/mike-johnson-speaker-shutdown-democrats-00127083
https://thehill.com/business is/4308537-october-2024-inflation-consumer-price-index/
https://www.barrons.com/articles/october-cpi-inflation-report-data-today-155d53f1
https://www.whitehouse.gov/briefing-room/presidential-actions/2023/11/13/memorandum-on-the-white-house-initiative-on-womens-health-research/
https://www.reuters.com/business/finance/us-sec-enforcement-garnered-nearly-5-billion-financial-remedies-last-year-2023-11-14
https://www.whitehouse.gov/briefing-room/statements-releases/2023/11/14/fact-sheet-biden-harris-administration-releases-fifth-national-climate-assessment-and-announces-more-than-6-billion-to-strengthen-climate-resilience-across-the-country/
https://www.cnn.com/2023/11/14/politics/burchett-mccarthy-elbowing-fight/index.html
https://apnews.com/article/senate-mullin-obrien-teamsters-fight-hearing-153e28d131973d1e10b539491c9e94a6
https://www.cnn.com/2023/11/14/politics/speaker-johnson-conservative-reaction/index.html
Twitter (X):
AndrewSolender/status/1724536494365221327
cgrisales/status/1724452392811286565
atrupar/status/1724490233553567982