While out & about over the weekend, our team complied selected updates on developments during #LifeInTheTimeofCorona from FEMA, the Bulwark, The Washington Post , The Information, The Economist & The Financial Times of London & The University of Virginia.
We conclude with an update from the CEO of Hoag Hospital here in our Community as we implore all to #StayHome & #StaySafe:
Coronavirus (COVID-19) Pandemic:
Attached you will find today's FEMA Daily Briefing Points for the Whole-of-America response to coronavirus (COVID-19) pandemic. These briefing points include Topline Messages, as well as information associated with FEMA and Department of Health and Human Services Response; FEMA Disaster Response Capacity; Federal Funding of National Guard (Title 32); Community-Based Testing Sites; Strategic National Stockpile; FDA Ventilator Guidance; CDC Respirator Guidance; Defense Production Act; Guidance from Federal Agencies; CDC Public Guidance; Coping With Stress; Combating Disinformation and Rumors; and How To Help.
Topline messaging includes the following:
Under the direction of the White House Coronavirus Task Force, FEMA, HHS and our federal partners are working with state, local, tribal and territorial governments to execute a whole-of-America response to fight the COVID-19 pandemic and protect the public.
The number one priority is the health and safety of the American people.
On March 31, the president extended the nation's Slow the Spread campaign until April 30.

The American people play a key role in the campaign to help slow the virus' spread and keep our most high-risk populations safe.
The initiative presents the entire country with an opportunity to implement actions designed to slow and limit the spread of COVID-19, like staying home as much as much as possible, canceling or postponing gatherings of more than 10 people, and taking additional steps to distance yourself from other people.
On April 3, CDC issued a recommendation to the public to use cloth face coverings in community settings to help prevent the spread of COVID-19 by people are infected and do not know it.
For the latest updates and information on how to protect yourself and what to do if you think you are sick is available at www.coronavirus.gov.

On April 3, the Small Business Administration Paycheck Protection Program began offering nearly $350 billion in loans to small businesses.

If an employer maintains their workforce, the SBA will forgive the portion of the loan used to cover the first 8 weeks of payroll and certain other expenses.
In addition to its traditional loan programs, the SBA is also providing Economic Injury Disaster Loans and forgiveness for up to six months of new and existing loans.

FEMA is expediting movement of critical supplies from the global market to medical distributors in various locations across the U.S.

FEMA continues to coordinate an air bridge for flights from Asia. The first flight landed Sunday, March 29, and delivered 80 tons of much needed PPE supplies to New York, New Jersey and Connecticut.
Additional flights landed in Chicago on March 30, Miami on March 31, Los Angeles on April 1, and Chicago and Columbus, Ohio, on April 3. FEMA has more flights scheduled and is adding more daily.
Each flight contains critical personal protective equipment (PPE), to include gloves, gowns, goggles, and masks in varying quantities. FEMA does not have detailed visibility on the amount of PPE until the flights are loaded overseas.
Overseas flights are arriving at airports that are operational hubs. They are not indicators that the supplies will be distributed in those locations. All supplies are national supplies and will be distributed to hot spots and through the vendors regular supply chain to locations across the country.
Upon arrival, PPE is provided, in varying quantities, first to medical distributors in areas of greatest need; then, the remainder will be infused into the broader U.S. supply chain. Prioritization will be given to hospitals, health care facilities, and nursing homes around the country.

Given the scarcity of the ventilators in the Strategic National Stockpile (SNS) and the current capacity of the private sector to meet the demand, the federal government has adopted a process to manage federal ventilator resources to ensure the ventilators are shipped to the states in the amount needed to manage the immediate crisis.

At present, the federal government has 9,800 total ventilators available, which includes 9,054 in the Strategic National Stockpile and 900 available from the Department of Defense.
To submit a request, states and tribes will work through their FEMA/ HHS regional leadership.

As of April 3, FEMA and HHS have delivered ventilators from the Strategic National Stockpile to California (170), Connecticut (50), Illinois (450), Louisiana (150), Maryland (120), Michigan (400), New Jersey (850), New York (4,400), Oregon (140) and Washington (500).

Additional allocations in process include a 250 bed Federal Medical Station, a Public Health strike team and 300 ventilators for Michigan; a 50 bed Federal Medical Station for the Metro DC area; 200 ventilators for Louisiana; and 100 ventilators for Massachusetts.

On April 3, CDC launched COVIDView, a weekly report that summarizes and interprets key indicators from a number of existing surveillance systems.

The report provides CDC expert summaries and interpretations of important and timely surveillance data to track the COVID-19 pandemic in the United States.
COVIDView includes information related to COVID-19 outpatient visits, emergency department visits, and hospitalizations and deaths, as well as laboratory data.
The report will be updated every Friday.

Forty states, four territories and 12 tribes have issued stay at home orders.
Breaking News

April 2, 2020
The commander of the aircraft carrier USS Theodore Roosevelt who sounded the alarm about a COVID-19 outbreak upon his ship has been relieved of command by the acting Navy secretary.
Read full article »
1. Nostalgia for Normalcy


A week ago, everything changed, right? We saw a "new" Donald Trump, a president who finally took the science seriously and whose more sober tone suggested, the pundits told us, that "this was a different Trump," and that he finally "gets it."

For the moment, Trump had dropped his loose talk about reopening the country by Easter Sunday and Joe Scarborough was so gobsmacked that he toyed with the idea of comparing his leadership style with FDR.

That lasted how long? By Saturday the mood had noticeably shifted.


Even as the Surgeon General warned that this coming week
"could be a national catastrophe comparable to Pearl Harbor or 9/11
," Trump was back to suggesting that
Americans might be able to get together for Easter services
next Sunday. He also continued to suggest that
conoravirus patients take an unproven drug
.
It's easy to dump on the commentators who imagined that Trump had pivoted last week. It was, yet again, the triumph of hope over experience. We've been here before, again and again and again and it always ends the same way.
But let's not dismiss the hope too quickly.
The eagerness to embrace the New Trump was, in some measure, a grasping for a sense of normality. We want so desperately to imagine that Trump can be a normal president who responds with a modicum of pragmatism, rational calculation, or at least a sense of self-preservation. As the shades close in, the sense of the normal feels like a powerful defense, because the alternative is too unnerving.
So, even as Trump reverted to lashing out at critics, berating reporters, peddling hoaxes, joking about banging models, and trotting out Jared Kushner, pundits convinced themselves that even the most shambolic briefings were
somehow reassuring
.
Less reassuring... The mounting evidence of the Administration's
epic failures and incompetence.

The country has adopted an array of wartime measures never employed collectively in U.S. history — banning incoming travelers from two continents, bringing commerce to a near-halt, enlisting industry to make emergency medical gear, and confining 230 million Americans to their homes in a desperate bid to survive an attack by an unseen adversary.

Despite these and other extreme steps, the United States will likely go down as the country that was supposedly best prepared to fight a pandemic but ended up catastrophically overmatched by the novel coronavirus, sustaining heavier casualties than any other nation. […]

The Trump administration received its first formal notification of the outbreak of the coronavirus in China on Jan. 3. Within days, U.S. spy agencies were signaling the seriousness of the threat to Trump by including a warning about the coronavirus — the first of many — in the President's Daily Brief.

And yet, it took 70 days from that initial notification for Trump to treat the coronavirus not as a distant threat or harmless flu strain well under control, but as a lethal force that had outflanked America's defenses and was poised to kill tens of thousands of citizens. That more-than-two-month stretch now stands as critical time that was squandered. […]

This article, which retraces the failures over the first 70 days of the coronavirus crisis, is based on 47 interviews with administration officials, public health experts, intelligence officers and others involved in fighting the pandemic. Many spoke on the condition of anonymity to discuss sensitive information and decisions.

And this from the AP
:
A review of federal purchasing contracts by The Associated Press shows federal agencies waited until mid-March to begin placing bulk orders of N95 respirator masks, mechanical ventilators and other equipment needed by front-line health care workers.

And this from the NYT:
And then there was the rest of the week....
2. Friday Night Payback
Even in the middle of a deadly pandemic, he made clear on Saturday that he remained fixated on purging the government of those he believes betrayed him during the inquiry that led to his Senate trial.

The president's under-cover-of-darkness decision late the night before to fire Michael K. Atkinson, the intelligence community's inspector general who insisted last year on forwarding a whistle-blower complaint to Congress, swept away one more official deemed insufficiently loyal as part of a larger purge that has already rid the administration of many key figures in the impeachment drama.

Mr. Trump made no effort at a news briefing on Saturday to pretend that the dismissal was anything other than retribution for Mr. Atkinson's action under a law requiring such complaints be disclosed to lawmakers. "I thought he did a terrible job, absolutely terrible," Mr. Trump said. "He took a fake report and he brought it to Congress." Capping a long, angry denunciation of the impeachment, he added, "The man is a disgrace to I.G.s. He's a total disgrace."

Mr. Trump's hunt for informers and turncoats proceeds even while most Americans are focused on the coronavirus outbreak that has killed thousands and shut down most of the country. The president's determination to wipe out perceived treachery underscores his intense distrust of the government that he oversees at a time when he is relying on career public health and emergency management officials to help guide him through one of the most dangerous periods in modern American history.
The Navy also relieved the captain of the USS Roosevelt, after he sounded the alarm about the coronavirus on his ship. "I thought it was terrible what he did," Trump
said
during Saturday's coronavirus press briefing. "To write a letter? I mean, this isn't a class on literature." He added, "He shouldn't be talking that way in a letter."
The sailors under the command of Captain Brett Crozier disagreed.
The result was one of the most dramatic displays of the week
.
WASHINGTON — It was a send-off for the ages, with hundreds of sailors aboard the aircraft carrier Theodore Roosevelt cheering Capt. Brett E. Crozier, the commander who sacrificed his naval career by writing a letter to his superiors demanding more help as the novel coronavirus spread through the ship.

The rousing show of support provided the latest gripping scene to emerge from the coronavirus pandemic: the rank and file shouting their admiration for a boss they viewed as putting their safety ahead of his career.
A badge of honor.
Via David Ignatius
The crisis aboard the Roosevelt has been building for weeks, as the virus spread among the ship's roughly 4,800 officers and sailors. Coronavirus test kits were rushed to the ship, and it sought refuge in Guam. But moving infected sailors off the ship was complicated, for logistical, political and readiness reasons. As of Friday, Modly said about 140 members of the Roosevelt's crew had tested positive for covid-19.

One of the surprising aspects of the Roosevelt drama is how closely Modly became involved in matters that would normally be handled by uniformed officers. Appointed undersecretary with White House support in 2017, Modly has been an aggressive communicator since becoming acting secretary in November, following the firing of Richard Spencer, who had clashed with Trump over the treatment of Navy SEAL Edward Gallagher. Modly has sent out 18 communiques, which he calls "Vectors," to Navy personnel that mix command advice with folksy references to sports heroes includer pitcher Bob Feller and quarterback Tom Brady.
All the best people.
3. The Wisconsin Sh*t Show
MADISON - Get ready for the pandemic election.

Republicans stalled Gov. Tony Evers' move to push back Tuesday's election, quickly adjourning a special legislative session to deal with voting issues because of the coronavirus pandemic.

During Saturday's proceedings, the state Assembly and state Senate each gaveled in and out within seconds and recessed until Monday.

The move came as pressure mounted on the Democratic governor to act on his own by using emergency powers to block the election. A source close to Evers said the governor was reluctant to do that over concerns that a postponement would quickly be blocked by conservatives who control the state Supreme Court.

With only a few lawmakers present, the Legislature did not take up Evers' effort to extend the election date to May 19 and convert entirely to mail-in voting.

As the Legislature made its move, the virus remained unabated.

The number of confirmed coronavirus cases in Wisconsin has more than doubled this week, climbing to over 2,000 on Saturday. Milwaukee County accounts for around half the cases.
Meanwhile, Trump has made it clear that the GOP will oppose any attempts to expand vote by mail nationally.
Via Politico:
President Donald Trump's political operation is launching a multimillion-dollar legal campaign aimed at blocking Democrats from drastically changing voting rules in response to the coronavirus outbreak.

The public health crisis is already injecting a huge X-factor into the election, with impossible-to-predict effects on voter turnout, and officials in both parties acknowledge the fights over voting laws could affect the outcome of the election.
Exit take: A federal judge has extended the deadline for absentee ballots, but the WI GOP (following Trump's line), is appealing the ruling to the US Supreme Court. However the court rules, Wisconsin's election on Tuesday is going to be an epic mess....
4. The Problem Is Not The Media This Time

Make sure you read Cathy Young's brilliant, in-depth analysis of the media and its critics in the Bulwark.

"As America's death toll from the coronavirus pandemic skyrockets while Donald Trump continues his displays of aggrieved narcissism, a large segment of conservative opinion—mostly but not entirely pro-Trump or anti-anti-Trump—has turned its attention to a familiar whipping boy: According to a Washington Examiner headline, "No institution has failed the public worse than the news media."

Young recognizes that there is a genuine problem of "progressive groupthink and left-wing bias in the mainstream media."

"It's an issue I have written about on plenty of occasions over the past three decades, and it has gotten worse in recent years with the rise of clickbait and the simultaneous rise of a cadre of "woke" journalists who consciously embrace social justice activism as part of their work."

But, she writes, despite occasional lapses (which she documents), "the coverage of the coronavirus pandemic was not one of those cases."

But there is a world of difference between such introspection and using cherry-picked "headlines from the left" to deflect criticism of Trump's negligence or of coronavirus denialism on the right. Some mainstream media outlets may have run regrettable "nothing to see here" articles in late January and early February; many mainstream journalists may have been insufficiently diligent and willing to ask questions. But this does not begin to compare to the dismal record of the president and the right-wing media, such as Trump's insistence on downplaying the pandemic well into March when the full scope of the looming disaster was already clear, or the drumbeat of coronavirus trutherism from conservative outlets and pro-Trump pundits like former Milwaukee County Sheriff David Clarke, The Federalist's Sean Davis, activist Candace Owens, and far too many others. (Some of them are still pushing it: After songwriter Adam Schlesinger died of COVID-19 complications on April 1 at the age of 52, Owens started a rumor—apparently based on misreading a Google search results—that he had been battling pancreatic cancer and that the media were covering it up, presumably to stoke fear that the disease is killing healthy people in their prime.)
Read the whole thing in the Bulwark.
5. Held Hostage

Also in this weekend's Bulwark, Philip Rotner writes that America is being held hostage to Trump's bogus narratives.

Trump rolled out his new narrative during an extraordinary March 31 briefing. He called the virus a "plague." He stopped distancing himself from the more dire estimates of the health professionals on his task force and embraced them like a long-lost lover. Without his leadership, 2.2 million people "and even beyond" would surely die:

"You would have had people dying all over the place . . . you would have seen people dying on airplanes, you would have seen people dying in hotel lobbies, you would have seen death all over," he explained. Things are so bad that, in this new reality, the best-case scenario, if we do everything right, is 100,000 to 240,000 deaths.

In other words, he reset the bar so low that if "only" hundreds of thousands of Americans die, he is the hero. And if "only" 90,000 Americans die, he's the greatest leader since Perecles.

What this misses, of course, is the fact that Trump's incompetence and refusal to accept any reality counter to his preferred narrative are largely responsible for the number of Americans who will die, whatever that number winds up being between now and when a vaccine is deployed.

In other words: Trump will claim credit for fixing a crisis that he helped create. He is, as always, an arsonist masquerading as a fireman.
Read the whole thing.
1. For The Museum of Disinformation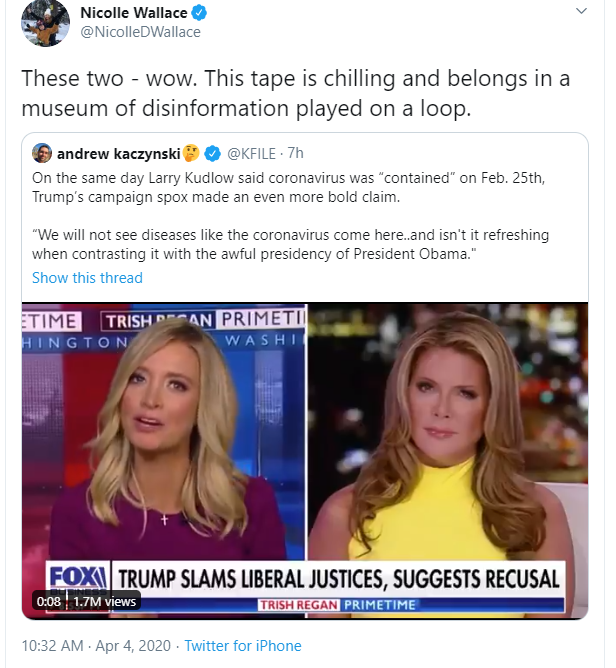 1. Viktor Orbán's American Apologists

Damon Linker, writing in The Week, notes that by those "who find themselves on the losing side of political and cultural disputes, there are, broadly speaking, two options: Keep playing the liberal game in the hope of a better outcome down the line — or sign up for a more radical political program aimed at toppling the prevailing order and replacing it with one in which the dissenters might be given a greater share of ruling power."

This is a choice that conservative intellectuals have confronted in recent years, with right-wing anti-liberal movements on the rise at home and across the liberal-democratic world tempting them with the promise of new and expanded horizons. None of these ascendant nationalists and populists has managed to generate more support from American conservatives than Hungary's Viktor Orbán. While those on the center-left and center-right have warned that Orbán and his Fidesz Party were playing with anti-Semitic fire in their unhinged attacks on Jewish financier George Soros, taking direct aim at civil liberties by shutting down opposition news outlets and a prominent university in the capital city of Budapest, and making repeated gestures toward favoring single-party rule, many conservatives swooned — far more than most of them have for President Trump.
Read the whole thing.
On March 31, over a 24 hour period, 1,049 Americans died from COVID-19.

That's the official number for now—as we're seeing in Italy, the real number may be higher, because it's not clear that deaths are being tabulated as caused by COVID-19 unless there is either pre- or post-mortem testing for the virus.

But let's just pretend that the 1,049 number is right. Put in the context, that makes it one of the deadliest single days in U.S. history. But put it in another context and you'll see that this isn't some crazy one-off, like most of the other bloodiest days in American history—it's part of a trend that is increasing.
This the geometric progression I kept shouting about weeks ago: The number of deaths per day doubles roughly every three of four days.

Doubling. That's the key to understanding how virality functions. We will soon be at 2,000 deaths per day.

Just try to get your head around that.

This New York Times piece does a nice job trying to hold some of the people from Conservatism Inc. who worked to prevent Americans from taking COVID-19 seriously. But honestly, it's not enough. When this is all over, there should be a reckoning—a very real, very thorough reckoning—for all of the people who made this pandemic worse by pushing disinformation and lies in the service of making it harder for the country to quickly respond to the crisis.

But why wait? Let's talk about Rush Limbaugh, because what this man has said over the last month ought to mark him for the rest of his life.
February 24: "Folks, this coronavirus thing, I want to try to put this in perspective for you. It looks like the coronavirus is being weaponized as yet another element to bring down Donald Trump. Now, I want to tell you the truth about the coronavirus. You think I'm wrong about this? You think I'm missing it by saying that's -- Yeah, I'm dead right on this. The coronavirus is the common cold, folks."
February 25: "Why couldn't the coronavirus get Donald Trump reelected? What if the United States comes up with a dramatically great policy to deal with it—and the number of cases in the United States dwindles, goes down, or does not expand like the cases around the world? Then why wouldn't that be beneficial to Trump? Notice: Here we are in February, and they've already got this virus ruining the economy by November, in time to take out Trump. This is proof they've got nothing. They know they can't beat the guy, folks.... Donald Trump has survived every coup attempt, every assault on him, that has been made up and now the coronavirus, they're trying to lay it at his feet and make him responsible for it and they're doing irresponsible news reports claiming that the coronavirus is gonna destroy the US economy by when? November! Isn't it magical? The coronavirus is the new Russians..."
March 9: "Democrats out the wazoo are showing up at Trump rallies. This is why they want these rallies stopped. This is why -- it's not because of public safety, not because of public health."
March 11: "This coronavirus, they're just — all of this panic is just not warranted. This, I'm telling you, when I tell you — when I've told you that this virus is the common cold. When I said that, it was based on the number of cases. It's also based on the kind of virus this is. Why do you think this is "COVID-19"? This is the 19th coronavirus. They're not uncommon. Coronaviruses are respiratory cold and flu viruses. There is nothing about this, except where it came from, and the itinerant media panic..."
March 13: "We're shutting down our country because of the — the cold virus, which is what coronaviruses are. This is COVID-19, the 19th version of the coronavirus. We're shutting it — can you imagine our enemies watching this? You think the Chinese are not laughing themselves silly over how easy this has been?"
March 27: "We didn't elect a president to defer to a bunch of health experts that we don't know. And how do we know they're even health experts? Well, they wear white lab coats, and they've been in the job for a while, and they're at the CDC and they're at the NIH, and they're up, well — yeah, they've been there, and they are there. But has there been any job assessment for them? They're just assumed to be the best because they're in government. But, these are all kinds of things that I've been questioning."
There was another moment on March 11 where Limbaugh claimed that "medical professionals" weren't overly concerned and then did a little rant against the very idea of suppression and mitigation protocols:
[A]s I've watched any number of other experts speak, you know what I've observed, ladies and gentlemen? Is that medical professionals seem the least panicked of anybody.

The people that seem the most panicked are politicians, followed by media. . . .

Has anybody ever contained the spread of the common cold? Has anybody ever contained the spread of the flu? No. It's a guaranteed failure, and when the failure is announced, guess what? It's more panic. "We have lost the ability to contain the spread of COVID-19!" Well, you can't contain the spread of anything else, either.

These diseases run their course. But when you announce that your objective is to contain the spread, you are. I'm sorry, folks, that's a political decision, and it's guaranteed to fail, by design. Have we contained the spread of cancer? Have we contained the spread?

"The spread of cancer?" AYFKM? I can't believe I have to say this to a guy who has cancer, but cancer is not an infectious disease. How on God's earth can Limbaugh talk like this—tell people that suppressing the spread of COVID-19 is impossible because we haven't been able to stop "the spread of cancer"—and not be looked at as a dangerous and irresponsible crank.

Or worse, actually.

Because I suspect that Limbaugh does understand the difference between an infectious disease and cancer. I suspect that he's just lying about it to his audience for profit. Either way, this man has blood on his hands.
Important developments in the coronavirus pandemic.
Presented by

Slack
The Post's coronavirus coverage linked in this newsletter is free to access from this email.
The latest
This newsletter usually opens with the U.S. death toll, but today let's spend a moment on the day toll: The early days of the spread of the coronavirus in which crucial opportunities to respond were squandered by systemic federal government failures, as chronicled in several new stories.
Seventy days elapsed from the first time the White House was formally notified of the outbreak in China on Jan. 3 until President Trump began to treat the virus "as a lethal force that had outflanked America's defenses and was poised to kill tens of thousands of citizens," according to Washington Post reporting based on 47 interviews with administration officials, public health experts, intelligence officers and others.
Twenty-one days in February were lost as the administration relied on a coronavirus test known to be flawed and prevented private labs from deploying better ones, blinding doctors and scientists as the virus spread across the country. Read our deep dive into scientists' alarm and exasperation during that period.
Eighteen months ago — long before the outbreak — "the Trump administration received detailed plans for a new machine designed to churn out millions of protective respirator masks at high speed during a pandemic," we report in another story. It was never built, and the U.S. government is now so desperate for masks it has asked 3M to stop sending them to Canada and other countries, prompting Canadian Prime Minister Justin Trudeau to warn the United States would be "hurting itself as much as Canada" because essential goods and services flow both ways.
Eleven days from now, the country will need 32,000 ventilators, far more than are in the government stockpile, according to an estimate by the University of Washington's Institute for Health Metrics and Evaluation. Because U.S. officials played down the virus for so long, Ford and General Motors only recently overhauled their factories to make the machines, and the bulk of their production won't come on line until May. Read more here.
These cumulative problems mean "the United States will likely go down as the country that was supposedly best prepared to fight a pandemic but ended up catastrophically overmatched by the novel coronavirus, sustaining heavier casualties than any other nation," we write in our story on the 70 lost days.
Other numbers: The U.S. has suffered more than 7,800 deaths and more than 290,000 confirmed infections from the virus. The jobless rate jumped to 4.4 percent in March, its sharpest one-month rise since 1975. Millions of Americans have been laid off or furloughed, more than 60,000 stores have shuttered, and analysts say many of them will never open again. A week after Trump signed a $2.2 trillion stimulus bill, key Democrats are already talking about another one.
And new signs of dysfunction: After a behind-the-scenes debate between officials at the Centers for Disease Control and Prevention and White House officials, Trump unenthusiastically announced the agency's recommendation that Americans start wearing face coverings in public. Even as he shared the guidance, Trump said he would not follow it himself. Read more about that here.