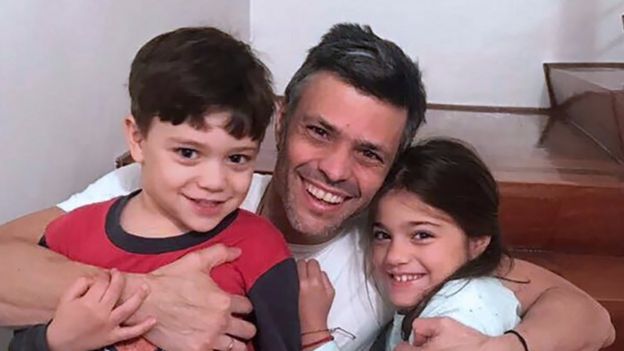 It has been quite a few days around our World. There was some good news as Venezuelan Opposition Leader Leonardo Lopez was released from Prison to House Arrest and joyfully reunited with his children:
There was the March for Justice led by the key opposition leader in Turkey. Some compared it to the Gandhi March to the Sea to Make Salt:
What the Turkish President does will be interesting in this regard.
Our team was also continuing its' on-going assessment of the latest dispute between Qatar, Saudi Arabia,
the UAE, Bahrain and Egypt as the dispute seems to continue for at least a while yet. The Secretary of State is slated to visit the region Monday.
Saudi Arabia, a member of the G20, is slated to host the next G20 Summit as the G20 in Hamburg is now in the history books. The United States, though, was isolated--although Trump Administration Officials were putting a positive spin on it from the President Onward. One of the most devastating assessment was made by Australia Broadcasting:
— Insiders ABC (@InsidersABC) July 8, 2017
This is as there were reports of hacking of US Energy Infrastructure by Russians and as reports of another Russian meeting set up by Donald Trump Jr. emerged in the aftermath of the Meetings--and the Trump team blamed Democrats. This is as the "stories of action and ideas" courtesy of the Guardian of London took center stage:
The resistance now: it's recess week, but Republicans are hiding from constituents
Elected officials traditionally engage with constituents during their seven days off, but unhappiness with the healthcare bill has the GOP avoiding voters
Adam Gabbatt
---
Hide and seek...
It's because of that Senate healthcare bill, you see. Not many people like it.
As of

Wednesday

only four Republicans had either held or planned to hold public town hall events. And two of those events – step forward Texas's Ted Cruz and Pennsylvania's Pat Toomey – were hardly public.
Toomey appeared in a Harrisburg television studio with an audience that had been invited by ABC 27. The number of audience members? Eight. Cruz held an event in his safe space of a Koch brothers-backed Q&A. Still, protesters outside Toomey's gig – and hecklers inside Cruz's – served to let the pair know what they thought of the Better Care Reconciliation Act.
...but you can't hide forever
The demonstrations were organized by Our Revolution, Democracy Spring, Ultraviolet and more, and targeted senators including Senate majority leader Mitch McConnell – the brains behind the healthcare bill – as well as Rob Portman in Ohio, and Bill Cassidy in Louisiana.
Just as a reminder: that Senate bill would see 22m additional people lose healthcare, according to the Congressional Budget Office.
WTF?
Two Silicon Valley billionaires – specifically Mark Pincus of Zynga and Reid Hoffman of LinkedIn – launched a new online platform called Win the Future(hence WTF) this week. It's intended to form as a platform for crowdsourcing ideas to move the Democratic party in a different direction.
So far, so good. Except the direction they appear to want to move the Democratic party – hardly a bastion of liberalism as is – further to the right.
No dogs allowed
A group of animal rights activists "were taken into police custody" at the infamous Nathan's Fourth of July hot dog eating contest this week, according to the Washington Post. Five people had attempted to unveil an anti-meat banner. They were released without charge. Joey Chestnut won the contest by eating 72 hot dogs and buns. It was his 10th victory.
What we're reading
"Rural progressives" is not an oxymoron, writes Anthony Flaccovento at Blue Virginia. Flaccovento ran for congress in 2012, and says his message that "attacked inequality and trickle-down economics" appealed to people in the rural areas of his state. So why isn't the left doing better in the red parts of states like Virginia? Because "the Democratic party and the progressive movement both have, for the most part, written off rural America".