It has been quite a morning already in Washington. It is ever so worrisome as our team has been assessing the aftermath of Congressman Kevin McCarthy dropping out of the race to replace the House Speaker. It was horrifying to me personally as I heard one of the members of the House Freedom Caucus on changes that is necessary and I noted now the "Tyranny of the Minority" seems to be the order of the day in Washington right now. It is of profound concern as the nature of Government is itself and the issue of Governing itself. I went into the #Outsider archives to assess the "Conservative" read on why the Speaker resigned--although he did issue a statement that he will stay until a new House Speaker is elected--and as Donald Trump just "chimmed" in taking credit by saying how everything is a "mess" in Washington:
NEWS

John Boehner, who announced he would leave Congress by the end of October, was elected as House speaker in 2011. He's clashed with conservatives on several occasions since then.
Read More
NEWS
Gingrich left the speakership in 1999 with members of Congress frustrated by his leadership, similar to the circumstances facing Boehner.
Watch the Video
NEWS
Twitter was buzzing

Friday

morning as news spread about Boehner's resignation.
Read More
NEWS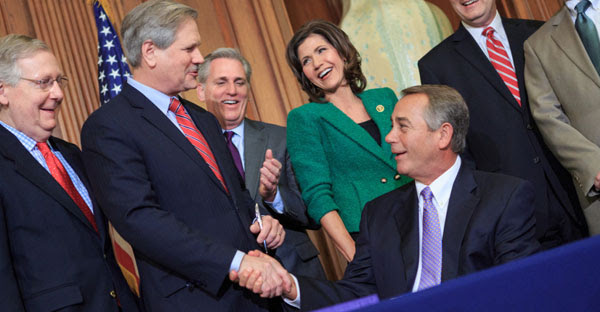 Facing a motion to remove him as speaker, Boehner pushed back at his critics in July.
Watch the Video
NEWS
The Daily Signal visited Rep. Mark Meadows last month while home in his Western North Carolina district. He reflected on his decision to present a motion to oust Boehner.
Read More
COMMENTARY
I am glad to see Peter King of New York notes how Donald Trump is a "funny guy", but this is not a funny matter--and so glad he's noting that America is turning into a "banana republic". The Tyranny of the Minority is ever so in evidence--and it is of profound concern.
Beyond the National Concern our team is focused on, I have also been assessing some late breaking developments here in our home base of Orange County about a shortage of Skills that Orange County seems to be facing which we will talk about in our Community Channel. It is also of note that Cities have begun the process of recruiting for Commisions and Committees. The City of Laguna Niguel has already begun the process and other will be following suite.
As I was supporting the work of #Outsiders and other projects, I could not help but wonder about this admonition and whether the +GOP can truly live up to the admonition noted below--This is why I am supporting #Outsiders so that the conversation can be changed:
My basic principle is that you don't make decisions because they are easy; you don't make them because they are cheap; you don't make them because they're popular; you make them because they're right. ~ Sophocles