The day began for me with horrific news out of the UK about the murder of a UK Member of Parliament, Jo Cox. It was a pleasure for me personally to be able to add my voice to the thousands that paid tribute to this servant of the people who was killed as she was doing her job. I did not know her but the violence and hatred that drove this lowlife to do this was beyond the pale. Her Husband was so eloquent in his praise of her husband--I could not help but be in awe at the courage that he showed on such a horrific day. I was also so horrified to see how British MP's have been subject to attacks. As I was seeing the assessment on SkyNews, this from George Osborne said it all, "...
Freedom, liberty and justice will prevail over the the hate that killed
her==this was the front page of the Guardian of London on Friday: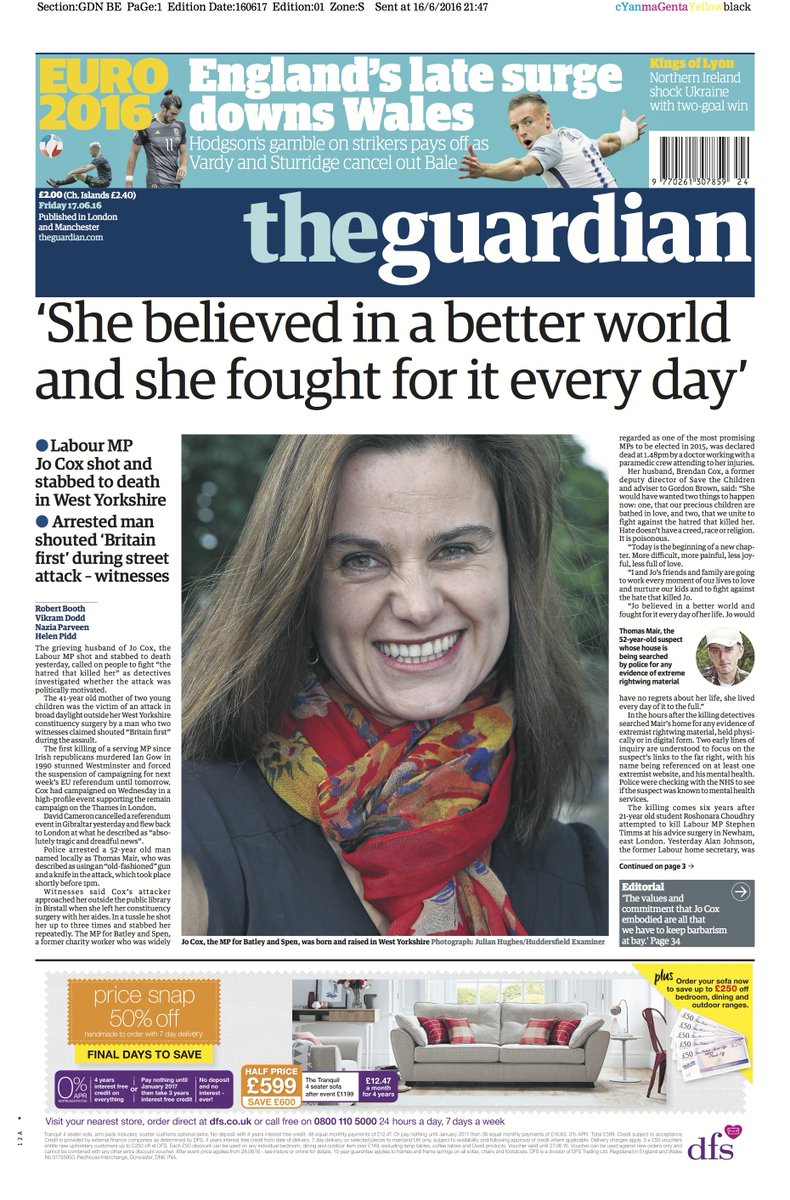 As I reflected upon George Osborne very powerful thought, I reflected upon Orlando as I saw President Obama and Vice President Biden visit the families of the fallen in Orlando and the President again imploring lawmakers on this subject. I had kept this from +TED done by the President of the Brady Campaign that is critical for all to be aware of:
It doesn't matter whether you love or hate guns; it's obvious that the US would be a safer place if there weren't thousands of them sold every day without background checks. Dan Gross, president of the Brady Campaign to Prevent Gun Violence, makes a passionate, personal appeal for something that more than 90 percent of Americans want: background checks for all gun sales. "For every great movement around the world, there's a moment where you can look back and say, 'That's when things really started to

change,'

" Gross says. "For the movement to end gun violence in America, that moment is here."

Watch »
Senator Chris Murphy led a filibuster in the US Senate for some 14 hours that the team at #Outsiders released a notation on. Senator Murphy reflected upon the stories of the kids from Hartford as they remarked how siren sounds were their lullabies as they went to sleep. Mitch McConnel dismissed the .Mitch McConnell dismissed it as "campaign talk-a-thone" and touting how great he's running the US Senate-as Ted Cruz also dismissed this as a stunt--this is just startling to listen to:
The Democrats have been promised a vote next week on the amendments to tighten up background checks. It is doubtful as Republicans have been on a prowl with attacks on the President. Senator McCain's comments were shocking as I saw it this morning:
He issued out a clarification--but I could not help but agree with +Vox Matthew Yglesias and the perceptive question he asked:
McCain's new statement is less offensive but still baffling. How would troops in Iraq stop the Orlando massacre? pic.twitter.com/p3RiyyZTSS

— Matthew Yglesias (@mattyglesias) June 16, 2016
I

n the meantime, Mr. Trump was in Dallas today claiming that he wants to abolish the Second Amendment and stating how he will "save the 2nd Amendment"--The Washington Post has been banned from the Trump Campaign and the Speaker made it a point of calling on the Washington Post twice. This is as Trump has also told Republican leaders to basically hush up. The Media, in the meantime, is continuing its' tough talk as epitomized by this New York Times Article--as Mr. Trump reached a one-year milestone of his campaign:
By RUSS BUETTNER and CHARLES V. BAGLI
Mr. Trump boasts of his success at the Jersey Shore resort, but regulatory reviews, court records and security filings indicate otherwise. And others paid the price.
–Donald Trump, deadbeat? Stories have circulated for years that Trump routinely stiffs contractors who work on his projects, in some cases supposedly telling them that though he's not paying them, they'll make money just by being able to say they worked on a Trump building. Those stories had gone largely unreported because no news organization had done the necessary voluminous reporting. Now the WSJ this morning and USA Today yesterday have documented hundreds of such cases – lawsuits, liens, judgments, and other filings. Trump responds that when contractors don't do their work satisfactorily or on time, he docks their pay – "and that's what the country should do." But in several cases, the newspapers show, the general contractor had approved the work, and in some cases Trump later rehired or tried to rehire contractors who had sued him for non-payment.
USA Today reports that Trump has been involved in an extraordinary 3,500 lawsuits over the past three decades. That's a lot publicly available documents. Expect them to be a rich trove of material for the media and for Hillary Clinton.
I also caught Senator Sanders' Address as he laid down the gauntlet as he reflected upon quite a year that he's had and the journey he's had with the true realities today:
The generation election campaign has begun in earnest.