It has been a whirlwind as our team has been on the prowl assessing the latest out of the Middle East. President Trump left for the Vatican after 27 Hours in Israel as the bashing of Iran continued and symbolism was the order of the day--and after what President Rouhani deemed a "Show" in Riyadh. What is important to note was Professor Nasr's analysis on the Iranian Elections that seems to have been totally overlooked by President Trump in his comments--and his Secretary of State Rex Tillerson.
This is as the World was witness to the horrific attack in Manchester, the UK, as 22 innocent victims fell victim to a horrific attack by what has now been reported to be a 22-Year Old Suicide Bomber named Salman Abadi--who is of Libyan origin. Here are images of two of the victims: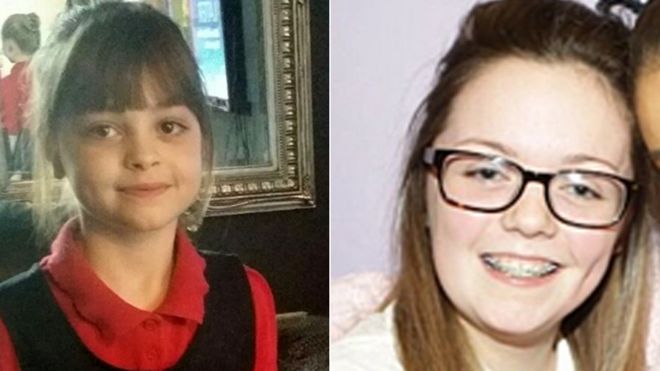 We here at the Daily Outsider mourn all the victims and pray that their families are given the solace by the almighty to overcome this profound sense of grief.
Meanwhile, in the United States, our team was working away assessing "Trumpnomics" as the budget was announced to build upon the "blueprint" laid out. One telling sign of the Administration's Priorities is this--and our team will be featuring the full call to action on our "ordinary faces" property--one key point to note was that All agree that the President's Budget is "Dead on Arrival" as the Budget deliberations begin for the new Year":
Today, the White House released a full budget proposal for Fiscal Year 2018, an expanded version of the Administration's "skinny budget," which was released earlier this year.
The Administration's full budget proposal provides the funds necessary to shut down the Corporation for National and Community Service over the course of the next year. If enacted, this budget would eliminate federal support for national service programs and have a devastating impact on the communities they serve every day. Click here to read our full statement on the White House budget proposal.
What we also must note is the three special elections in Montana, North Carolina and Georgia. As we went to press, we saw a new poll that gives the Democratic Aspirant a 7% edge in the run off--this is as we're seeing a close one in Montana--although North Carolina seems to showcase a return of another GOP candidate.
In our quest to bring all views to light, we wanted to report on this we just received from the Bi-Partisan Policy Center that underscores the profound challenges the President's Budget faces as deliberations begin:
BPC Experts Weigh In on Trump Budget
Washington, D.C.– As President Donald Trump unveils his first budget proposal today, calling for a massive shift in government priorities, Bipartisan Policy Center experts weigh in on how the proposal would affect a range of specific policy areas.
Tracy Terry, director of energy:

"Given how critical the moment is for American innovators, we are disappointed to see the president's budget request suggests drastic cuts to programs with strong track records in job creation, economic growth, and energy security that are critical to capturing future opportunities."



Bill Hoagland, senior vice president, and Katherine Hayes, director of health policy:

"Policies that provide flexibility to providers to move toward patient-centered care have the potential to improve quality and lower Medicaid costs, without a widespread loss of coverage or reduced access to medical care."
Steve Bell, senior advisor:

"The FY18 budget will likely not fund the 350-ship Navy that Trump advocated last September while campaigning and cannot accommodate increases in troops for the Army and Marine Corps. It leaves uncertain such items as a new bomber and the future of advanced submarines."